News/Media

*If a menu item has a submenu clicking once will expand the menu clicking twice will open the page.

Study & Practice

*If a menu item has a submenu clicking once will expand the menu clicking twice will open the page.

Projects

*If a menu item has a submenu clicking once will expand the menu clicking twice will open the page.

FPMT

Your up and down emotions are like clouds in the sky; beyond them, the real, basic human nature is clear and pure.

Lama Thubten Yeshe

*If a menu item has a submenu clicking once will expand the menu clicking twice will open the page.

Shop

The Foundation Store is FPMT's online shop and features a vast selection of Buddhist study and practice materials written or recommended by our lineage gurus. These items include homestudy programs, prayers and practices in PDF or eBook format, materials for children, and other resources to support practitioners.

Items displayed in the shop are made available for Dharma practice and educational purposes, and never for the purpose of profiting from their sale. Please read FPMT Foundation Store Policy Regarding Dharma Items for more information.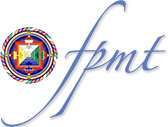 Dear all,
At this time of incredibly deepfelt sadness at the passing into paranirvana of our most precious guru Kyabje Zopa Rinpoche, the FPMT Board thought that it was appropriate to inform you of what is happening now and the next steps to be taken by the organization.
We share with you the feeling of great loss but know that Rinpoche would find it important – essential! – that we carry on the work to which he dedicated his life.
This Board feels unbelievably fortunate that we were able to meet with Rinpoche in January and hear his views on how he saw the future. At that time, we had no idea of how soon those views and his advice would be put to use.
Rinpoche stated many times in the past, and repeated again in January, that no one person could or would be expected to lead the organization when he was no longer with us. His role had evolved over almost forty years and Rinpoche's exceptional qualities would make it impossible for one person to be the kind of Spiritual Director that Rinpoche was.  
However, there are people in place who are already instrumental in working for and leading the FPMT and this will continue.  His Holiness the Dalai Lama is our main advisor, and He will be consulted within days about the present view of leadership for the future.  Khenrinpoche, the abbot of Kopan will play an important role in our spiritual leadership. The Board will continue to work in a more overall sense, according to Rinpoche's wishes. The International Office will also continue to function with the administration and functioning of various aspects of the work of the FPMT, including education and charitable projects. We all want to continue to implement and further Rinpoche's work for sentient beings all over the world. 
As things progress, and when there is any specific input from His Holiness, we will inform you. You can expect another update from the Board very soon, next to the information sent by the International Office, on, for instance, the embalmment procedure that will start immediately. As expressed in our March Update, we hope to be in contact with you more than in the past and welcome your input.
Please continue to keep Rinpoche in your hearts and praying for Rinpoche to be reborn soon, in a perfect situation for him to be able to soon teach and guide us again in person.
Paula de Wys
For the FPMT Inc. Board of Directors
Note: this message was originally not relayed as a blog but only sent by email to the CPMT listing (directors, SPCS, board members, registered teachers, regional and national coordinators)
From the Buddhist point of view, attachment for something means that it's very difficult for us to separate from it. We have a very strong attachment – strong like iron – for the things we think of as being very good. We need to learn to be flexible.
Lama Thubten Yeshe