News/Media

*If a menu item has a submenu clicking once will expand the menu clicking twice will open the page.

Study & Practice

*If a menu item has a submenu clicking once will expand the menu clicking twice will open the page.

Projects

*If a menu item has a submenu clicking once will expand the menu clicking twice will open the page.

FPMT

Buddhist meditation doesn't necessarily mean sitting cross-legged with your eyes closed. Simply observing how your mind is responding to the sense world can be a really perfect meditation and bring a perfect result.

Lama Thubten Yeshe

*If a menu item has a submenu clicking once will expand the menu clicking twice will open the page.

Shop

The Foundation Store is FPMT's online shop and features a vast selection of Buddhist study and practice materials written or recommended by our lineage gurus. These items include homestudy programs, prayers and practices in PDF or eBook format, materials for children, and other resources to support practitioners.

Items displayed in the shop are made available for Dharma practice and educational purposes, and never for the purpose of profiting from their sale. Please read FPMT Foundation Store Policy Regarding Dharma Items for more information.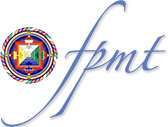 Dear Students and Friends of Kyabje Zopa Rinpoche,
As we continue to process and adjust to our new reality of having Rinpoche physically unavailable for us, we still must move forward in fulfilling his vast visions – both internally with our spiritual practice and externally with the multitude of projects he initiated. So many of you have expressed your deep sorrow and sense of loss at this time and we certainly share your grief.  We have been blessed to have an organization run by an enlightened being. There can be no replacement for his spiritual or temporal leadership.
However, as a board we sought as much guidance as possible from Rinpoche about his wishes for a proper succession plan for when he would no longer manifest as our leader. Rinpoche did share his thoughts over many years but was particularly willing to give us instructions during the year before he passed away.  At a certain point, after making it clear there would be no single successor to take his place, he looked at the five of us board members and stated: "You know what I want. You know what I'm thinking." (Note: Please refer to the update of July 26 for a more detailed explanation about the context of this statement so it is not misunderstood). Additionally, with that instruction, he said the board could seek counsel with His Holiness, if needed. 
Just last week we had some wonderful days in Dharamsala where the FPMT fulfilled a heart wish of Rinpoche's by offering a beautiful Long Life puja to His Holiness. The next day many monks, nuns and other students attended an audience with him at his residence, during which His Holiness repeatedly expressed his fondness for Lama Zopa Rinpoche, repeated that he would always be willing to help us with advice, and that he will be of assistance in finding and bringing up Rinpoche's reincarnation. It was very moving to see and experience.
We have been blessed to have been led by an awakened leader as our spiritual guide and now we must slowly adjust to what it means to be an organization that is led by the present board.  
Now, the protocol of honoring the teacher during the 49 days after his passing is coming to an end and our work will begin in earnest. We have been meeting often and are aware of the great responsibility that lies ahead. We will follow Rinpoche's advice to maintain our present structure and policies while at the same time working to advance and develop them, which we expect will lead to more inclusivity. 
As Rinpoche said during one of our meetings "concentrate on compassion, then everything will come. So that is the essence." And it is on this journey that we ask that you support, remain patient, offer suggestions and insights, and promote harmony throughout the organization. We would like to establish a collaborative culture and welcome input from you all. We will regularly update you on our progress through the website and other social media avenues. 
All best wishes,
Paula de Wys, also for 
Khenrinpoche Geshe Chonyi
Ven. Roger Kunsang
Dale Davis
Karuna Cayton
Note: this message was originally not relayed as a blog but only sent by email to the CPMT listing (directors, SPCS, board members, registered teachers, regional and national coordinators)
The root of your life's problems becomes non-existent when you cherish others.
Lama Zopa Rinpoche