News/Media

*If a menu item has a submenu clicking once will expand the menu clicking twice will open the page.

Study & Practice

*If a menu item has a submenu clicking once will expand the menu clicking twice will open the page.

Projects

*If a menu item has a submenu clicking once will expand the menu clicking twice will open the page.

FPMT

When ordinary people die they are out of control. Because they have not trained themselves during their life, they are overwhelmed by the experience of death and bewildered as their bodily elements go out of balance and cease to function harmoniously.

Lama Thubten Yeshe

*If a menu item has a submenu clicking once will expand the menu clicking twice will open the page.

Shop

The Foundation Store is FPMT's online shop and features a vast selection of Buddhist study and practice materials written or recommended by our lineage gurus. These items include homestudy programs, prayers and practices in PDF or eBook format, materials for children, and other resources to support practitioners.

Items displayed in the shop are made available for Dharma practice and educational purposes, and never for the purpose of profiting from their sale. Please read FPMT Foundation Store Policy Regarding Dharma Items for more information.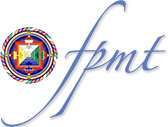 Recently, in the FPMT Annual Review 2022, we shared some general statements of what this Board has been thinking and doing. However, that was not a lot of information and we can imagine that those who are deeply involved or interested in the organization might appreciate hearing more. One of our goals is to work on improving communication both within the FPMT and with the world at large. That includes making the work of the Board, and the International Office (IOF), more visible. We plan to provide periodic updates to keep you informed of what the current thinking – and hopefully the progress – is in different areas.
Also, since we are a relatively small group of people, just six of us including Lama Zopa Rinpoche, the issues that we have been working on can greatly benefit from more input from you – the people 'in the field' who have practical experience of how things function and where improvements can be made. 
This first update will attempt to give some background to a number of issues and explain some of the present situations and thinking we have concerning these situations. Often these issues are quite complex, and many are ongoing.  Your comments, feedback and constructive criticism are always welcome.
Structure of the FPMT organization, now and in the future
Since the FPMT was founded, it has continued to grow and develop organically and many aspects are very practical and work well. The International Office has definitely played a major role in this, along with the Regional and National offices and the contributions of many dedicated students. However, as is the nature of impermanence, the global situation is rapidly changing bringing new possibilities and challenges in society and in technology and we can expect the future to bring even more.
Over the past two years, since the present Board was instituted, we have looked extensively at our present and future structure. It is a challenge to understand what might continue to maintain and strengthen the FPMT organization as we move forward in this rapidly changing world. Recently, when different models of possible organizational structures were presented to Lama Zopa Rinpoche, he advised us that it would be best to keep our present structure – but to develop and improve it.  So, under his guidance we will try to do just that. This is one of the things we hope to discuss with you more, for instance, during the prelude to, and at, an upcoming CPMT meeting. 
Sometimes, decisions on how to do things are complicated by the fact that the FPMT is made up of centers, projects, and services that are affiliated in different ways and that are located and must function in areas where the laws and possibilities vary greatly.
Legal Team
The complications arising from the diversity of laws in different locations is one of the reasons we have recently instituted a Legal Team with lawyers from Australia and the US. We are actively looking for lawyers or people with legal experience in both Europe and Asia. The legal team has already been helpful on various other subjects and we are grateful to have their input and advice.
Spiritual leadership of the FPMT in the future
In the Tibetan tradition, it is inauspicious to talk about a time when a teacher will no longer be physically present to guide the disciples. Keeping this in mind we are very pleased that H.E. Ling Rinpoche has stated that Lama Zopa Rinpoche will be with us for a long time to come! Rinpoche has also clearly indicated that His Holiness Dalai Lama is our main spiritual advisor, now and in the future. Rinpoche also said that the abbot of Kopan will always be available to help guide the Board and the organization. We also expect that Rinpoche will indicate some other high lamas who will be able to help as spiritual advisors in the future. 
Tenzin Osel Rinpoche
Tenzin Osel  Rinpoche is following  the course of study of Buddhist texts advised by Lama Zopa Rinpoche and is doing this with Geshe Namdak. Lama Zopa Rinpoche has explained that this is very important if he is to have a role in the FPMT. 
At this time, Lama Zopa Rinpoche's advice to Tenzin Osel is to offer talks in the area of universal education.  
Rinpoche recently suggested that it would be beneficial if Tenzin Osel spent time with Khadro la and Osel is planning to do this and to see Rinpoche on a visit to Nepal soon.
Tenzin Osel is currently living in Spain with his son Norbu. While FPMT has always supported Osel Rinpoche financially in the past, we have now collaboratively created a support arrangement that is comfortable for everyone.
Kopan
Kopan is where the FPMT began and it has matured in a way that would have pleased Lama Yeshe and is a credit to Lama Zopa Rinpoche, Khenrinpoche and the Board (the senior monks) of Kopan.  It has become a serious seat of learning in the Lama Tsong Khapa tradition with well-educated geshes and geshemas graduating, a tantric school with trained lama gyupas able to perform all the rituals needed in a monastery, and monks and nuns of all ages studying all levels of Dharma and other subjects. How wonderful it will be when, along with the learned scholars from the other great Gelugpa monasteries, some of the future teachers in the FPMT centers are also Kopan geshes and geshemas! 
Furthermore, the accommodation at Kopan has improved greatly in recent years, as participants at the Light on the Path retreat will discover, and the stupas and gardens are very beautiful. Impermanence again, and in a positive sense. We think that it is important for the monastics of Kopan to learn more about the FPMT organization and further improve their knowledge of English and for the centers all over the world to be more aware of what an amazing resource we have there. As was written in the Annual Review, Kopan is not only at the heart, it is the heart of the FPMT.
Thank you for reading this update, which we hope will give you an idea of what this Board has been working on. As mentioned above, your comments, feedback and constructive criticism are always welcome.
With prayers for the long lives of our precious teachers, and also for inspiration in continuing our efforts to preserve the Mahayana tradition, we send you the best wishes from the FPMT Board of Directors.
Paula de Wys
chairperson
Note: this message was originally not relayed as a blog but only sent by email to the CPMT listing (directors, SPCS, board members, registered teachers, regional and national coordinators)
Whatever problem one experiences if one thinks about the benefits of problems and how they are beneficial for ones own life, to develop ones mind in compassion, to develop loving kindness, patience, wisdom, and all the positive qualities for the path to liberation. By thinking of the benefits one develops this precious quality, this most healthy positive way of thinking that brings happiness and that stops you from harming yourself and stops you from harming others.
Lama Zopa Rinpoche