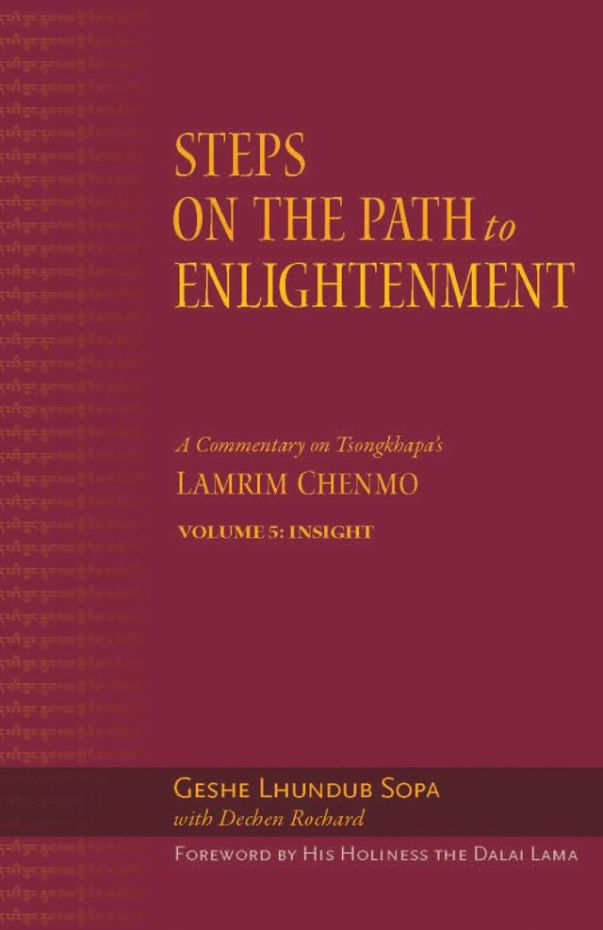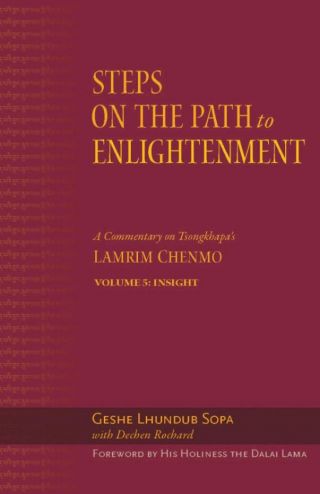 In 1976, Geshe Lhundub Sopa, one of Lama Zopa Rinpoche's teachers, began offering commentary to Lama Tsongkhapa's Lamrim Chenmo. The lamrim, or "graduated path," is a presentation of Shakyamuni Buddha's teachings that detail the stages on the complete path to enlightenment.
Geshe Sopa's teachings continued into the early 1990s. In 1994, discussions on turning the audio teachings into a book series commenced. And in 1995, Lama Zopa Rinpoche took on the responsibility of sourcing the project's funding. Shortly after, a very kind benefactor came forward to sponsor it. In all, US$500,000 was raised for this incredible project.

Over the next twenty-three years, Wisdom Publications published a five-volume series called Steps on the Path to Enlightenment. Producing these volumes involved laborious effort on the part of translators, transcribers, and editors—not to mention that each editor read their drafts to Geshe Sopa many times, incorporating his feedback and refinements. The result is the longest and most detailed lamrim commentary available in English.

Steps on the Path to Enlightenment, Vol. 1: The Foundational Practices; Vol. 2: Karma; Vol. 3: The Way of the Bodhisattva; Vol. 4: Śamatha; and now Vol. 5: Insight are currently available through Wisdom's website.
The final and longest volume in the series  focuses on the nature of reality. In addition to the teachings themselves, the book features an extensive glossary of technical terms.
Wisdom's senior editor, David Kittlestrom, commented on the volume: "Dechen Rochard has brought enormous precision and devotion to the project, preserving the many levels of subtlety on the different points of the Madhyamaka view in Geshe-la's exposition to create an unparalleled guide to the sixth perfection and Tsongkhapa's text. And what makes it all the more remarkable is how readable and cogent the work is—it's a pleasure to read. It is a wonderful tribute to Geshe-la's great erudition and kindness."
All are welcome to order Steps on the Path to Enlightenment, Vol. 5: Insight directly from Wisdom Publications now. 

Please rejoice in the completion of this incredible project decades in the making!
"Lamrim is what you should focus on your whole life, even while you are doing your job. This is what you should keep your mind in, this is the most meaningful, most profound practice, doing each act with the mind in bodhichitta. This should be your practice, this is what you should try to accomplish in this life." —Lama Zopa Rinpoche
---
You can learn more about the Steps on the Path to Enlightenment series by Geshe Lhundub Sopa: www.wisdompubs.org/author/geshe-lhundub-sopa