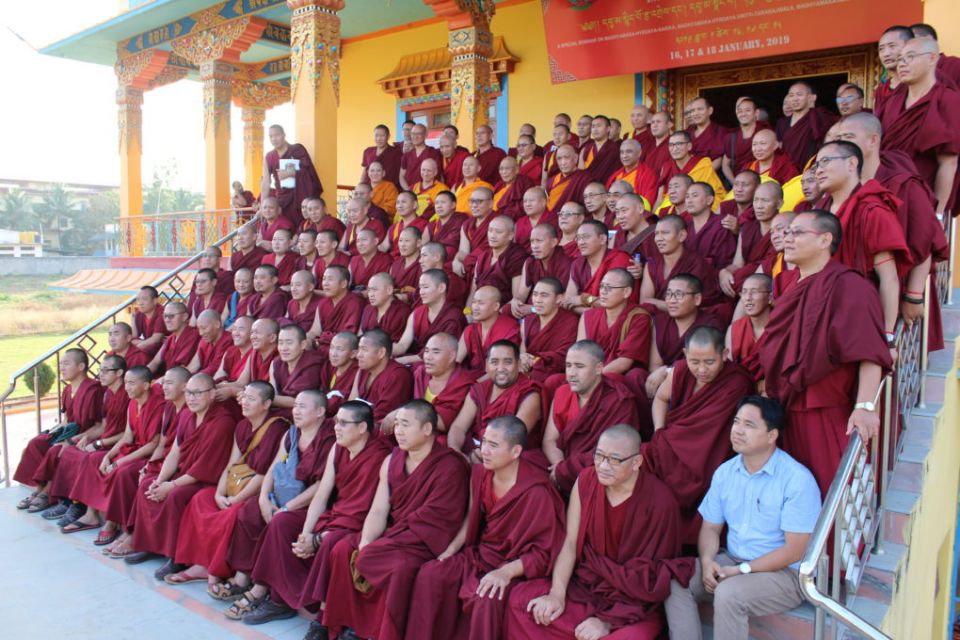 For the second year in a row, the Lama Tsongkhapa Teachers Fund has invested in the Geluk International Foundation which was established to preserve and promote Buddhist heritage in general and the Gelug tradition in particular. This year, approximately US$18,000 was offered toward the foundation's expenses. 
This foundation was established as result of the aspirations and vision of His Holiness the Dalai Lama, Gaden Tri Rinpoche, and various important senior Gelug masters and leaders, in order to insure coordination, cooperation, management, and organized continuity of the precious Gelug tradition.
The vision of the foundation is to promote, propagate, develop, enrich, and preserve the Gelug tradition established by Lama Tsongkhapa. The goal is to unite and harmonize all Gelug monasteries and Dharma centers throughout the world under a single umbrella in order to improve and maintain coordination, cooperation, development, function, and friendship. 
Member monasteries include: Gyuto, Tashi Lhunpo, Sera Mey, Sera Je, Rato, Namgyal, Gaden Jangtse,Gaden Shartse Norling, Drepung, Drepung Loseling, and Drepung Gomang.
Geluk International Foundation Current Accomplishments
Construction of headquarters has been completed.
Revisions of the directives of monasteries of Gelug tradition have been completed, published, and circulated.
GOLDEN KEY: a Clear Presentation of Truth and Falsehood about Dholgyal through Quotes and Reasoning, was recently published.
Offerings, rituals, and prayers were organized in Dharamsala, June 2015, for the long life of His Holiness the Dalai Lama.
Please rejoice in another year of sponsorship to the Geluk International Foundation which is a tremendous investment in the future and preservation of the Gelug tradition, and an offering of support toward His Holiness's wishes for a unified tradition. 
---
You can learn more about the activities of this foundation and read news updates about current events and support the Lama Tsongkhapa Teachers Fund to ensure that grants like this can continue into the future.