The latest issue of Mandala magazine features an extensive article, "Sustaining the Pure Unbroken Lineage of Buddha's Teachings in This World: The Legacy of the Sera Je Food Fund," which is an in-depth look at the accomplishments and historical context of the Sera Je Fund over the last twenty-seven years. All are welcome to enjoy this article in eZine or PDF format. 
The final handover of an endowment large enough to support the long-term health of the Sera Je Food Fund has been completed. The interest from this endowment is now covering the entire annual costs associated with offering three nutritious meals daily to all the monks of Sera Je Monastery, for as long as the endowment remains. This endowment concludes twenty-seven years of offering the daily meals through the fund to the monks of Sera Je Monastery, this
is a massive achievement. In total US$5.3 million was granted to Sera Je Monastery for this endowment.
We invite you to rejoice in Sera Je Food Fund's incredible history by enjoying this article which chronicles its milestones and significance, both in practical terms with respect to the day-to-day operations of the project, and also in terms of the personal impact the food fund has had on its beneficiaries, the monks of Sera Je.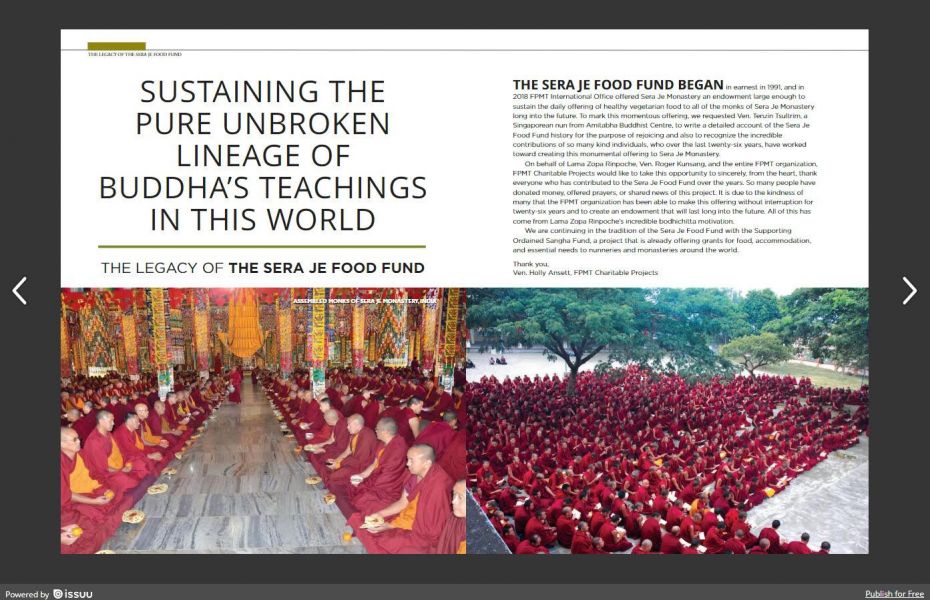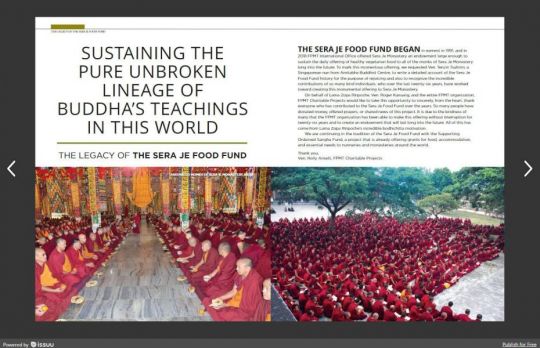 We also offer this article as a heart-felt THANK YOU to all who have contributed to, worked on behalf of, shared news about, or supported in any way this project over the years. What you have made possible is truly amazing. 
---
If you want to help Sangha, please learn more about the Supporting Ordained Sangha Fund and the ways it supports monasteries and nunneries around the world.