Ngari Khangtsen, the khangtsen of Khensur Rinpoche Jampa Thegchok in south India, has been making progress on their Temple Project, a project to build a much-needed new prayer hall that can seat 150 monks comfortably.
Earlier this year, Lama Zopa Rinpoche offered, through the Lama Zopa Rinpoche Bodhichitta Fund, US$100,000 to this project which has an estimated budget of over US$500,000.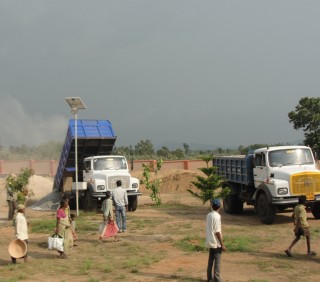 The following update was recently sent to FPMT International Office:
Tashi Delek to all the friends of Ngari Khangtsen at Sera Je Monastery, South India.
Today, we have some new and exciting news for everyone. 
The Ngari Khangtsen "Temple Project" is underway!
We finally received building approval from the local government and have broken ground. We are preparing the grounds and getting ready to start pouring the foundation at our new temple at Sera Je, South India. 
We would like to say a special thank you to Lama Zopa Rinpoche and all the members of the FPMT organization. Because of the amazing kindness and generosity in donating US$100,000, we have been able to start the building of our new temple.
Prayers,
The Monks of Ngari Khangtsen
Please rejoice in this progress!
You can learn more about the Lama Zopa Rinpoche Bodhichitta Fund as well as the other Charitable Projects of FPMT.