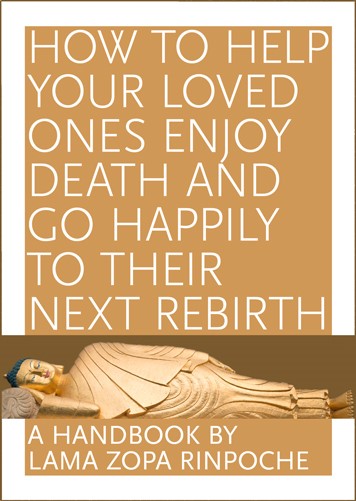 In this handbook – now available as a free download – Lama Zopa Rinpoche gives a huge amount of advice about how to help our loved ones before, during, and after death. 
This 400+ page book, compiled and edited by Ven. Robina Courtin, takes much of the material in FPMT's Heart Practices for Death and Dying and Heart Advice for Death and Dying (both published in 2008), but radically restructures and reorganizes it into an easy-to-use manual. 
As Ven. Robina explains in the introduction:
"For a Buddhist, the ideal way to die is to die gradually, contrary to an often-stated view that it's best to die in our sleep so that we don't know about it. And the reason is clear: given that most of us live in denial of this natural event, our loved ones need time to get ready for death, at peace and unafraid, so that they can, indeed, go happily to their next rebirth, either a precious human rebirth in which they can continue to practice their spiritual path or rebirth in a pure land, such as Buddha Amitabha's, in which they can easily become a buddha and thus be qualified to perfectly help others.
"As Rinpoche says in the Prologue: 'When suddenly one day one of your loved ones dies and you don't know what to do to help, you'll feel so confused, so lost. Knowing how to help others at the time of death is such important education to have.'"
Wisdom Publications will be publishing this material as a book entitled Preparing for Death: How to Meet Life's Final Challenge without Fear in 2016.
Lama Zopa Rinpoche has given extensive advice on preparing for death and caring for others at the time of death. You can access all of this advice and practices on fpmt.org/death.