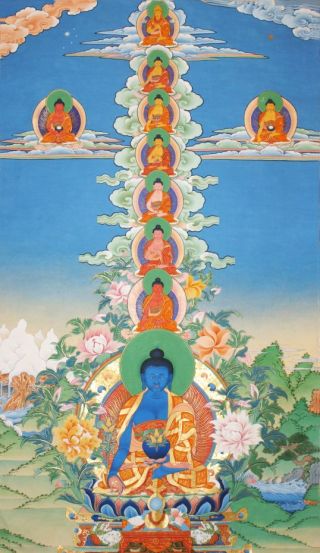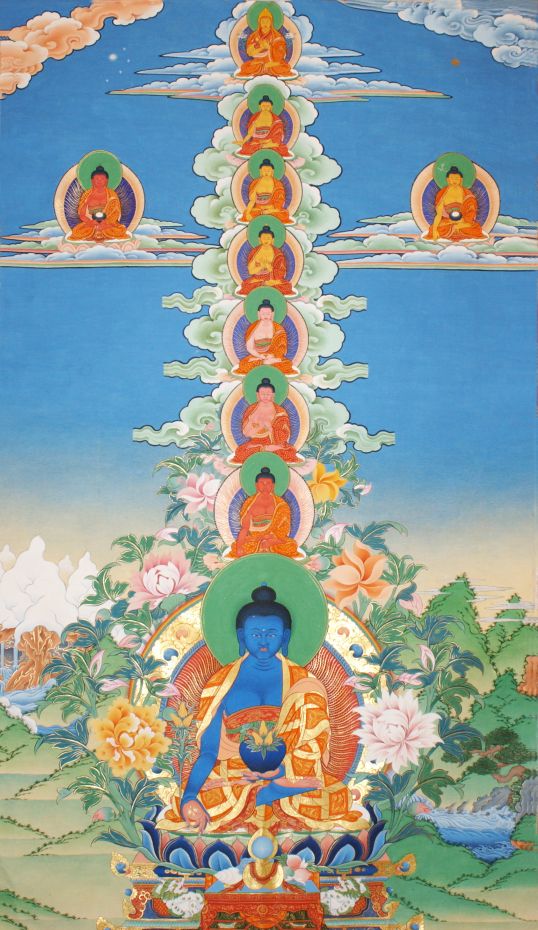 Students can now find A Brief Meditation-Recitation on Guru Medicine Buddha, written and arranged by Lama Zopa Rinpoche, on the Foundation Store as a PDF. Rinpoche encouraged FPMT to make the text "immediately, immediately" available for the benefit of students around the world. Anyone can practice the text, with slight modifications for students without initiations.
A Brief Meditation-Recitation on Guru Medicine Buddha begins with requests to the Medicine Buddhas composed by Rinpoche and follows with recitation of their holy names; recitation of either—or all of—the long, middle-length, or short Medicine Buddha mantra; and recitation of the mantra of Tathagata Stainless Excellent Gold and other dharani-mantras, extracted from the Fifth Dalai Lama's The Wish-Granting Sovereign: A Ceremony for Worshiping the Seven Sugatas. The practice concludes with prayers, requests, and dedications also authored by Rinpoche.

Rinpoche has consistently taught that Medicine Buddha practice is beneficial for anyone who is dying, sick, injured, or who has already died, and for success in general.

---
Find A Brief Meditation-Recitation on Guru Medicine Buddha on the Foundation Store:
https://shop.fpmt.org/A-Brief-Meditation-Recitation-on-Guru-Medicine-Buddha-PDF_p_3121.html
Through comprehensive study programs, practice materials, and training seminars, FPMT Education nourishes the development of compassion, wisdom, kindness, and true happiness in individuals of all ages.
Contact Info
1632 SE 11th Avenue
Portland, OR 97214-4702 USA
Tel (503) 808-1588 | Fax (503) 232-0557
About FPMT
FPMT is an organization devoted to the transmission of the Mahayana Buddhist tradition and values worldwide through teaching, meditation and community service.
more...
About Buddhism
If you're new to Buddhism, please read our
Buddhism FAQ
. A place to learn about Buddhism in general, FPMT, and our Discovering Buddhism at Home series.