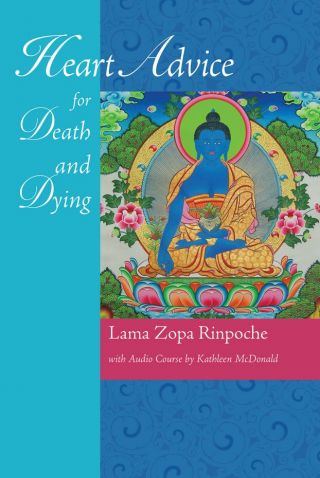 FPMT Education Services would like to remind you of three invaluable resources on death and dying: Heart Advice for Death and Dying, How to Enjoy Death: Preparing for Life's Final Challenge without Fear, and the Liberation Box.
Heart Advice for Death and Dying, an FPMT Education Services program available on the Online Learning Center, is designed to provide practical instructions for the time of death to students who are interested in learning about death and dying from the Tibetan Buddhist perspective in a structured way. It is recommended that students have some prior knowledge of Buddhism in the Tibetan tradition, in particular the topics of the lamrim, by having completed an introductory course, such as Buddhism in a Nutshell, and at least some of the lamrim modules of Discovering Buddhism. 
Lama Zopa Rinpoche's latest book on death and dying, How to Enjoy Death: Preparing for Life's Final Challenge without Fear, is an easy-to-use handbook that utilizes much of the material made available in Heart Practices for Death and Dying. 
The Liberation Box contains powerful methods for ensuring a fortunate rebirth for those who have died or are in the process of dying. This collection of tools for the time of death has been assembled according to Lama Zopa Rinpoche's advice.
And as always, students are welcome and encouraged to take advantage of all the other resources and training available on FPMT.org to help navigate oneself and others through the death process.

---
Through comprehensive study programs, practice materials, training seminars, and scholarships, FPMT Education nourishes the development of compassion, wisdom, kindness, and true happiness in individuals of all ages.
Contact Info
1632 SE 11th Avenue
Portland, OR 97214-4702 USA
Tel (503) 808-1588 | Fax (503) 232-0557
About FPMT
FPMT is an organization devoted to the transmission of the Mahayana Buddhist tradition and values worldwide through teaching, meditation and community service.
more...
About Buddhism
If you're new to Buddhism, please read our
Buddhism FAQ
. A place to learn about Buddhism in general, FPMT, and our Discovering Buddhism at Home series.