News/Media

*If a menu item has a submenu clicking once will expand the menu clicking twice will open the page.

Study & Practice

*If a menu item has a submenu clicking once will expand the menu clicking twice will open the page.

Projects

*If a menu item has a submenu clicking once will expand the menu clicking twice will open the page.

FPMT

From the Buddhist point of view, attachment for something means that it's very difficult for us to separate from it. We have a very strong attachment – strong like iron – for the things we think of as being very good. We need to learn to be flexible.

Lama Thubten Yeshe

*If a menu item has a submenu clicking once will expand the menu clicking twice will open the page.

Shop

The Foundation Store is FPMT's online shop and features a vast selection of Buddhist study and practice materials written or recommended by our lineage gurus. These items include homestudy programs, prayers and practices in PDF or eBook format, materials for children, and other resources to support practitioners.

Items displayed in the shop are made available for Dharma practice and educational purposes, and never for the purpose of profiting from their sale. Please read FPMT Foundation Store Policy Regarding Dharma Items for more information.
Today we share some important updates and newly available resources. Thank you for your continued prayers, offerings of support, condolences, and kindness. 
The Embalming Process
The embalming process for Lama Zopa Rinpoche's holy body has begun. We have a short video to share of the prayers taking place around Rinpoche's holy body at the start of the embalming process.
Regarding the lamas helping to take care of the embalming of Rinpoche's holy body, the "Nyingma lama" we referred to in yesterday's update is one of Rinpoche's teachers, Lama Ngawang Chokyung. We are exceptionally grateful for his guidance. Lama Ngawang Chokyung is very experienced in this method, and supervised the embalming of His Holiness Trulshik Rinpoche. The "ex-abbot of Gyumed" that we referred to is the present abbot of Segyü Dratsang, Khen Rinpoche Losang Wangdu. We are very grateful for all his care and assistance at this time.
Swift Return Prayer by His Holiness the Dalai Lama
With great rejoicing we have received a prayer which His Holiness the Dalai Lama composed for the swift return of Lama Zopa Rinpoche. This is available in English and Tibetan and has a particularly poignant colophon. For the convenience of students, we have compiled His Holiness's prayer (starting on page 5), along with a small collection of additional prayers for Rinpoche's swift return, composed spontaneously by other distinguished lamas with whom Rinpoche had a connection in this lifetime. It will be updated as we receive new compositions. Please download Prayer for the Swift Return of Lama Zopa Rinpoche by His Holiness the Dalai Lama with additional prayers by other distinguished lamas. This booklet is very user friendly with each prayer bookmarked and linked to from the contents page. 
Prayers Offered, April 16
The following prayers are being offered today, April 16, at Kopan Monastery: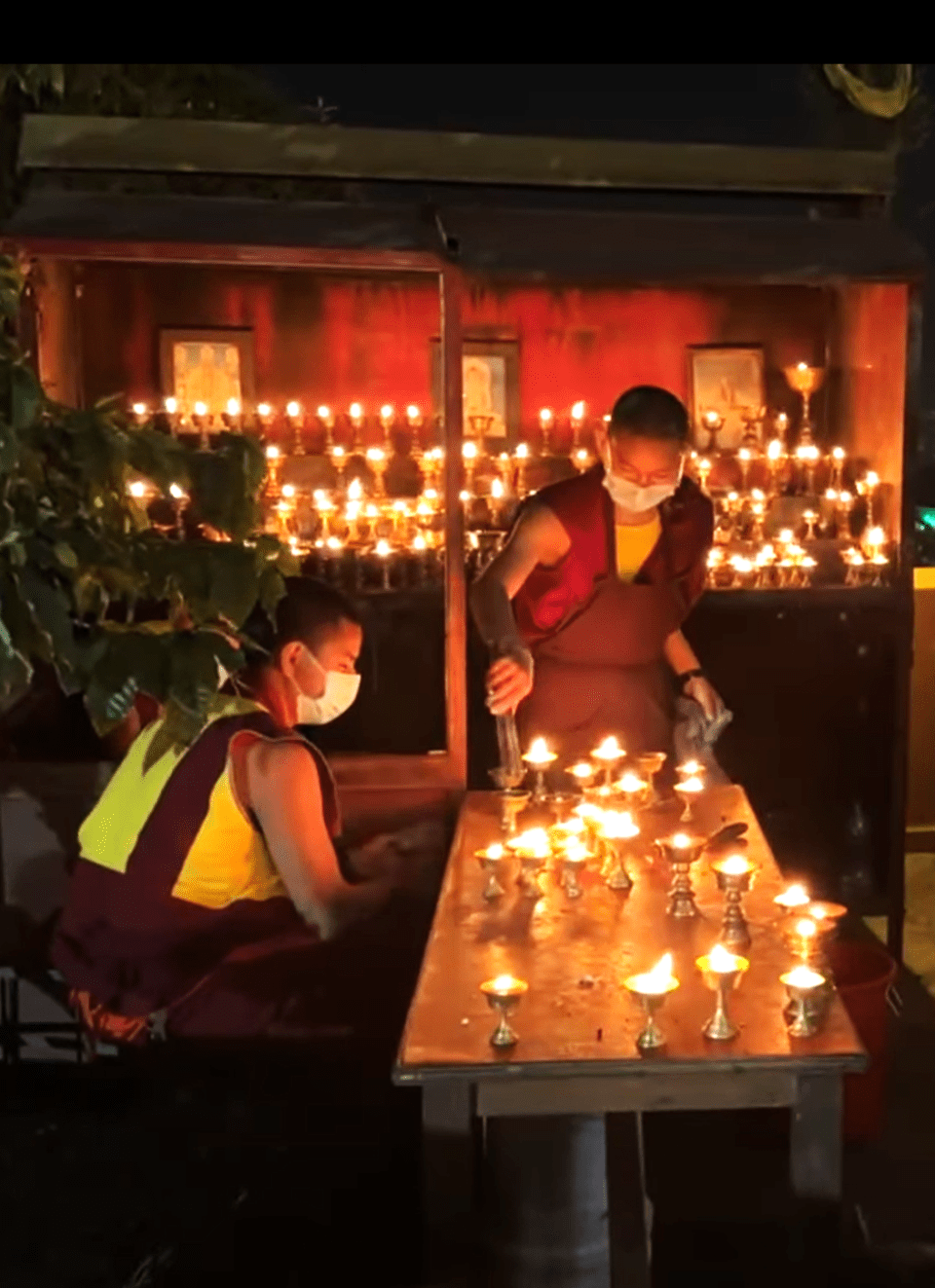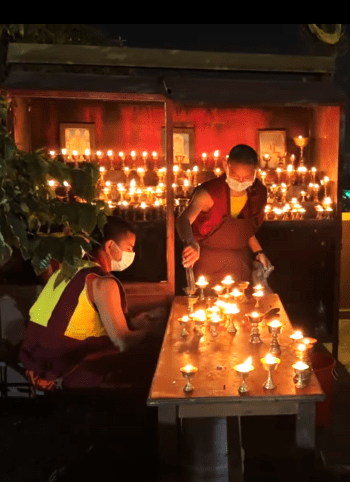 Vajrasattva bath offering
Thirteen Deities Yamantaka self-initiation offered by Rinpoches, Khenrinpoche, Gyumed senior monks and Kopan lama gyupas
Extensive Medicine Buddha puja offered by general assembly of monks and nuns
Bodhicharyavarara recitations offered by senior nuns
All Kopan monks and nuns together with all monks of the Gelug monasteries in Nepal are gathering in the afternoon to recite prayers
Lay devotees come in various group to make offerings and prayers
All monks and nuns together with international students are reciting Madyamulakarika in the evening 
More pujas will continue all night
You can watch a livestream of the continued prayers and pujas at Kopan. 
Tributes and Condolences
We have received many tributes to Lama Zopa Rinpoche, and messages of support and condolence, including some prayers and practices offered for Rinpoche's swift return, from lamas and monasteries around the world. You can read these on our new Tributes and Condolences page, which we've added to our Updates Regarding Lama Zopa Rinpoche page.
Ongoing Practice and Dedication
Please continue trying to fulfil Rinpoche's holy wishes, especially to practice impermanence and bodhicitta in the context of the lamrim. Fulfilling the gurus' holy wishes is a very important part of inviting the guru to return.
May Rinpoche be reborn as quickly as possible in a place where he can be very quickly recognized and be of most benefit to sentient beings.
Big love,
Your friends at FPMT International Office
---
We will continue to send out updates as they become available, and these will be collected on this updates page.
Foundation for the Preservation of Mahayana Tradition (FPMT), is a Tibetan Buddhist organization dedicated to the transmission of the Mahayana Buddhist tradition and values worldwide through teaching, meditation and community service.
Meditation is not on the level of the object, but on that of the subject. You are the business of your meditation.
Lama Thubten Yeshe