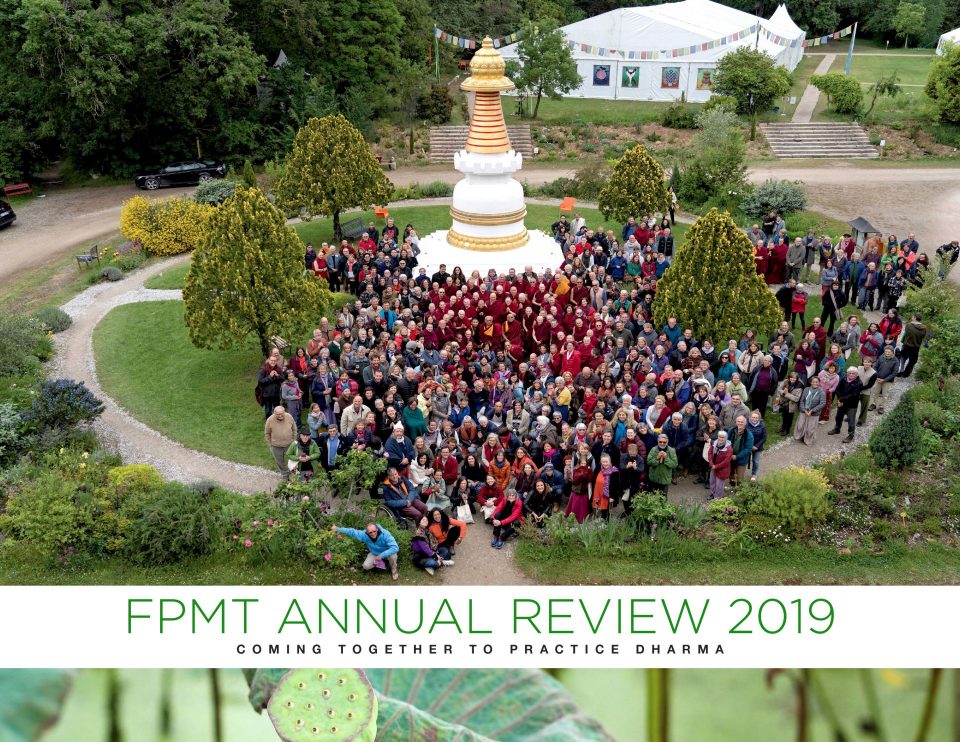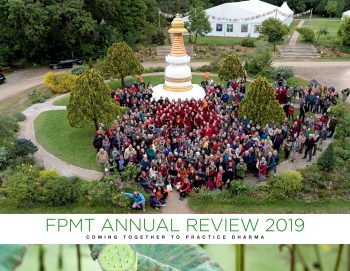 FPMT International Office is rejoicing, and we invite you to take time to rejoice with us, in the activities of the FPMT Spiritual Director, Lama Zopa Rinpoche, and his office, during 2019. We share an account of this work in the FPMT Annual Review 2019: Coming Together to Practice Dharma. The new annual review is available to read as an eZine and a downloadable PDF.
In these difficult times, it is especially important to remember the powerful practice of rejoicing. "Among the virtues, rejoicing is the best, because it is the easiest one to practice. It simply involves our mind thinking, and the merit we accumulate is infinite," Lama Zopa Rinpoche explains in the teaching "Rejoicing Is the Best" (published by the Lama Yeshe Wisdom Archive in May 2016).
International Office, also called Lama Zopa Rinpoche's office, helps fulfill the vision of FPMT's founders Lama Yeshe and Lama Zopa Rinpoche, assists with the actualization of Lama Zopa Rinpoche's vast vision for the FPMT organization, and supports 165 centers, projects, and services in 40 countries that comprise the international FPMT network. 
"Billions of thanks for your kindness, for working for, volunteering at, and supporting in various ways FPMT centers, projects, and services," Lama Zopa Rinpoche writes in this year's annual review.
"The main benefit of the centers is to offer Dharma teachings, teaching compassion; teaching from where suffering comes and from where happiness comes; teaching about karma, about how to stop negative karma and how to practice virtuous actions, which cause all the happiness up to enlightenment: the happiness of this life, the happiness of future lives, the ultimate happiness of liberation from samsara, and then the peerless happiness of enlightenment, which is everlasting happiness, with total cessation of the obscurations and completion of the realizations (sang gye).
"Achieving enlightenment is especially to liberate all the sentient beings from the oceans of samsaric suffering forever and lead them to peerless happiness, with cessation of the gross and subtle defilements and completion of the realizations. This is most important. This is what sentient beings need; this is their most important need."
In addition to advice from Rinpoche, the FPMT Annual Review 2019 includes  updates from FPMT Inc. CEO Ven. Roger Kunsang and Board of Directors Chair Andrew Haynes. We also share an overview of Lama Zopa Rinpoche's tireless Dharma activities and highlights of International Office's work on behalf of Rinpoche and all in the FPMT organization.
May we take a moment as an international community of Dharma practitioners to rejoice in all the ways we have come together to practice Dharma and fulfill the wishes of our Spiritual Director, Lama Zopa Rinpoche. May the merits we accumulate from rejoicing be dedicated so that we become most helpful to all beings.
---
We invite you to read FPMT Annual Review 2019: Coming Together to Practice Dharma, now available online in eZine and PDF formats. (Please note, the FPMT Annual Review 2019 is available in digital format only.)
https://fpmt.org/fpmt/annual-review/
See photo highlights from Lama Zopa Rinpoche's 2019:
https://fpmt.org/teachers/zopa/gallery/#2019
FPMT International Office is Lama Zopa Rinpoche's office and works daily to achieve its mission of "preserving and spreading Mahayana Buddhism worldwide by creating opportunities to listen, reflect, meditate, practice, and actualize the unmistaken teachings of the Buddha, and based on that experience, spread the Dharma to sentient beings."