News/Media

*If a menu item has a submenu clicking once will expand the menu clicking twice will open the page.

Study & Practice

*If a menu item has a submenu clicking once will expand the menu clicking twice will open the page.

Projects

*If a menu item has a submenu clicking once will expand the menu clicking twice will open the page.

FPMT

Real happiness in life starts when you begin to cherish others.

Lama Zopa Rinpoche

*If a menu item has a submenu clicking once will expand the menu clicking twice will open the page.

Shop

The Foundation Store is FPMT's online shop and features a vast selection of Buddhist study and practice materials written or recommended by our lineage gurus. These items include homestudy programs, prayers and practices in PDF or eBook format, materials for children, and other resources to support practitioners.

Items displayed in the shop are made available for Dharma practice and educational purposes, and never for the purpose of profiting from their sale. Please read FPMT Foundation Store Policy Regarding Dharma Items for more information.
Pilgrimage needs faith. The more faith, the more happiness. Otherwise, you are just like a tourist looking at ruins. … When you go to these holy places it reminds you of impermanence. Once these places were great cities but now there are just stones. A thousand years ago these places were quite different. But even though there are just stones now these stones are so precious. — Lama Zopa Rinpoche
In October 2016, Ladakhi Lama (Ven. Thubten Tsewang), a former attendant of the great Khunu Lama Rinpoche (1894-1977), led a few people from Root Institute in Bodhgaya, India, on a pilgrimage. Ladakhi Lama, who used to live and teach in Mumbai, India, now resides in Bodhgaya. The group traveled to the ruins of Vikramashila, a one-time monastic university where the great master Atisha lived and taught. For centuries, Vikramashila and Nalanda were the two most important centers of Buddhist learning in India.
Annie McGhee reports on the trip:
I had long wanted to go to Vikramashila. I am passionate about pilgrimage to holy places, and I have been several times to the remains of the great monastic university of Muara Jambi in Sumatra, Indonesia, where Atisha spent twelve years with his precious teacher Serlingpa. So I feel a strong connection to Atisha, and Vikramashila, after all, is renowned as Atisha's home monastery. Yet I had hesitated to go there on my own; travel in that part of India's Bihar State can be unsafe. While staying at Root Institute, I made sincere prayers that I would find a way to go, and mentioned my hope to only two friends. I was overjoyed when suddenly Lama-la offered to lead a few of us there in an unofficial way. How exciting it was that not only would it happen, but also that Lama-la wanted to come, despite the distance and rough traveling conditions.
Vikramashila is located about 300 kilometers (185 miles) east of Bodhgaya, in what was once the famed kingdom of Magadha, where the Buddha lived. Leaving by jeep at 4 a.m., the journey on bone-jarring roads took us almost ten hours. We passed through desperately poor rural villages whose mud huts, clustered together, seemed to be crumbling back into the earth from whence they came. Clusters of cow dung chapatis, a source of fuel, clung to their walls. Young girls walked with babies on their hips. Between the heavy traffic of the towns, the more open roads of the countryside were lined with fields of rice, wheat, sugarcane, potatoes, and chili, all dotted with haystacks and brickworks. Huge oxen lumbered by, pulling carts loaded with impossibly high tiers of hay; small trucks brimmed with children and women dressed in a cacophony of multi-colored saris. Buses hurtled along, horns blaring, crammed with people, with many more sitting precariously on their roofs. Shops selling fruit and drinks appeared every so often, and the smoke from the charcoal braziers of chai stalls mingled with the ever-present dust. Old men with mahogany faces and hennaed hair gathered in little groups, chatting and smoking bidis. We saw a few small mosques with men in white haji hats signifying that they too had been pilgrims; in their case to Mecca.
We arrived at Vikramashila around 2 p.m. and went immediately to the museum. There, we recovered from the road trip with a serene picnic on manicured lawns edged with flowers. We found the museum worth a visit. It displays hundreds of statues and other objects excavated from the site, from what looked like copper and stone malas to cooking implements to small metal statues of deities (predominantly Tara), very fine in craftsmanship and similar to old-style Nepali statues. One beautiful, nearly life-size Tara had been exquisitely carved out of polished black basalt, with the detail of her lower robes depicting mandalas interspersed with leaf and flower motifs. Sadly, the statue was headless and armless due to damage at the hands of the Turkish forces that conquered India and destroyed Vikramashila (as well as Nalanda) around 1200 C.E.
After a visit to the museum, we explored the grounds of the ancient university itself. As we entered, we saw the remains of many votive stupas. Lama-la quietly remarked that they might be all that was left of stupas that held the relics of the 108 arhats who resided at Vikramashila. We walked toward the main temple along a processional way where the remains of huge granite pillars, some over a meter (3 feet) in circumference, once supported the gatehouse roofs.
From there, we came to a vast quadrangle where the main temple once stood. The quadrangle was reputed to have been able to hold 8,000 monks. Around it on all four sides, excavations have unearthed the monks' cells. There were 208 cells, fifty-two on each side, that opened onto a common verandah, which had steps descending into the quadrangle. We saw round tower-like projections on the buildings' corners, and smaller projections on the sides, about 24 meters (80 feet) apart. Were these the "the golden spires shining in the sun" that ancient Tibetan accounts mention being sighted from afar by delegations approaching Vikramashila?
Within the quadrangle, the remains of the main central temple show it was a cruciform-shaped mandala. In its day, it was a multi-storied complex, around 14 meters (46 feet) in height by 23 meters (75 feet) in length, encircled by two levels of paths for circumambulation. Four open sides at the center of the mandala faced the four cardinal directions, and may have housed images of buddhas. Three of the sides were only partially excavated, so we sat on the only fully excavated side, the east, where there would once have been a statue positioned on the still-present wide brick platform. The faint remains of stucco told us that there might have been painted frescoes on the back wall, long gone now. We thought we could see an outline, faintly etched on the wall, of a very large buddha.
Here we sat silently, contemplating the greatness of the masters who had come before us and shown us the way, and praying to be like them. Lama-la led us in refuge and bodhichitta prayers, and we recited the Heart Sutra, King of Prayers, Praise to Lama Tsongkhapa, Calling the Guru from Afar, and the long life prayers for His Holiness the Dalai Lama and Lama Zopa Rinpoche. One of our group was Pema Tse, the new principal of Maitreya School in Bodhgaya, and he recited a moving prayer he had composed about finding the meaning of life through teaching children. Finally, we recited Remembering the Kindness of His Holiness the Dalai Lama and the Tibetan People. This was composed by Lama Zopa Rinpoche in support of His Holiness' wishes, the Tibetan people, peace and happiness in the world, and sentient beings attaining enlightenment. It was tremendously moving to contemplate and pray like this, led by Lama-la, in such an inspiring place!
We continued to explore, examining a large rectangular structure in the southwest corner of the monastery. Archeologists have identified this as the library. It had an ingenious natural air conditioning system, utilizing long, narrow reservoirs of water along the outside edges of the building. Cooling breezes would have blown over the water into the library via wall vents. As the manuscripts were written on mulberry or palm leaves, this would have helped preserve them in the monsoons and the fierce summer heat. The remaining broad foundations of the building suggest it may have had several stories. The library was destroyed by fire during the conquest; like Nalanda's library, it is said that the fires burned for months. It must have held so many precious texts—how sad to see only stones remaining.
We saw other evidence of destruction. On the central temple complex, many areas of the double brick construction of the structure were still visibly blackened from the base to a height of 5 meters (16 feet) or more, showing the magnitude of the fire's devastation. According to archeological reports, 15 cm (6 inches) of ash were found in some of the monks' cells.
On the eastern side of the structure leading to the main complex we saw a terracotta frieze of numerous figures, but it was badly damaged and the figures portrayed unrecognizable. Again we felt sad: superb quality terracotta art flourished during the Pala era when Vikramashila was constructed, and it would have wonderful to see the frieze in those days. Sources say that large life-like statues of both Nagarjuna as well as Atisha were once found in the main temple complex here, but they are now gone. Carved reliefs of Lord Buddha and Avalokiteshvara created in the 8th century that were discovered here are now in the museum in Patna; a reminder to visit this museum, much nearer to Bodhgaya, another time.
Adjacent to the former library, we came across an entrance to a man-made underground cave. It was around one meter (3 feet) square. Perhaps monks did retreat there in the dark, with the entrance to the cave sealed with a large rock, as they did in Tibet. According to a local man we spoke to, it has a secret passage to Bateshwar Temple, located beside the Ganges river 4 kilometers (3 miles) away. This is now a Shiva temple, but is said to feature Buddha statues as well as historic links to practitioners from Nalanda and Vikramashila. We didn't have the time to explore it—next trip!
As sunset approached, crowds of local people arrived at the ruined monastery to enjoy the site and feel its blessings. It seems a shame that few pilgrims now visit Vikramashila, unlike Nalanda, which is much closer to Bodhgaya. Before leaving, we hung prayer flags in a small grove of trees behind the former library. Then, at 5 p.m., we reluctantly returned to our jeep as the gates closed, to drive to nearby Kahalgaon where we would spend the night before departing in the morning for Root Institute.
Being at Vikramashila was truly amazing—following in the footsteps of the great scholars and practitioners who preceded us; walking and sitting where they walked and sat, seeing where they studied and meditated and gained realizations. Their presence was still palpable. As Lama Zopa Rinpoche says, even the stones are blessed. Vikramashila's sanctity struck me then and the feeling remains with me now. Going on pilgrimage is a reminder that holy places, with their precious blessings, still exist. And visiting the places where the holy beings we encounter in texts really lived and taught—what an inspiration!
Background: On the History of Vikramashila
In chapter 6 of Becoming Enlightened, His Holiness the Dalai Lama talks about Vikramashila, saying, "Most of the great Buddhist authors of Sanskrit texts were Nalanda scholars, and later when another great center, Vikramashila, formed, it used Nalanda's texts and methods of study. … The great Indian figures from whom the four major Tibetan sects derive—Shantarakshita and Padmasambhava for the Old Translation sect of Nyingma, Virupa for the Sakya sect, Naropa for the Kagyu sect, and Atisha for the Gelug sect—were all great scholars at Nalanda or its derivative, Vikramashila. … In the eleventh century the Indian scholar-yogi Atisha, who was born in Bengal in a royal family and whose home institution of learning was Vikramashila, came to Tibet … [where he] composed Lamp for the Path to Enlightenment."
Taranatha (1575-1634), a prolific writer and renowned scholar from Tibet, states in chapter 30 of his History of Buddhism in India, "King Dharmapala built Vikramashila in the north of Magadha, on the bank of the Ganga on the top of a hillock. The central temple had a human size statue of the Mahabodhi [temple]. Around it, there were fifty-three smaller temples of Guhyasamaja and fifty-four common temples, thus one hundred and eight temples." Taranatha points out that, although it was the devout King Dharmapala who was responsible for the construction of Vikramashila, the inspiration came from the monk-scholar Haribhadra (700-770), a disciple of Shantarakshita. Historians agree that Vikramashila was consecrated in the late eighth century or early ninth century, after Haribhadra's passing, by his disciple Buddhajnanapada. It became a center for both sutra and tantra, enduring for approximately four centuries.
Atisha (982-1054) was Vikramashila's most celebrated son. He had more than 150 teachers, and was famous as a teacher, debater, and composer of texts. One text he is known to have written at Vikramashila was A Song: Mind Deliverance from Rebirth. It was from Vikramashila in 1042 that Atisha, at the age of sixty, traveled to Tibet at the invitation of its king, Yeshe Öd. Atisha is said to have transported sixty loads of texts with his delegation on horseback to Tibet via Nepal, a journey across arduous terrain that took many months. As prophesied by Avalokiteshvara and Tara, his life was shortened by twenty years by going to Tibet, where he died at age seventy-two. Yet for Tibet, his teachings initiated a golden age of Dharma, particularly because of the popularity of his Lamp for the Path to Enlightenment. The work was written in Tibet particularly for Tibetans, and launched the tradition of lamrim or "stages of the path" literature.
Taranatha names nine prominent teachers from Vikramashila after Atisha, ending with the Kashmiri master Sakyasri (1127-1225). Sakyasri and other scholars fled Vikramashila just in time to escape the invasions that destroyed the monastery. Fortunately, by the time Vikramashila was burned, many Buddhist texts had been preserved in China and Tibet, so all was not lost.
---
Root Institute is planning a meditative pilgrimage to Vikramashila for December 16-19, 2017. For information, please visit www.rootinstitute.ngo.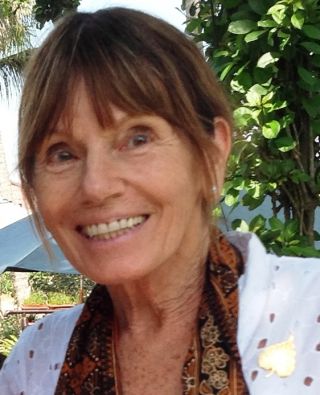 Annie McGhee lives in Australia and has a special interest in pilgrimages and the history of sacred Buddhist sites, particularly those connected to Atisha. She has presented and published papers on this topic, including Going North to the Land of Snows: Muara Jambi, Serlingpa, Atisha and Tibetan Buddhism, for the International Conference of Jambi Studies in Jambi, Sumatra, Indonesia in 2013, and Compassionate Legacy: Mahayana Buddhism in Sumatra and Its Connections with Tibetan Buddhism, for the 14th Sakyadhita International Conference for Buddhist Women in Yogyakarta, Java, Indonesia in 2015.
---
Mandala is offered as a benefit to supporters of the Friends of FPMT program, which provides funding for the educational, charitable and online work of FPMT.
The workshop is in the mind.
Lama Zopa Rinpoche