News/Media

*If a menu item has a submenu clicking once will expand the menu clicking twice will open the page.

Study & Practice

*If a menu item has a submenu clicking once will expand the menu clicking twice will open the page.

Projects

*If a menu item has a submenu clicking once will expand the menu clicking twice will open the page.

FPMT

Problems come when you are not living in a natural state of mind. Then, no matter what you are doing, your mind will be on something else. You are supposed to be cleaning your house, but your mind is thinking about going to the beach and eating ice cream. That is when you run into difficulties.

Lama Thubten Yeshe

*If a menu item has a submenu clicking once will expand the menu clicking twice will open the page.

Shop

The Foundation Store is FPMT's online shop and features a vast selection of Buddhist study and practice materials written or recommended by our lineage gurus. These items include homestudy programs, prayers and practices in PDF or eBook format, materials for children, and other resources to support practitioners.

Items displayed in the shop are made available for Dharma practice and educational purposes, and never for the purpose of profiting from their sale. Please read FPMT Foundation Store Policy Regarding Dharma Items for more information.
In the July-September 2014 issue of Mandala, Steve Milton, director of Centro Nagarjuna Valenica in Spain, shared that on "Tuesday evenings at Centro Nagarjuna Valencia in Spain, Geshe Lamsang, the center's resident geshe, gives an hour-and-a-half talk or teaching. … A few years ago, I started to call the Tuesday talk 'Heart Advice.' And it really is just that, depending on who comes to the talk or what Geshe-la has on his mind, he will give spontaneous heartfelt advice that is inspiring for new comers and older students alike."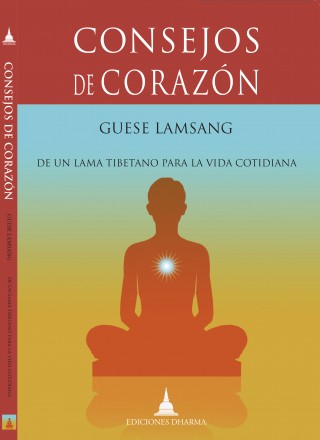 "It was only natural then that the book Heart Advice from a Tibetan Lama for Daily Living was published as a free Dharma book in Spanish. Digital versions in PDF and ePub are available to download directly from the website or you can simply read it online. The printed version is available in Centro Nagarjuna Valencia or from Ediciones Dharma, who published the book. The book took over two years to complete and was launched on Tibetan New Year, March 2, 2014."
Mandala shared an excerpt on it's website:
What must we do to free ourselves completely from cyclic existence? Buddha gave instructions as to what we should abandon and what we should practice, that is to say, he indicated which causes and their corresponding effects we should eliminate and what we should try to achieve. The two causes and their effects to eliminate are the truth of suffering and the truth of the origin (of suffering), and the two causes and their results we need to obtain are the truth of cessation and the truth of the path that leads to cessation. Buddha himself emphasized that it is up to us to carry out this work on ourselves. Through our effort we will free ourselves from samsara. In this way, we are our own enemy and own best friend. It may seem contradictory, but both are aspects of our mind.
If we allow ourselves to be dragged along by negative emotions, this will cause us problems. As we continue to create causes to experience suffering, we become our own enemy. Yet we can be our own best friend by eliminating the origin of suffering and by following the path to achieve this. In this way, we will progress on the path and eliminate the causes of all our problems. There are six places where we can go after this life and the means by which we can avoid being reborn in the three negative places has already been explained. As humans we have already avoided being reborn in the lower realms but we still experience unwanted situations because this is the nature of cyclic existence (samsara). If we do not want to be reborn again into samsara, we should follow Buddha's instructions. For this purpose Buddha gave teachings which can be grouped into the three "turnings" or "wheels of Dharma." …
From Mandala July-September 2014
Many times we mix our compassion with attachment. We begin with compassion, but after some time, attachment mixes in and then it becomes an attachment trip.
Lama Thubten Yeshe