FPMT International Office News
February 2013
Lama Zopa Rinpoche in front of 1,000 Buddha offerings, Kopan Monastery, Nepal, December 2012.
Photo Ven. Roger Kunsang.
Losar Tashi Delek! 
Happy Tibetan New Year to all our dear friends! 
With love from Lama Zopa Rinpoche and
all at FPMT International Office
---
Lama Zopa Rinpoche's News:
Spotlight on Rinpoche's Advice
Rinpoche's Advice page includes everything you need to know about essential practices to protect from harm, help during sickness and help those who are dying or dead.
Also, enjoy Rinpoche's practice and practical advice, such as how to think while driving; how to be a real professional; how to make ordinary life actions meaningful and the amazing benefits of working for a Dharma center!
Find the full range of advice from Lama Zopa Rinpoche on Rinpoche's Advice page. Go to the Lama Yeshe Wisdom Archive for lots more advice from Lama Zopa Rinpoche.
Rinpoche's Schedule
Please contact the hosts directly for any questions regarding the event.
Subscribe to our RSS feed on Rinpoche's Schedule to receive updates automatically as soon as they are available!
2013
Shakyamuni Center, Taichung, Taiwan
February 16 White Dzambhala initiation
February 17 Black Mahakala and Trukchuma puja
Jinsui Farlin, Taipei, Taiwan 
February 23 1000-arm Chenrezig initiation
February 25 Long life puja offering to Rinpoche
Heruka Center, Kaohsiung, Taiwan
March 2 Twenty-one Taras initiation
March 3 Hayagriva Hundred Torma Offering
Amitabha Buddhist Centre, Singapore
March 9 Medicine Buddha initiation
March 10 Long life puja offering to Rinpoche
Losang Dragpa Centre, Malaysia
March 16 – 17 Teaching on either 8 Verses of Thought Transformation or Lama Tsongkhapa Guru Yoga, and long life puja offering to Rinpoche
Mahayana Buddhist Association (Cham Tse Ling), Hong Kong
March 23 Teaching on "How to Face Death without Fear"
March 24 Vajrasattva initiation
April – June Ongoing health checks
August1 – 30 Main retreat with Rinpoche – 100 million mani retreat, Mongolia
2014
May 11 – 25 Light of the Path retreat, Kadampa Center, USA
Late 2014 Retreat with Rinpoche and CPMT meeting, Australia
---
Stupa at De-tong Ling Retreat Centre, Kangaroo Island, Australia
International Office News:
Education Services
News Blog:
In order to provide students with ongoing news about FPMT Education Services including new offerings on the FPMT Online Learning Center or the Foundation Store, we have created an FPMT Education News Blog! You can subscribe via RSS or check back often for new blog postings!
This eBook includes the root text of Shalkar Melong, translated with commentary by Lama Zopa Rinpoche, which provides detailed instructions for filling larger holy objects. Also included are the Sung Drub and Rab Na ceremonies for consecrating your holy object.
Translated by Lama Zopa Rinpoche, with calligraphy by Jane Seidlitz, The Practice of Virtue is a frameable one-page prayer reminding us of the power of karma and importance of virtue.
Offering tormas is an important practice for the accumulation of merit and elimination of obstacles.
FPMT Charitable Projects: Sera Je Food Fund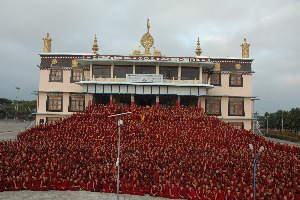 The monks of Sera Je Monastery
The Sera Je Food Fund has just sponsored six months' of nourishment for 2,600 monks studying at Sera Je Monastery in southern India. For 22 years the Sera Je Food Fund has been offering food to the monks of Sera Je Monastery and will continue unceasingly. We would like to offer our sincere gratitude to all of the very kind benefactors who have been contributing to this project over the years and supporting Lama Zopa Rinpoche's vision.
Please read this letter from Sera Je Abbot thanking Lama Zopa Rinpoche, FPMT and all the benefactors of the Sera Je Food Fund. All of the 3,000 monks of Sera Je Monastery are offering nine days of prayers and pujas dedicated to all our kind and generous benefactors.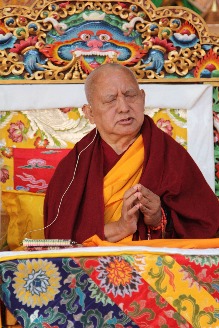 Lama Zopa Rinpoche in Nepal, January 2013.
Photo by Ven. Roger Kunsang.
Celebrate the Days of Miracles with Friends of FPMT!
Create merit during these special multiplying days by becoming a Friend of FPMT. As a Friend of FPMT, your financial contribution supports the work of FPMT International Office, which is dedicated to supporting FPMT students, centers, projects and services in fulfilling Lama Yeshe and Lama Zopa Rinpoche's vision for the Foundation for the Preservation of the Mahayana Tradition.
As a benefit of becoming a Friend of FPMT at the Basic level, you receive a subscription to Mandala magazine. Friends at the Patron or Dharma Supporter level receive free access to FPMT's Online Learning Center in addition to Mandala.
If you become a Friend of FPMT during the Days of Miracles, you'll be sure to receive the next issue of Mandala, which focuses on the practice of pilgrimage and includes advice on this from Lama Zopa Rinpoche as well as personal pilgrimage stories from FPMT students.
---
For Center, Project and Service Directors,
SPCs, Teachers and Board Members:
(This advice is specifically for those offering service in the roles listed above.)
Are You Making Use of Rinpoche's Advice?
The FPMT Affiliates Area has some advice from Rinpoche specifically given to those offering service in FPMT centers, projects or services – including advice like this message specifically for directors.
This advice is a never-ending source of renewed inspiration, encouragement to those wondering whether to volunteer or not, or wondering how to create merit!
There's also advice from Rinpoche on video!
Lama Zopa Rinpoche talking with Zong Rinpoche in South India, December 2012.
Photo by Ven. Roger Kunsang.
Are You Receiving Information via the
CPMT e-Group?
The CPMT e-group is the essential forum for sharing key organizational information between Rinpoche, International Office, and FPMT centers, projects and services. If you are a director, SPC, board member or registered teacher, subscription to the CPMT e-group will ensure you are up to date! If you think you are not subscribed and need help to do so, please let Center Services know.
Information on Your Stupas and Prayer Wheels Needed!
Reminder! If you have completed or are in the process of completing a stupa or prayer wheel at your center, project or service under the guidance of Lama Zopa Rinpoche, please send Carina Rumrill information on the size, type, location as well as a photo of your holy object. We'll add your information to exciting new pages being developed on fpmt.org!
Advertise Your Basic Program Retreats
Did you know that your center can advertise Basic Program retreats via the FPMT website? This page is designed to help students find the retreat they need to fulfill the three-month lam-rim retreat requirement for Basic Program certification. Please contact FPMT Education Services if you have a retreat that should be listed on this page!
Foundation Store: Wholesale Discounts
We would like to remind all our centers, projects and services that the Foundation Store offers wholesale discounts for up to 40% on most education material, 10% to 20% on most meditation supplies, along with generous 60-to-90-day payment terms for FPMT centers.
---
FPMT World:
Opportunities to Offer Service in FPMT
Land of Medicine Buddha, USA is looking for a center manager; Vajrapani Institute, USA needs a relief cook.
Please check out these and other exciting opportunities to offer service as a volunteer or as paid staff in FPMT centers, projects and services around the world!
Impermanence at Work
Closed study group – Tilopa, USA, with thanks for their great efforts
Dolma Ling Nunnery, Mongolia
We welcome new director – Ven. Tsenla
With grateful thanks to outgoing director – Ven. Gyalmo
Guhyasamaja Center, USA
10875 Main St. Suite 108
Fairfax, VA, 22030 
International Mahayana Institute
We welcome new director – Ven. Chantal Carrerot
With grateful thanks to outgoing director – Ven. Carol Corradi
FPMT North American Regional Office
536 Queen St. W.
Toronto, ON, M5V 2B5
Canada
Tel: +1 416 835 8344
We welcome new regional coordinator – Drolkar McCallum
With grateful thanks to outgoing coordinator – Amy Cayton
Shantideva Meditation Center, USA
We welcome new co-SPC – Jennifer Kim (with current SPC, George Cuesta)
---
FPMT International Office, Portland, Oregon, USA, February 2013. 
Photo by Ven. Roger Kunsang.
With love,
FPMT International Office