International Office News
July 2016
Lama Zopa Rinpoche on the way to airport, Taiwan, June 2016. Photo by Ven. Roger Kunsang.
Have this translated into your native language by using our convenient translation facility located on the right-hand side of the page. French and Spanish speakers will find the FPMT International Office News translated each month in the "Bienvenue" and "Bienvenidos" tabs on the FPMT homepage!
---
Lama Zopa Rinpoche News:
Activities and Advice
New Advice Regarding Dolgyal (Shugden)
His Holiness the Dalai Lama, Lama Zopa Rinpoche and Ven. Roger Kunsang discussing FPMT projects, Dharamsala, India, April 2015. Photo by Office of His Holiness the Dalai Lama.
Rinpoche has given new advice explaining why it is incorrect to follow Dolgyal (Shugden). We've added that to our collection of advice and information on this issue.
Highlights from our blogs:
Translating His Holiness
the Dalai Lama's Teachings
into Tibetan
Lama Zopa Rinpoche has offered a grant for the translation of His Holiness the Dalai Lama and Howard C. Cutler's Art of Happiness series from English into Tibetan. These translated books will be offered to the Tibetan community free of charge, thus giving Tibetan-speaking students access to His Holiness' practical and universal teachings. Read more …
Lama Zopa Rinpoche's Rooftop Veranda Altar
In May 2016, Lama Zopa Rinpoche made a private visit to Taiwan. Over his short stay, Rinpoche converted the rooftop veranda of Shakyamuni Center, where he was staying, into a beautiful practice space for circumambulation. Read more …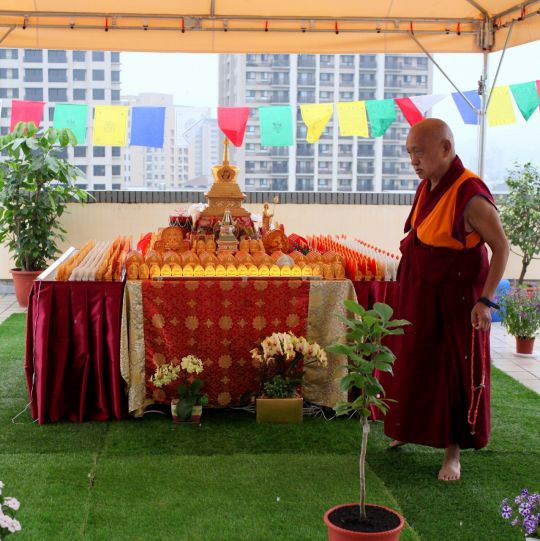 Lama Zopa Rinpoche circumambulates his rootop veranda altar, Taiwan, May 2016. Photo by Ven. Lobsang Sherab.
Find a wide range of advice from Lama Zopa Rinpoche on Rinpoche's Advice page.
Schedule
August 13: Teaching on the Seven Point Mind Training, Kadampa Center, USA
August 14 – 28: Light of the Path Retreat, Kadampa Center, USA
2017
October 4 – November 5: Mani Retreat, Istituto Lama Tsong Khapa, Italy
Subscribe to our FPMT news blog to get updates as soon as they are announced. Enjoy livestreams of many of the teachings above and recordings of Rinpoche's most recent teachings on Rinpoche Available Now!
---
International Office News:
His Holiness the Dalai Lama –
How Our Charitable Projects Support His Wishes
His Holiness during long life puja offered at Tashi Lhunpo Monastery, India, January 2016. Photo by Bill Kane.
Lama Zopa Rinpoche has referred to His Holiness the Dalai Lama, whose birthday we celebrated July 6, as "the great treasure of infinite compassion embracing all sentient beings, the sole source of benefit and happiness of all sentient beings, and the sole refuge of all sentient beings." Service to His Holiness is the main priority of FPMT, as Rinpoche explained in his Vast Visions for the organization.
As Lama Zopa Rinpoche has explained, anything FPMT does to promote and preserve Tibetan Buddhism is an offering to His Holiness and the Tibetan people. In this way, all the activities in FPMT centers, projects, and services that are educating others in the practice of Tibetan Mahayana Buddhism are in service to His Holiness.
Through offering daily meals to ordained Sangha studying at Tibetan Buddhist monasteries and nunneries, such as is done through the Sera Je Food Fund, which offers three meals daily to all of the monks of Sera Je Monastery, FPMT is helping preserve Tibetan Mahayana Buddhism.
His Holiness requested FPMT to establish the The Lama Tsongkhapa Teachers Fund in 1997. The purpose of the fund is to preserve the Gelugpa school of Tibetan Buddhism and cultivate the teachers of tomorrow. This fund supports up to 150 senior teachers each year, including the current abbots, past abbots, and main teachers of the Lama Tsongkhapa tradition, with monthly stipends.
You can read more about how FPMT is offering service to His Holiness and the Tibetan people, through our charitable projects. We invite you to rejoice with us in the ways we are able to follow His Holiness' most precious advice, create the cause for His Holiness' long life, and offer support to His Holiness and the Tibetan people.
New Issue of Mandala Magazine!
The latest issue of Mandala explores Universal Education, Lama Yeshe's vision for transmitting the essence of Buddhadharma to people of every age and background. We have teachings from His Holiness the Dalai Lama and Lama Zopa Rinpoche; interviews with Lama Yeshe, Robert Thurman and Jon Landaw; stories about Universal Education-related work being done at by Foundation for Developing Compassion and Wisdom, Istituto Lama Tzong Khapa and Maitripa College; and more!
It's not too late to receive the new issue! Become a Friend of FPMT today or order an individual copy through the FPMT Foundation Store.
New Materials from Education Services
---
For Center, Project and Service Directors, SPCs, Board Members, Registered Teachers and Coordinators:
This advice is specifically for those offering service in the roles listed above.
Lama Zopa Rinpoche, Geshe Tenzin Khenrab, the men who helped carry Rinpoche's palanquin to and from Tiger's Nest Monastery, and others, Bhutan, June 2016. Photo by Ven. Lobsang Sherab.
Foundation Store Offer: 16 Guidelines for Life
Please enjoy this special discount on The 16 Guidelines for Life, produced by the Foundation for Developing Compassion and Wisdom, and support Rinpoche's vast vision for Universal Education, one of FPMT's Five Pillars of Service. Promotion valid until July 31, 2016.
---
FPMT World:
Rejoice!
We welcome Tara Lanka Study Group (probationary center) in Sri Lanka!
Nouvelles publications du Service de traduction francophone
Deux nouveaux livrets viennent d'être publiés en français : Les trois catégories de vœux et leurs engagements respectifs et Les pratiques de Namgyèlma. Ces livrets sont disponibles en papier et eBook.
Translating Lama Zopa Rinpoche's Books into Tibetan
The same translator who translated His Holiness the Dalai Lama's books into Tibetan (see above), has translated Lama Zopa Rinpoche's How to Practice Dharma into Tibetan. The manuscript is now undergoing a final copyedit and will be published by Lama Yeshe Wisdom Archive for free distribution throughout the Tibetan community. The translator is now working on translating Rinpoche's Perfect Human Rebirth.
Opportunities to Offer Service in FPMT
Please check out the regularly updated meritorious opportunities to offer service as a volunteer or as paid staff in FPMT centers, projects and services around the world.
Impermanence at Work
Tara Mandala Center, Germany
We welcome new spiritual program coordinator (SPC) – Maria Kruming
---
If you received this from someone else, or unformatted,
visit our subscribe page to receive this newsletter directly.