News / Media

*If a menu item has a submenu clicking once will expand the menu clicking twice will open the page.

Education

*If a menu item has a submenu clicking once will expand the menu clicking twice will open the page.

Projects

*If a menu item has a submenu clicking once will expand the menu clicking twice will open the page.

FPMT

Our problem is that inside us there's a mind going, 'Impossible, impossible, impossible. I can't, I can't, I can't.' We have to banish that mind from this solar system. Anything is possible; everything is possible. Sometimes you feel that your dreams are impossible, but they're not. Human beings have great potential; they can do anything. The power of the mind is incredible, limitless.

Manjushri Institute, 1977, Currently unpublished
Lama Yeshe Wisdom Archive

Lama Thubten Yeshe

*If a menu item has a submenu clicking once will expand the menu clicking twice will open the page.

Shop

The Foundation Store is FPMT's online shop and features a vast selection of Buddhist study and practice materials written or recommended by our lineage gurus. These items include homestudy programs, prayers and practices in PDF or eBook format, materials for children, and other resources to support practitioners.

Items displayed in the shop are made available for Dharma practice and educational purposes, and never for the purpose of profiting from their sale. Please read FPMT Foundation Store Policy Regarding Dharma Items for more information.
International Office News
May 2019
Lama Zopa Rinpoche in Madrid, Spain, May 2019. Photo by Alexis Roitman.
---
Lama Zopa Rinpoche News:
Lama Zopa Rinpoche is currently teaching during the Vajrayogini Retreat, at Institut Vajra Yogini, France. Listen live!
Recordings of Rinpoche's recent teachings are always available to you at Rinpoche Available Now.
Advice
How to Help People who are Sick and Dying
Lama Zopa Rinpoche making prayers at Tso Pema, India, January 2018. Photo by Ven. Lobsang Sherab.
Lama Zopa Rinpoche advised a student who wanted to help the sick and dying:
"You don't have to go [to the hospital] to help them; instead, wherever you stay, you can do the Eight Prayers to Benefit the Dead. Recite a different one, or two, each day, dedicated for them. You can do that for them, as well as for every sentient being of the six realms. Read in fulll …
The Center is of Utmost Importance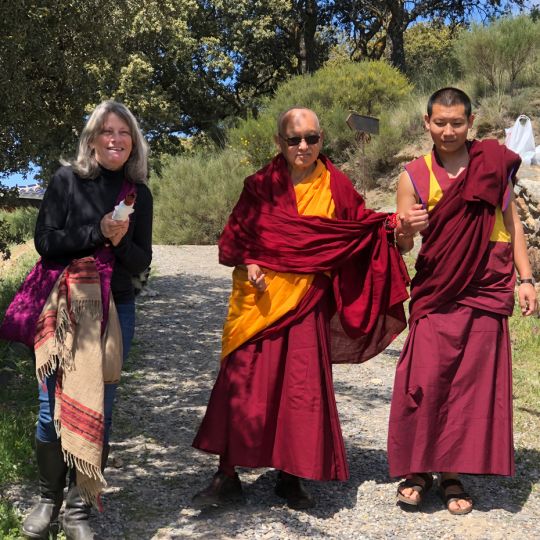 Lama Zopa Rinpoche being led to the gompa at O.Sel.Ling Centro de Retiros by center director Anne Wenaas and Ven. Topgye, Spain, May 2019. Photo by Ven. Lobsang Sherab.
Lama Zopa Rinpoche wrote to a benefactor thanking them for their support of a center and explaining why it is so beneficial to support a center. An excerpt follows:
"I just want to send you these cards and tell you that I highly appreciate your kindness in helping the center. The purpose of the center existing continually is to help sentient beings, and what sentient beings need most is to be free from the oceans of suffering, which is what they have been experiencing from beginningless rebirths." Read in full …
Treat Others Peacefully, Be a Good Example for the World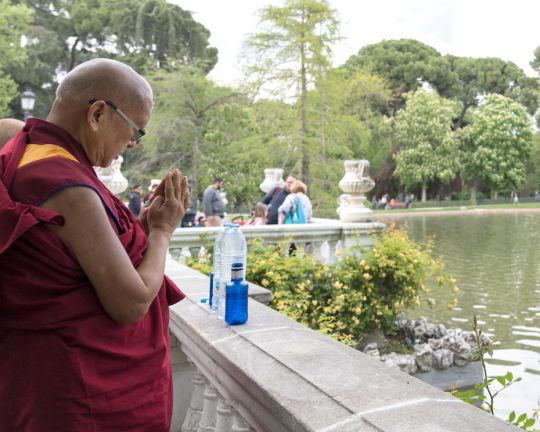 Lama Zopa Rinpoche blessing water to put in the lake and benefit all beings there, Madrid, Spain, April 2019. Photo by Ven. Lobsang Sherab.
A student wrote to Lama Zopa Rinpoche about how she and her brothers and sisters responded to the murder of their father and grandmother. Lama Zopa Rinpoche wrote back to the student and then requested that his letter and an edited version of the student's original letter be shared online so that all could read them. Here is an excerpt from Rinpoche's letter:
"Thank you very much for your kind letter explaining your experience. Since you are a lawyer, what you would do normally, and what other people in the world would do normally, is only think of this lifetime, especially if someone had killed your father. That kind of harm is a huge and difficult one to bear.

"… His Holiness the Dalai Lama advised that only by being peaceful, only by truth, will they win peace. It is so important this advice. This way you don't receive harm back from others. You aren't attacked by others. You don't experience war. You get only the result—peace and happiness. You treat others peacefully, and as a result you receive peace, others help you. That is really Dharma practice." Read in full …
Subscribe to our FPMT news blog to get regular news.
---
International Office News
New Materials from Education Services
New from Mandala Publications
Venerable Amy Miller shares with Mandala about a trip she led to Lawudo Retreat Center in Nepal's remote Solu Khumbu District where Lama Zopa Rinpoche's previous incarnation, the Lawudo Lama, lived and meditated. The pilgrimage group also visited Rinpoche's birthplace in Thame, and many other gompas and holy sites. Read more about it in, "An Adventurous Trip to Lawudo."
Support our work & study the Dharma.
---
For Center, Project and Service Directors, SPCs, Board Members, Registered Teachers and Coordinators:
(This advice is specifically for those offering service in these roles.)
Lama Zopa Rinpoche teaching in Madrid, Spain, May 2019. Photo by Alexis Roitman.
Use Rinpoche's Advice
Whenever you would like to refresh yourself, and inspire others, remember that you can use advice from Rinpoche! Read it yourself, read it at a staff meeting, circulate it via your center e-News, print it out and put it on a notice board, etc.
For example, Rinpoche's advice in the blog post above, "The Center is of Utmost Importance," reminds us why it is so valuable to help the center, project, or service. Similarly, you could use a recent blog post we sent out, "Benefits of Working at a Dharma Center, as thanks to your staff and volunteers for all their service. Here's a lovely excerpt:
"All of you who are helping the center and working at the center, you are helping every sentient being, every animal, every ant in the differing universes, every mosquito, all the different kinds of fish, every slug, every mouse, every maggot, and every tiny flea. Thank you very much. Please enjoy life with the good heart. That is the best way to enjoy the life. With a good heart, this causes inner happiness that goes up to enlightenment." Read in full …
Advice Regarding Wealth Vases
If your center, project, or service has a wealth vase, or would like a wealth vase, this advice, in the Collected Advice from Lama Zopa Rinpoche section of the Affiliates Area, is for you!(This advice was originally sent via the CPMT e-group.)
---
FPMT World:
Rejoice in the Dedication of Elderly Volunteers in Mongolia!
Volunteers enjoying lunch offered by Lama Zopa Rinpoche as thanks for their dedication.
Since 2000, a group of very dedicated elderly volunteers have been offering over a thousand water bowls plus extensive offerings of flowers, incense, candles, and food daily at the FPMT center, Ganden Do Ngag Shedrub Ling, in Ulaanbaatar, Mongolia. The average volunteer is 60-75 years old and there are two ladies who are 86. You can read more about and rejoice in their tremendous daily effort which remains intact through hardship and difficulty.
Opportunities to Offer Service in the FPMT Organization
Would you like to spend your days in a very meaningful way? Take a look at the regularly updated meritorious opportunities to offer service as a volunteer or as paid staff in FPMT centers, projects, and services around the world.
Newly added: Jamyang Buddhist Center, UK is looking for a director, and has various volunteer openings; Himalayan Buddhist Meditation Center, Nepal, needs a spiritual program coordinator; Vajrapani Institute, USA, needs a Community Relations Coordinator.
Lama Zopa Rinpoche and students with Geshe Lamsang offering a khata to the Tara statue, Oseling, Spain, May 2019. Photo by Ven. Lobsang Sherab.
Impermanence at Work
Contact information for FPMT centers, projects, and services can be found in the FPMT Directory.
Atisha Center, Australia
We welcome new director – Frank Brock
With grateful thanks to outgoing director and acting director – Ruby Karmay and Liam Chambers
Vajrapani Institute, USA
We welcome new spiritual program coordinator (SPC) – Catherine Slocock-Graham
With grateful thanks to outgoing SPC – Shankha Mitra
---
If you received this from someone else, or unformatted, visit our subscribe page to receive this newsletter directly.
No matter whether you are a believer or a non-believer, religious or not religious, a Christian, Hindu, or a scientist, black or white, an Easterner or a Westerner, the most important thing to know is your own mind and how it works.
Lama Thubten Yeshe