International Office News
November 2018
Lama Zopa Rinpoche, Madrid, Spain, November 2018. Photo by Ven. Lobsang Sherab.
Have this translated into your native language by using our convenient translation facility located on the right-hand side of the page. French and Spanish speakers will find the FPMT International Office News translated each month in the "Bienvenue" and "Bienvenidos" tabs on the FPMT homepage!
---
Lama Zopa Rinpoche News:
Lama Zopa Rinpoche while teaching in Madrid, Spain, October 2018. Photo by Harald Weichart.
Lama Zopa Rinpoche is teaching in Switzerland this weekend! Watch live!
Find recordings of Rinpoche's recent teachings via Rinpoche Available Now.
Advice
How to React to Harm in Accordance with the Dharma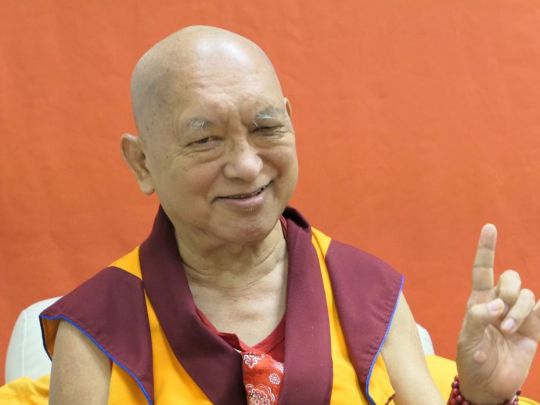 Lama Zopa Rinpoche giving a talk in Madrid, Spain, October 2018. Photo by Ven. Roger Kunsang.
During the 2017 month-long lamrim meditation course at Kopan Monastery, Lama Zopa Rinpoche taught on karma, explaining a verse from Bodhicharyavatara (A Guide to the Bodhisattva's Way of Life) by Shantideva, the great eighth-century Indian Buddhist master. Read what Rinpoche taught…
Lama Zopa Rinpoche Featured in Wisdom Publication's Podcast
Lama Zopa Rinpoche being interview by Wisdom Publication's Daniel Aitken for a Wisdom Podcast, Kurukulla Center, Massachusetts, US, August 2018. Photo by Ven. Lobsang Sherab.
In a far-ranging interview, Lama Zopa Rinpoche speaks on many topics, including stories about his early days as a young monk, how he became a Gelugpa, and how he ended up at Buxa in West Bengal, India, where he met Lama Yeshe. Rinpoche also offers a succinct teaching on emptiness and everyday practice advice. Find out more…
How to Achieve a Beautiful Human Body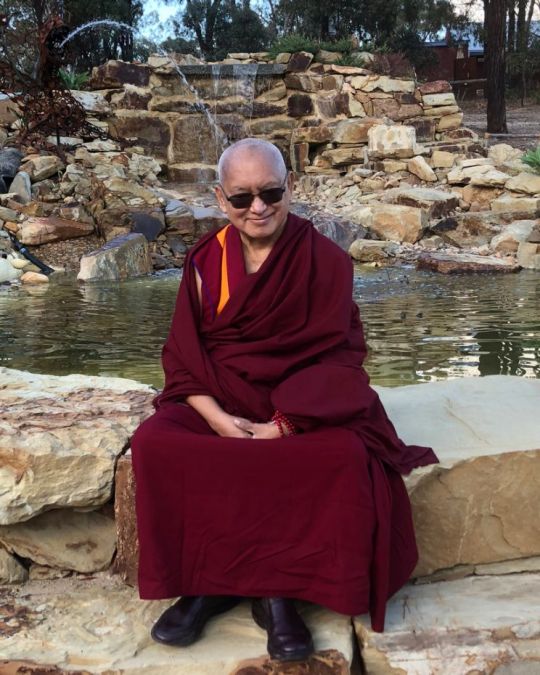 Lama Zopa Rinpoche in the Peace Park at the Great Stupa of Universal Compassion, Australia, May 2018. Photo by Ven. Roger Kunsang.
During the 2018 retreat in Australia, Lama Zopa Rinpoche explained the various results of positive actions, captured in this excerpt and video clip. Read in full…
Subscribe to our FPMT news blog to get updates as soon as they are announced.
---
International Office News
Protecting the Environment and Living Beings – a New Project
We announce a new FPMT charitable project, the Protecting the Environment and Living Beings Project which was established due to Lama Zopa Rinpoche's recent advice that specific pujas and practices should be done regularly to pacify harm from the elements such as tornadoes, hurricanes, heavy rain, storms, floods, earthquakes, fires, and so forth; and to protect those (humans, animals, insects) who are affected.
Rinpoche has identified a number of specific pujas and recitations to occur monthly. Arranging and sponsoring these pujas is one of the unique ways that FPMT can benefit sentient beings. This is also an aspect of social service to others that helps address the karmic conditions contributing to seemingly "natural" occurring disasters, and those harmed by them.
Please consider being a part of this vision to benefit the environment, those affected by disasters of the elements, and all beings.
Translation Fund Campaign Results
A great expression of generosity has brought in over US$25,000 in single donations and an additional US$11,000 in recurring donations to come each year for the FPMT Translation Fund. These resources will be used for important translations of classic texts for the FPMT Basic and Masters Programs and the 31-chapter edition of the Sutra of Golden Light. Thank you to all who offered support to these projects, and let's all rejoice!
Foundation Store News
Find out about Sacred Adornments and our related new products and special offers!
---
For Center, Project and Service Directors, SPCs, Board Members, Registered Teachers and Coordinators:
(This advice is specifically for those offering service in these roles.)
Director Transition
Lama Zopa Rinpoche blessing a dog, Spain, October 2018. Photo by Ven. Lobsang Sherab.
The director is so central to the center, project or service, that when the time comes for a change of director, it can be a challenging time for all. A guideline to help make this challenging transition smooth and most fruitful is available in the Offering Service: Job Descriptions section of the Affiliates Area.
This would ideally be accompanied by the lovely attitude recently expressed by a transitioning director: "I have been assisting [the new director] over the past few weeks with the handover and have offered a bottomless cup of assistance."
The combination of the above and familiarization with Lama Zopa Rinpoche's advice about offering service will all assist at this critical time.
FPMT Map Updated
The FPMT world map in the Display Pack has been updated! The Display Pack is to enable visitors to get an instant snapshot of your heritage, wider mission, core values, international reach, and the wealth of Dharma programs available in the FPMT organization. Find that and other information To Display in Your Center, Project or Service.
---
FPMT World:
Rejoice!
The much-anticipated new book by Lama Yeshe, Mahamudra: How to Discover Our True Nature, was recently published by Wisdom Publications. Lama Yeshe's famous teaching style is fully present in this book, according to the book's editor, Ven. Robina Courtin: "His words are not only experiential but also direct, funny, deceptively simple, and incredibly encouraging— enlightenment seems possible."
Rewarding European Regional Meeting!
Lama Zopa Rinpoche with the directors, board members, and spiritual program coordinators from European FPMT centers, projects, and services, after their recent rewarding regional meeting hosted by Tara Mandala Center in Germany. Photo by Ven. Lobsang Sherab.
Opportunities to Offer Service in the FPMT Organization
Would you like to spend your days in a very meaningful way? Have a look at the regularly updated meritorious opportunities to offer service as a volunteer or as paid staff in FPMT centers, projects, and services around the world. Newly added: Atisha Center, Australia seeks a new director; Potential Project is looking for an executive assistant, a marketing project manager, a technical coordinator, and a graphic designer.
Impermanence at Work
Contact information for FPMT centers, projects, and services can be found in the FPMT Directory.
Centro Muni Gyana, Italy
We welcome new spiritual program coordinator (SPC) – Roberto Vitrano
De-tong Ling Retreat Center, Australia
We welcome new spiritual program coordinator (SPC) – Katrin Rehder
With grateful thanks to outgoing SPC – Patrick Moran
Langri Tangpa Center, Australia
We welcome new director – Maureen McIntyre
With grateful thanks to outgoing director – Jane Willis
Oseling Retreat Center, Spain
We welcome new spiritual program coordinator (SPC) – Marcos Troia
With grateful thanks to outgoing SPC – Iris Morales
---
If you received this from someone else, or unformatted, visit our subscribe page to receive this newsletter directly.