News/Media

*If a menu item has a submenu clicking once will expand the menu clicking twice will open the page.

Study & Practice

*If a menu item has a submenu clicking once will expand the menu clicking twice will open the page.

Projects

*If a menu item has a submenu clicking once will expand the menu clicking twice will open the page.

FPMT

If you help others with sincere motivation and sincere concern, that will bring you more fortune, more friends, more smiles, and more success. If you forget about others' rights and neglect others' welfare, ultimately you will be very lonely.

His Holiness the Dalai Lama

*If a menu item has a submenu clicking once will expand the menu clicking twice will open the page.

Shop

The Foundation Store is FPMT's online shop and features a vast selection of Buddhist study and practice materials written or recommended by our lineage gurus. These items include homestudy programs, prayers and practices in PDF or eBook format, materials for children, and other resources to support practitioners.

Items displayed in the shop are made available for Dharma practice and educational purposes, and never for the purpose of profiting from their sale. Please read FPMT Foundation Store Policy Regarding Dharma Items for more information.
International Office News
November 2019
Lama Zopa Rinpoche, Russia, October 2019. Photo by Ven. Holly Ansett.
---
Lama Zopa Rinpoche News:
Lama Zopa Rinpoche's next scheduled teaching will be during the Kopan one month lamrim course, Kopan Monastery, Nepal.
Recordings of Rinpoche's recent teachings are always available at Rinpoche Available Now.
Advice
First thangka from a series of fifteen depicting the life of Lama Tsongkhapa, from "Cittamani Rosary Spreading the Buddha's Teachings"
Rinpoche's Recommendations for the 600th Anniversary of Lama Tsongkhapa's Parinirvana
Lama Tsongkhapa Day, or Ganden Ngamchoe, is a celebration of the anniversary of Lama Tsongkhapa's parinirvana. This year, Lama Tsongkhapa Day falls on December 21, 2019, and is the 600th anniversary. Lama Zopa Rinpoche gave extensive advice for FPMT centers, projects, services, and students to be able to honour Lama Tsongkhapa. Rinpoche's recommendations are not just for Ganden Ngamchoe – these are practices which can be done all year at any time. Read Rinpoche's advice in full …
1,000 Tsa-Tsas of Lama Tsongkhapa Offered
1,000 tsa-tsas of Lama Tsongkhapa when in progress at Chenrezig Institute's art studio, Garden of Enlightenment.
In 2018 the Executive Director of the Geluk International Foundation requested Lama Zopa Rinpoche to arrange the creation of 1,000 Lama Tsongkhapa tsa-tsas to be offered to Ganden Tripa Rinpoche to offer to others. Rinpoche happily accepted this and due to the kindness of some sponsors was able to completely cover the cost of the materials, gold leafing, and shipping of the 1,000 small statues. Read more …
Lama Zopa Rinpoche in Photos!
Rinpoche under orchid tree offering, Singapore. Photo by Ven. Lobsang Sherab.
New photographs of Lama Zopa Rinpoche's worldwide travel are shared in photo albums on FPMT.org. You can see where Rinpoche has been and many of his beneficial activities. Albums from Rinpoche's visits to France, Latvia, the United States, and Singapore have been posted over the past few months. We hope you enjoy Rinpoche's Photo Gallery.
Subscribe to our FPMT news blog to get regular news.
---
International Office News
Featured Materials from FPMT Education Services
At-Cost Meditation Supplies & Books!
December 31, 2019 will be the last day to get physical Dharma and meditation supplies through the Foundation Store. Please take a look at our superior thangkas; authentic ritual items, inspiring prayer flags, and books among other Dharma items, offered at cost. This is because the Foundation Store is going digital-only on January 1, 2020. We will continue to distribute new and existing FPMT education programs and materials in digital format, such as PDFs, ebooks, and audio files.
1,000 Statues for His Holiness Sponsored
Recently, we shared Lama Zopa Rinpoche's wish to offer 1,000 statues of Shakyamuni Buddha to His Holiness the Dalai Lama on behalf of the entire FPMT organization. Now, due to the kindness of so many, we have raised the funds needed to sponsor all 1,000 statues. How amazing! Tremendous thanks to everyone for the generous support of this project. We invite you to rejoice with us!
Support our work & study the Dharma.
New Story from Mandala Magazine
Nalanda Monastery, the FPMT monastery in France, is excited to be working on an expansion project: to create Maitreya Pure Land. Mandala's just-published article "Nalanda Monastery's New Project: Maitreya Pure Land" tells the story of how the monastery is working to take advantage of the opportunity to buy a neighboring property and create a place for semi-isolated retreat.
---
For Center, Project and Service Directors, SPCs, Board Members, Registered Teachers and Coordinators:
(This advice is specifically for those offering service in these roles.)
The Teacher Registration Committee recently updated the FPMT Registered Teacher List, with several newly registered teachers included. This is available for you on the FPMT Teacher Lists page in the Affiliates Area. Also please continue to offer FPMT Education programs in full, to enable your local students to be able to graduate – as that is one of the pre-requisites for application as an FPMT registered teacher.
To help your center offer the Universal Education for Compassion and Wisdom Pillar of Service, FDCW is accrediting an increasing number of facilitators who are available to lead their courses, such as their most recent course "Building Balanced Empathy" (BBE), which explores empathy, vulnerability and emotional resilience. Thirty-six facilitators around the world are now trained to offer this course. If you are interested in becoming a facilitator we invite you to join the next online facilitator training on January 11th-12th, 2020.
---
FPMT World:
Beloved Teacher Passes Away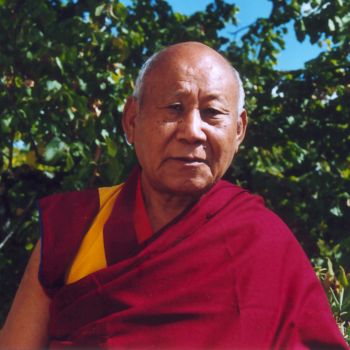 Geshe Losang Tengye. Photo courtesy of Institut Vajra Yogini.
Geshe Losang Tengye, who played an important role in helping establish Tibetan Buddhism in the West, stopped breathing in his room at Institut Vajra Yogini in France on October 19. Geshe Tengye stayed in clear light meditation for five days. He was 92. Read more …
Rejoice: Images of Fruitful FPMT Service Development
Directors and spiritual program coordinators from FPMT centers, projects, and services in South East Asia met for their annual regional meeting in September, hosted by Amitabha Buddhist Center, Singapore, and had the great good fortune to enjoy a visit by Lama Zopa Rinpoche!
Directors and spiritual program coordinators from FPMT centers, projects, and services in Australia met in October for their annual national meeting, hosted by Chenrezig Institute.
A small group of participants fully engaged during the Foundation Service Seminar hosted by FPMT Spain in Valencia, November 2019.
Opportunities to Offer Service in the FPMT Organization
Would you like to spend your days in a very meaningful way? Take a look at the regularly updated meritorious opportunities to offer service as a volunteer or as paid staff in FPMT centers, projects, and services around the world. Newly added: Jamyang Buddhist Center, UK, is looking for a spiritual program coordinator, and an admin assistant, plus has vacancies on its residential volunteering program; Potential Project is looking for a creator and content manager.
Impermanence at Work
Contact information for the following, and all, FPMT centers, projects, and services can be found in the FPMT Directory.
Cittamani Hospice Service, Australia
We welcome new spiritual program coordinator – Elli Pratt.
Nagarjuna Center, Alicante, Spain
We welcome new spiritual program coordinator – José Zaplana
---
If you received this from someone else, or unformatted, visit our subscribe page to receive this newsletter directly.
Once you realize the true evolution of your mental problems, you'll never blame any other living being for how you feel.
Lama Zopa Rinpoche