Monthly Extensive Most Secret Hayagriva Puja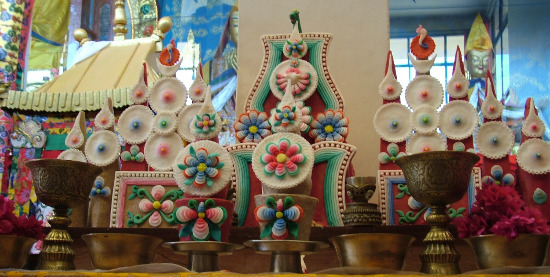 Every month on the Tibetan 29th day, an important day to offer protector pujas, The Puja Fund sponsors about 40 of the most senior monks of Sera Je Monastery, who specialize in the practice of Most Secret Hayagriva, to offer the Extensive Most Secret Hayagriva puja (Hayagriva Tsog Kong). This is an all day puja with an elaborate torma offering (pictured above) and extensive prayers and meditation. 150 rs is offered to each monk offering this puja.
The Extensive Most Secret Hayagriva puja is dedicated to all FPMT centers, services, projects; the success of all Dharma activities and removal of obstacles; to all students who are facing obstacles; to the benefactors of the Puja Fund and to all beings.
The Puja Fund makes a small offering to the 40 monks who perform the puja; offers breakfast, lunch and dinner; and covers the cost of extensive torma offerings for the puja.
Every Tibetan 29th day you can remember that there are over 40 monks performing the Extensive Most Secret Hayagriva puja. This is something amazing to rejoice in, to mentally offer and dedicate towards and also something you can participate in by donating any amount … How amazing!
To donate toward these and all other ongoing pujas of the Puja Fund:
You can also send a check in US dollars payable to FPMT Inc. and write "Puja Fund" on the memo line.
FPMT Inc.
1632 SE 11th Avenue
Portland, OR 97214-4702
USA
The Puja Fund is a project of FPMT Inc. and is administered by FPMT International Office located in Portland, Oregon, United States. All donations made to this fund are tax-deductible within the United States in accordance with IRS Code article 501(c)(3) to the extent allowed by law.
For more information please contact: Charitable Projects Coordinator.