FPMT News Around the World
FPMT News Around the World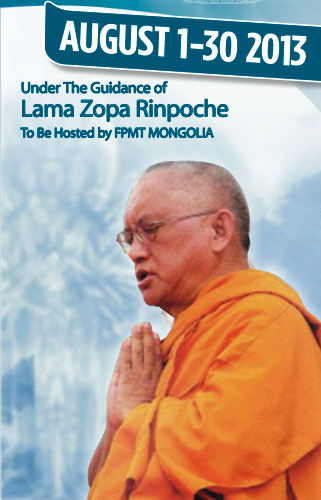 The once-in-a-lifetime 100 Million Mani Retreat under the guidance of Lama Zopa Rinpoche is confirmed for August 2013 in Mongolia. This is the first big retreat led by Rinpoche since he manifested a stroke in April 2011.
Host FPMT Mongolia is sending out the invitation to come to the retreat worldwide, encouraging people to not miss this precious opportunity:
In the infinite kindness and compassion of Lama Zopa Rinpoche, we have the great blessings of this fortune to be guided by Rinpoche, in the 100 Million Mani Retreat in Mongolia.
As Rinpoche would say, "The benefits of reciting the Compassion Buddha mantra are infinite, like the sky."
The reason why the benefit of reciting the six syllable mantra is quite unimaginable, and why it is an extremely popular practice in all the four great traditions of Tibetan Buddhism is because this is the essence of all Dharma – the very purest Dharma – thus, making it the most powerful way to purify negative karma and the easiest way to collect extensive merit to quickly achieve enlightenment.
We need the special blessing of Compassion Buddha to transform our mind into bodhichitta – to renounce self and cherish others and make our meditation on bodhichitta effective. Without bodhichitta there is no true happiness in our own lives nor can we cause all the happiness for all sentient beings.
The retreat is scheduled August 1-30, 2013, at Chinggisiin Khuree, a ger (yurt) camp 14 miles [23 kilometers] from Ulaanbaatar, Mongolia. More details will be coming soon to FPMT Mongolia's "100 Million Mani Retreat 2013" website.
Rinpoche has a very strong commitment and connection to Mongolia, as documented in "Looking to Mongolia" from Mandala January-March 2011. For more, you can read online Mandala's coverage of FPMT in Mongolia and Rinpoche's trips to Mongolia, including entries from Ven. Roger's "Life on the Road with Lama Zopa Rinpoche."
With more than 160 centers, projects and services around the globe, there is always news on FPMT activities, teachers and events. Mandala hopes to share as many of these timely stories as possible. If you have news you would like to share, please let us know.
If you like what you read on Mandala, consider becoming a Friend of FPMT, which supports our work.