News/Media

*If a menu item has a submenu clicking once will expand the menu clicking twice will open the page.

Study & Practice

*If a menu item has a submenu clicking once will expand the menu clicking twice will open the page.

Projects

*If a menu item has a submenu clicking once will expand the menu clicking twice will open the page.

FPMT

Countless sentient beings have suffered by being harmed or killed for every grain of rice you eat. Think about the previous grain from which it came. If you understand this, there's no way you'll be able to eat simply for your own selfish enjoyment; you'll always make offerings of your food and drink.

Lama Zopa Rinpoche

*If a menu item has a submenu clicking once will expand the menu clicking twice will open the page.

Shop

The Foundation Store is FPMT's online shop and features a vast selection of Buddhist study and practice materials written or recommended by our lineage gurus. These items include homestudy programs, prayers and practices in PDF or eBook format, materials for children, and other resources to support practitioners.

Items displayed in the shop are made available for Dharma practice and educational purposes, and never for the purpose of profiting from their sale. Please read FPMT Foundation Store Policy Regarding Dharma Items for more information.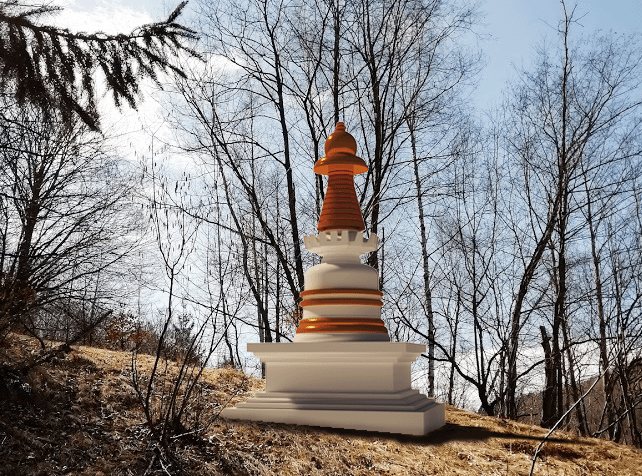 Center of White Mahakala an FPMT study group in Romania is building a 7.5-foot Kadampa stupa in Tranisu, Transylvania, fifty miles from where the study group is located. This will be the first stupa built in Transylvania!
The final plan is for two retreat cabins to be built on this land. This project will bring immeasurable benefit to the area: people who may not have had an opportunity to engage with holy objects previously will learn what a stupa is, connect to the study group and the land of this holy object, cultivate appreciation for this holy object and retreat space, and everyone in the area will benefit due to the power of the stupa. 
The Stupa Fund was delighted to offer US$1,000 toward the completion of this historic holy object that is now in phase two of three phases. Phase three (completion) is anticipated for April 2022.
Included in the work of phase two includes finalizing the architectural and structural drawings of the stupa, rolling all of the mantras for filling the stupa which was undertaken by twelve volunteers, and wealth vases have been ordered from Kopan Monastery. They continue fundraising for this project. 
Stupas are powerful symbols of the mind's limitless potential as they represent the mind of enlightenment. Stupas are filled with sacred images, mantras, and the relics of holy beings. Building or sponsoring a stupa is a very powerful way to accumulate merit and purify negative karma.
The minute you see a holy object you create infinite merits,
So no question, if you actually make prostrations,
Offerings and so forth, you create far greater merit. 
—the Sutra of the Mudra of Developing the Power of Devotion
Please join us in rejoicing that Lama Zopa Rinpoche's Vast Vision for building 100,000 stupas around the world continues toward fruition. We are delighted to participate in offering toward holy object creation around the world including remote areas not previously blessed with such powerful objects of peace. 
---
To learn more about or support this project:
gogetfunding.com/building-the-first-stupa-in-transylvania
If you would like to contribute to the building of holy objects around the world, you are welcome to offer any amount to the Holy Objects Fund which contributes to the creation of stupas, prayer wheels, and statues.  
Use problems as ornaments, seeing them as extremely precious, because they make you achieve enlightenment quickly, by getting you to achieve bodhicitta. Experience these problems on behalf of all sentient beings, giving all happiness to sentient beings. This is the ornament.
Lama Zopa Rinpoche