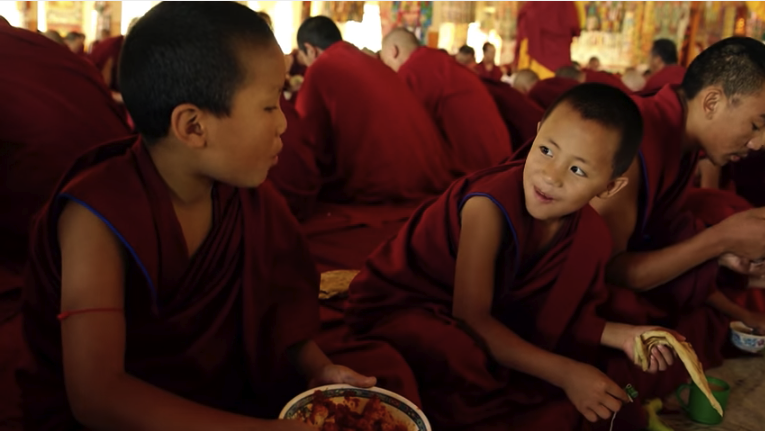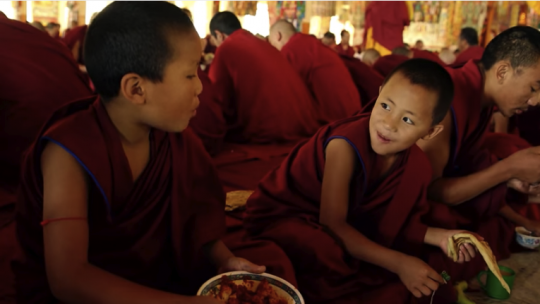 A beautiful new short film on the Sera Je Food Fund featuring Lama Zopa Rinpoche was released last week. In it Rinpoche candidly speaks on the importance of supporting the food fund and the role it plays in spreading the Dharma in our world. Scenes from daily life at the vibrant monastery, including what it takes to prepare meals for all 2,500 resident monks at a time, weave through the interview with Rinpoche.
The Sera Je Food Fund is approaching its 25th year, and the support it's received and the impact the fund has on the quality of life at Sera Je monastery deserves endless rejoicing and thanks for all involved.
Sera Je Monastery, located in southern India, is the largest Tibetan monastic university, and therefore is vital to the preservation of the tradition. As Lama Zopa Rinpoche points out in the film, "If this monastery goes down, the education and teaching goes down, if there's no food, the means of living goes down, then we cannot have teachers around the world, and the opportunity for many sentient beings to achieve higher rebirth… and ultimate happiness."
Before the food fund was created, the monastery was struggling to provide nourishment for all of the monks. Now with everyone's support, the food fund offers every single monk three healthy vegetarian meals a day, everyday, totaling over 3 million meals per year.
Please take a moment to rejoice in all the generosity and hard work of all who have supported the Sera Je Food Fund over nearly 25 years, and how it's helping Sera Monastery cultivate our future teachers and preserve the Buddhadharma. 
If you would like to get involved and offer meals so the monks can excel in their studies, visit the Sera Je Food Fund's homepage today.  
Many thanks go out also to Matteo Passigato who so kindly filmed and edited the video, and to Lara Gatto for all her kind help.