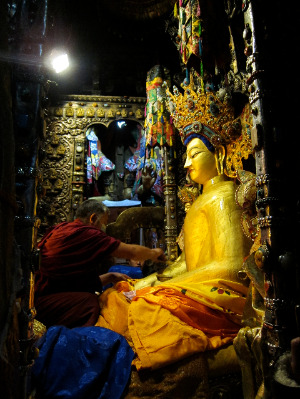 Every month, on the full moon, the Puja Fund sponsors the offering of gold and robes to the most holy Jowo Buddha Statue in Tibet. US$3,000 was recently sent toward this monthly offering. Even if you don't personally make this offering, you can join in by mentally offering the gold and robes yourself. 
The extensive range of monthly and annual practices and pujas that are offered in India, Nepal and around the world through the Puja Fund is astounding. As Charitable Projects Coordinator, Ven. Holly Ansett, commented, "It is like Rinpoche has taken on the personal responsibility to care for all the main holy objects in the world on behalf of FPMT."
All are welcome to participate in the activities sponsored by the Puja Fund by offering any amount toward these ongoing beneficial pujas and practices which are performed by as many as 9,000 Sangha members:
If someone offers a small flower or rice to a Buddha statue, a stupa or scripture then the benefit extends from then up to Enlightenment. Amazing, amazing. It is said in the sutra Piled Flowers, on top of that benefit, you achieve ultimate happiness – liberation from the causes of delusion and karma and on top of that full Enlightenment – all the realizations and omniscient mind. After this, then you liberate numberless hell beings, pretas, animals, humans, suras and asuras from the ocean of samsaric sufferings and bring them to full Enlightenment. When all beings are brought to Enlightenment, only then are all the results of offering achieved.
If you were Sangha but you didn't wear robes, then people would not know [that you were ordained], but with robes on there is no question. That is how the robes have such incredible benefit for the mind. It is planting the seed for enlightenment when people show respect to your wearing of the robes, or to the robes themselves: This is planting the seed of liberation, and is a way of benefiting sentient beings.…