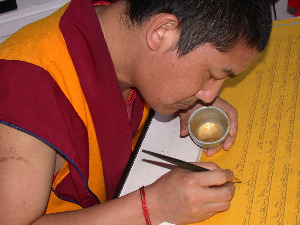 Ven. Tsering has dedicated his life to writing out the Prajnaparamita in pure gold. Effort of this magnitude is worth rejoicing in, as this is the tenth consecutive year he has worked on this project. He has tirelessly offered eight hours a day, five days per week and will continue until completion.

Ven. Tsering's Progress
Ven. Tsering began writing the 12 volume Prajnaparamita in early 2002.
In 2006 he finished the first volume– about 800 pages.
Ven. Tsering finished the second volume in 2011– approximately 700 pages.
July 2012: He is currently halfway through the fourth volume (Jane Seidlitz is writing out the third volume).
About his work, Ven. Tsering says he, "feels very honored and fortunate to be doing this project."