News/Media

*If a menu item has a submenu clicking once will expand the menu clicking twice will open the page.

Study & Practice

*If a menu item has a submenu clicking once will expand the menu clicking twice will open the page.

Projects

*If a menu item has a submenu clicking once will expand the menu clicking twice will open the page.

FPMT

When ordinary people die they are out of control. Because they have not trained themselves during their life, they are overwhelmed by the experience of death and bewildered as their bodily elements go out of balance and cease to function harmoniously.

Lama Thubten Yeshe

*If a menu item has a submenu clicking once will expand the menu clicking twice will open the page.

Shop

The Foundation Store is FPMT's online shop and features a vast selection of Buddhist study and practice materials written or recommended by our lineage gurus. These items include homestudy programs, prayers and practices in PDF or eBook format, materials for children, and other resources to support practitioners.

Items displayed in the shop are made available for Dharma practice and educational purposes, and never for the purpose of profiting from their sale. Please read FPMT Foundation Store Policy Regarding Dharma Items for more information.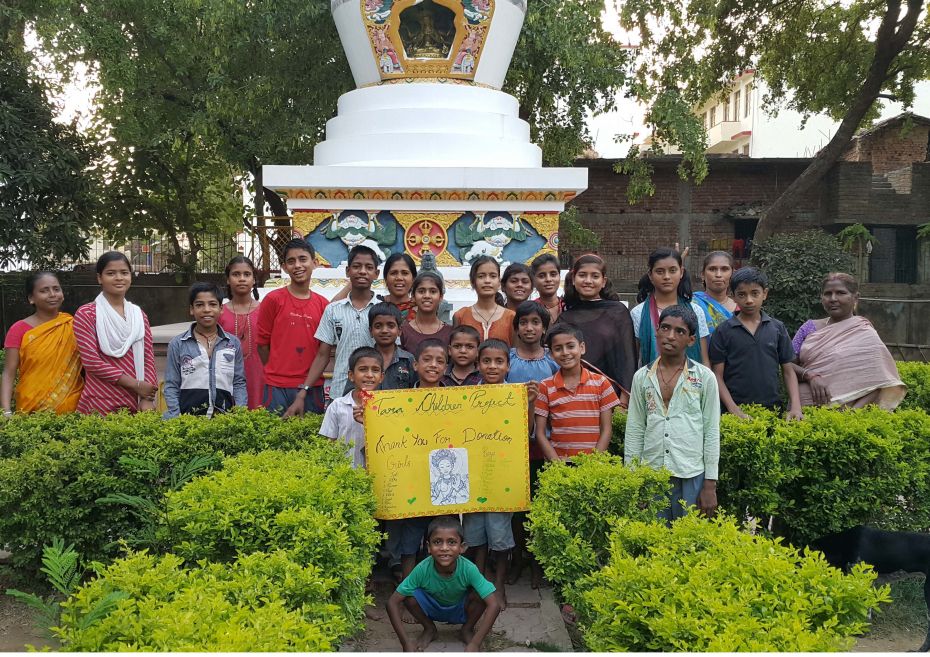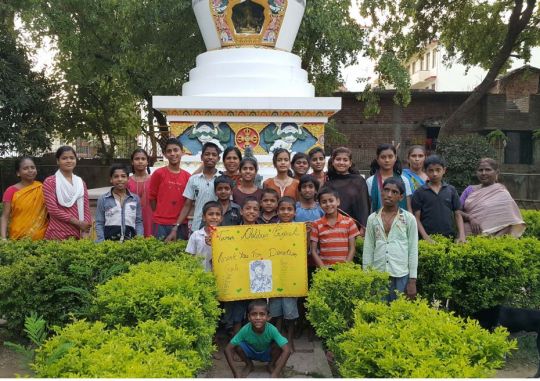 For the past six years, due to the kindness of one main benefactor, the FPMT Social Services project has been able to offer substantial grants toward the amazing projects of Root Institute, India, which directly benefit underprivileged individuals in the area. We are delighted to report that this support will continue in 2017 and a grant of US$62,500 was recently issued. Please rejoice in the below report outlining some of the many accomplishments of these three projects in 2016 which were made possible by these grant. 
Tara Children's Project
Tara Children's Project (TCP) is the only children's home caring for HIV-affected orphaned children in the state of Bihar. In 2016, TCP focused on bringing in a full team to work toward the proper functioning of the home, which currently serves twenty-one children. New team members include a project manager, two house managers, one additional caregiver and a cleaner.
Community engagement features prominently in the regular activities for the children and staff of TCP.
In June, Shakyamuni Buddha Clinic (see more below) initiated a meeting with two other local NGOs assisting HIV-positive people. In the meeting, the clinic shared its experience working with children diagnosed with HIV at TCP as well as other HIV-positive patients. The main point of the discussion was to explore how to provide jobs to those infected with HIV and integrate them into the economic and social life of the community. As TCP's population grows from children to adolescents to adults, this work will become extremely important.
Shakyamuni Buddha Community Health Care Center
Shakyamuni Buddha Clinic began in 1991 as a home for the destitute and has evolved into a diverse community health program encompassing a wide range of medical and rehabilitative services and health promotion activities. In 2016 50,422 people in need were served at the clinic. Services included allopathic medicine, homeopathic medicine, health promotion and education, and patient care. Highlights of the year include:
Health education for adolescents is of particular importance as young people are coming of age. Groups of fifty girls and thirty boys were offered educational seminars pertaining to health. 
Educational plays were offered in surrounding villages and at the clinic. These dramatic presentations were well attended and offered important information in a unique and engaging format. 
Camps were offered in villages providing information on how to prevent and how to treat malaria. 279 patients were offered free homeopathic kits.
Camps were offered in villages providing information about blood pressure including how to check one's blood pressure and how to determine high risk.
HIV/AIDS support programs were offered in villages where consultation, medicine delivery, healthy food distribution, and education were provided.
300 children in Marni School, Kolhoya, were offered health care. 
Twenty-one HIV affected orphans from the Tara Children's Project were offered regular  check ups and treatment. 
A child clinic for very small children was offered every Wednesday.
Physiotherapy was offered to children with cerebral palsy.
 A dental clinic was offered one day per week offering free dental treatment for adults and children.
Care was offered to high risk patients including: a high risk burn case, orthopedic rehabilitation and physiotherapy for one patient, infected wound treatment for a sixteen-year-old orphan who was at high risk for gangrene, and physiotherapy and proper nutrition was offered to a wheelchair-bound motor vehicle accident survivor.
Maitreya School
Maitreya School is a free school benefiting impoverished children from Bodhgaya and neighboring villages. The children not only have the chance to obtain a traditional education but, more importantly, they receive life skills in compassion, honesty, and loving-kindness presented through Buddhist study. This is the core of the training and vision of the school: making lives meaningful.
In 2016 the school set up a computer room which has enabled all students from grades 1-5 the opportunity to have regular computer sessions. A projector and screen were also obtained thanks to a kind donor. Two new teachers joined the school and facilities have been upgraded with two new classrooms and a toilet. The children participated in various competitions and activities which incorporate the 16 Guidelines. 
How to Support
---
You can read more about the charitable projects supported by the Social Services Fund. 
Practice with the bodhisattva attitude every day. People can't see your mind; what people see is a manifestation of your attitude in your actions of body and speech. So pay attention to your attitude all the time. Guard it as if you are the police, or like a parent cares for a child, like a bodyguard, or as if you are the guru and your mind is your disciple.
Lama Zopa Rinpoche