FPMT News
Our main aggregated news feed contains articles from all of our news categories.
Narrow your results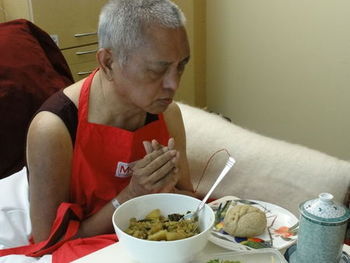 Lama Zopa Rinpoche in hospital, with great difficulty putting hands in mudra of prostration during extensive offering practice. Photograph by Holly Ansett
fpmt.org is now featuring RSS feeds (Real Simple Syndication) to help you easily stay connected to announcements, blog postings and updates from FPMT, Lama Zopa Rinpoche and Mandala Publications. https://fpmt.org/rss-feeds.html Sign up so you don't miss a thing! With Love, ...
At the time this article was published in 1998, Charles Trebaol (Ven. Thubten Kunga) had spent the last four years of his life in retreat. Although it has been 13 years since "The Hermit of the Pyrenees" was written, we're ...
Taken from Jonathan Landaw's regular column, The Passing Scene, "How Kids Transform their Minds from Cloudy to Clear" shows how fairly dense Buddhist topics can be approached from different angles more appropriate for the very young.
Ongoing list of pujas and practices dedicated to Lama Zopa Rinpoche's health and long life. Please click here. His Holiness the Private Office sent a message to Sera Je requesting: Extensive Hayagriva Tsog Kong for 2 days – all the ...
April 28 2011 Dear Friends, Some students asked for help on how to view Lama Zopa Rinpoche while doing practice for Rinpoche's health and long life, as they experienced some confusion between seeing Rinpoche with pure view as enlightened while ...
Dear Friends, This morning was an early start for Rinpoche. The physiotherapist came to his room at 9 a.m. sharp and began Rinpoche's training, helping him to understand how he can get out of bed by himself and into a ...
Dear Friends, Today was the first day we could have access to key medical staff due to the Easter holidays. The doctors have said no visitors for sometime as Rinpoche is exhausted and with the physio it is going to ...
Practices Requested on April 24 2013 The full list of pujas and practices to do and which are being done: Animal Liberation – do as much as possible, either yourselves or by donating online to Amitabha Buddhist Center, who does ...
Lama Zopa Rinpoche is in hospital in Australia receiving treatment for a stroke. All FPMT centers, projects, services and study groups are requested to offer Medicine Buddha puja with strong prayers for Rinpoche's health and long life. All students are ...
Dear Friends, fpmt.org has now been set up with a page which will house all official updates regarding Lama Zopa Rinpoche's health. Please subscribe to the RSS feed of this page so you don't miss any news. https://fpmt.org/teachers/zopa/rinpoches-health-updates-and-practices.html http://feeds.feedburner.com/RinpochesHealth-UpdatesAndPractices With ...
Previous Updates from Ven Roger Kunsang: Dear Friends, Lama Zopa Rinpoche has been admitted to hospital, the medical staff have confirmed that Rinpoche has had a stroke and temporally lost some of the movement of his right side and his ...