News/Media

*If a menu item has a submenu clicking once will expand the menu clicking twice will open the page.

Study & Practice

*If a menu item has a submenu clicking once will expand the menu clicking twice will open the page.

Projects

*If a menu item has a submenu clicking once will expand the menu clicking twice will open the page.

FPMT

Whether one believes in a religion or not, and whether one believes in rebirth or not, there isn't anyone who doesn't appreciate kindness and compassion.

His Holiness the Dalai Lama

*If a menu item has a submenu clicking once will expand the menu clicking twice will open the page.

Shop

The Foundation Store is FPMT's online shop and features a vast selection of Buddhist study and practice materials written or recommended by our lineage gurus. These items include homestudy programs, prayers and practices in PDF or eBook format, materials for children, and other resources to support practitioners.

Items displayed in the shop are made available for Dharma practice and educational purposes, and never for the purpose of profiting from their sale. Please read FPMT Foundation Store Policy Regarding Dharma Items for more information.
Lama Zopa Rinpoche continues his video teachings from Kopan Monastery in Nepal during the coronavirus pandemic. Here is a summary of the most recent teaching:
This video begins Ven. Thubten Sangmo from Kopan Nunnery sharing her personal story, covering her life in Solu Khumbu, including Lawudo, and her eighteen years of study at Kopan for the geshema degree, for which she has entered her last year. Ven. Sangmo also provides some history of the nunnery, which started with thirty-five nuns and now accommodates more than 350. 
Lama Zopa Rinpoche begins this teaching explaining that the purpose of having a human life is to benefit others. To do this, we must generate a bodhichitta motivation. With this, everything we do is not simply motivated by our wish for our own happiness, which is the cause of suffering, but by our wish for the happiness of others, so our actions become the cause for enlightenment. With bodhichitta, no one is left out. It includes numberless hell beings, preta beings, hungry ghosts, animals, and insects in numberless universes.
Rinpoche then discusses the benefits of three particular mantras: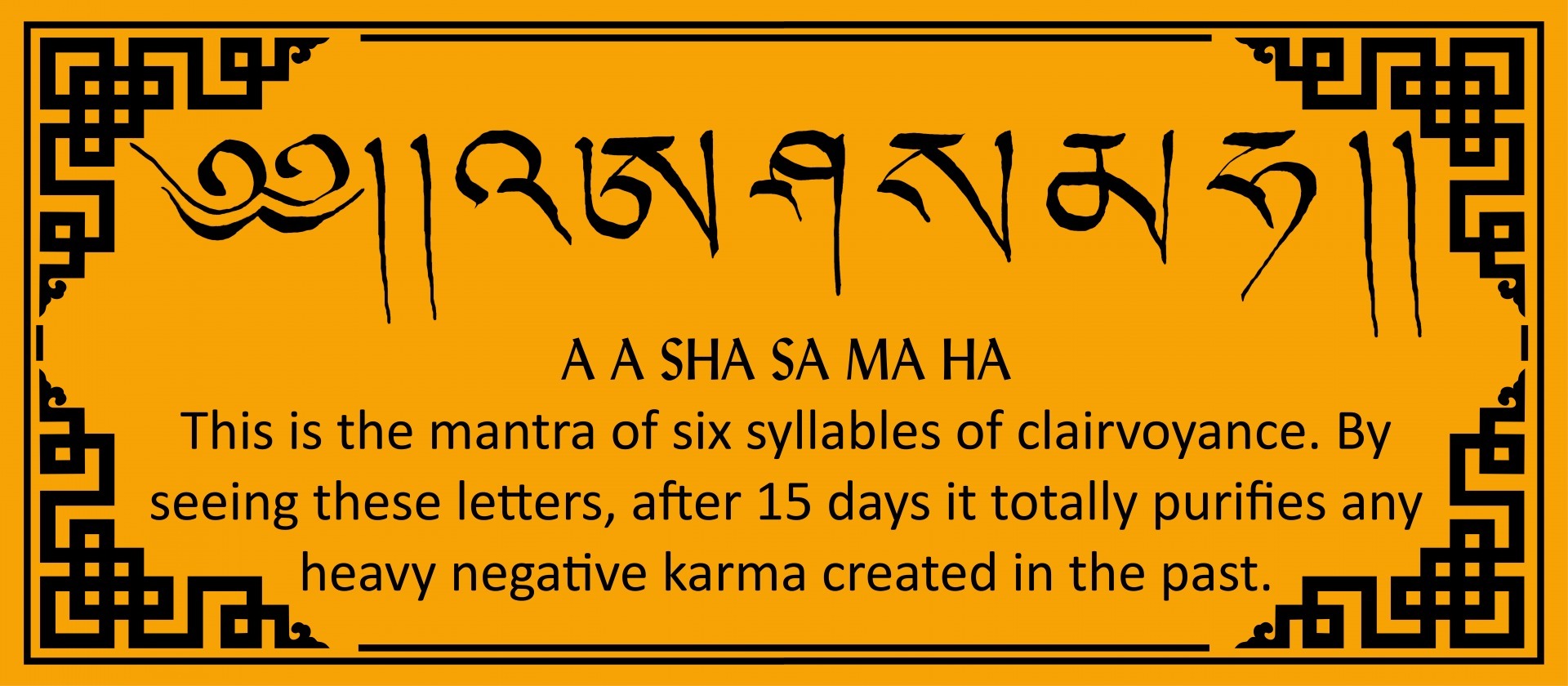 A A SHA SA MA HA, the Six Clairvoyances Mantra—after fifteen days of seeing this mantra all the heavy negative karmas you collected in past lives are purified.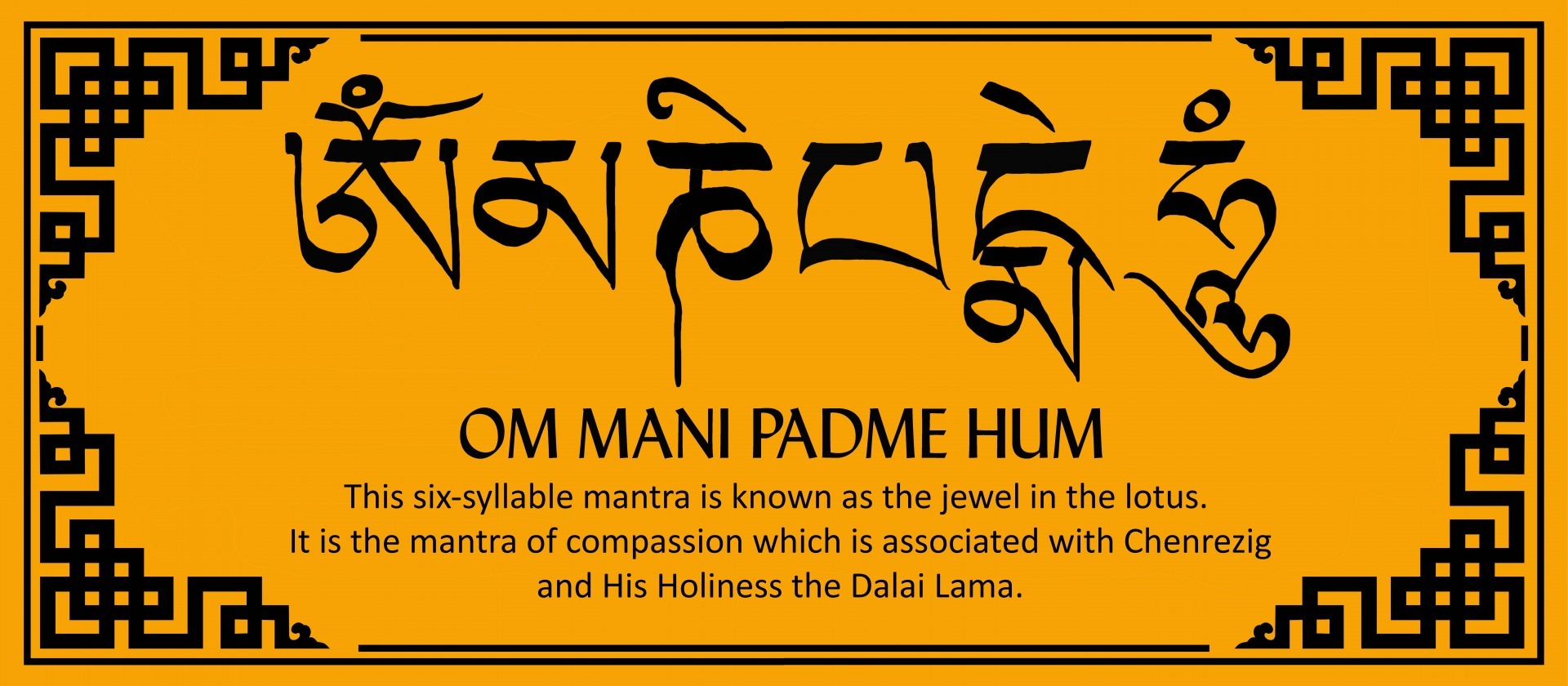 OM MANI PADME HUM, the mantra of Chenrezig: Each time you see this mantra it purifies the five heavy negative karmas without break.

OM AH VAJRA GURU PADMA SIDDHI HUM, the mantra of Padmasambhava (Guru Rinpoche): This mantra is used by Sherpas as protection from danger, including falling rocks.
Rinpoche explains how seeing the first two mantras purifies negativities and plants the seed of enlightenment and how reciting the third creates the cause for protection. 
Following one's guru's advice and serving the guru purifies heavy negative karma. Rinpoche gives the example of Milarepa, who became enlightened, not only in one life, but in a brief lifetime of degenerate times through the extreme hardships he endured from his teacher Marpa. To the outside it would look like he was the most unfortunate person: kicked out of teachings, scolded, beaten; but internally this became the strongest purification and quickest way to achieve enlightenment. In fact, when you bear hardships following your guru's advice or to fulfill your guru's wishes, it is like doing the preliminary practices. The most powerful preliminary practice is to please the guru. Conversely, if you don't know the practice of correctly following the guru, you will create the heaviest negative karma every minute.
When you put the blame for difficulties on the external world, everything becomes negative and disturbing. The flame of anger rises and you become so miserable and unhappy throughout the day. Even small conditions cause great harm to the mind. However your mind is trained—to see happiness or to see suffering—that is how things appear to the senses.
Rinpoche offers one more "message from God" to Root Institute in Bodhgaya, in response to the Indian government's request that Root accommodate returning Indian migrant workers and quarantine them for three weeks in an effort to prevent the spread of the coronavirus. Rinpoche advises Root to serve the guests very well so they have the imprint of Buddhists being very kind, good people. Because of that positive imprint, in their next life they will meet the Dharma and their minds will be open to Buddha, Dharma, and Sangha. Even if we die by serving others, including from the virus, we must remember that mother sentient beings have suffered and died for us numberless times.
We invite you to go deeper into the topics presented here, plus many others, by watching Rinpoche's video and reading the full transcript of Rinpoche's teaching.
Watch Lama Zopa Rinpoche's teaching "The Benefits of Bearing Hardships to Follow the Guru and Another Message from God":
https://youtu.be/oNl0qkocTPw

---
Find more advice and video teachings by Lama Zopa Rinpoche from Kopan Monastery during the COVID-19 crisis and also links to videos in translation, transcripts, MP3s, and more:
https://fpmt.org/fpmt/announcements/resources-for-coronavirus-pandemic/advice-from-lama-zopa-rinpoche-for-coronavirus/
Practice advice from our teachers, Dharma study-from-home opportunities, and more can be found on the page "Resources for the Coronavirus Pandemic."
Lama Zopa Rinpoche is the spiritual director of the Foundation for the Preservation of Mahayana Tradition (FPMT), a Tibetan Buddhist organization dedicated to the transmission of the Mahayana Buddhist tradition and values worldwide through teaching, meditation and community service.
Cherishing others is the source of all happiness.
Lama Zopa Rinpoche