News/Media

*If a menu item has a submenu clicking once will expand the menu clicking twice will open the page.

Study & Practice

*If a menu item has a submenu clicking once will expand the menu clicking twice will open the page.

Projects

*If a menu item has a submenu clicking once will expand the menu clicking twice will open the page.

FPMT

Be wise. Treat yourself, your mind, sympathetically, with loving kindness. If you are gentle with yourself, you will become gentle with others.

Lama Thubten Yeshe

*If a menu item has a submenu clicking once will expand the menu clicking twice will open the page.

Shop

The Foundation Store is FPMT's online shop and features a vast selection of Buddhist study and practice materials written or recommended by our lineage gurus. These items include homestudy programs, prayers and practices in PDF or eBook format, materials for children, and other resources to support practitioners.

Items displayed in the shop are made available for Dharma practice and educational purposes, and never for the purpose of profiting from their sale. Please read FPMT Foundation Store Policy Regarding Dharma Items for more information.
International Office News
December 2018
Warm season's greetings to you—with our best wishes for peace, happiness and joyous compassion through 2019
and beyond!
May all the holy wishes of His Holiness the Dalai Lama, Lama Thubten Yeshe, and Lama Zopa Rinpoche be fulfilled perfectly without delay.
We send our heartfelt thanks to all of you supporting the FPMT mission as students, staff, benefactors, and friends. We rejoice in the great beneficial efforts of the entire
FPMT family.
Lama Zopa Rinpoche, December 2018. Photo by Ven Lobsang Sherab.
"All success, all happiness, achieving enlightenment, comes from having a good quality unbroken connection with the guru. So all FPMT is very fortunate because we have the good connection with His Holiness the Dalai Lama, are under his Holiness's guidance. That's the most, most, most, most important, more important than anything else. We are so fortunate, unbelievably fortunate, because we are under the guidance of His Holiness."
Lama Zopa Rinpoche,
European Regional Meeting, Germany, November 2018
Have this translated into your native language by using our convenient translation facility located on the right-hand side of the page. French and Spanish speakers will find the FPMT International Office News translated each month in the "Bienvenue" and "Bienvenidos" tabs on the FPMT homepage!
---
Lama Zopa Rinpoche News:
Schedule Updates
Find recordings of Rinpoche's recent teachings via Rinpoche Available Now.
Lama Zopa Rinpoche teaching in Switzerland, November 2018. Photo by Ven. Lobsang Sherab.
Advice
The True Meaning of the Guru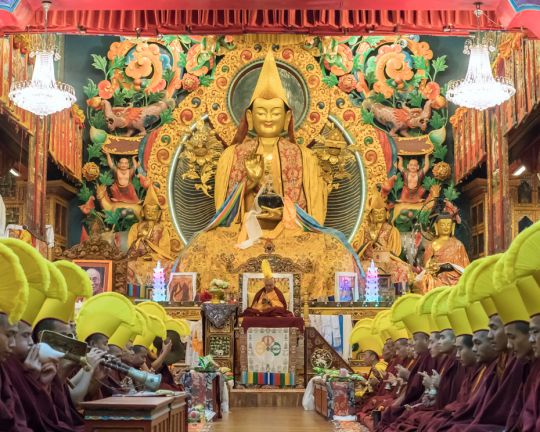 Lama Zopa Rinpoche and the monks from Kopan Monastery doing Lama Chopa on Lama Tsongkhapa Day, Nepal, December 2017. Photo by Ven. Lobsang Sherab.
On Lama Tsongkhapa Day last year, Lama Zopa Rinpoche gave a teaching on the true meaning of the guru, while seated in front of the large statue of Lama Tsongkhapa in Kopan Monastery's main gompa. Here is an excerpt: "I mentioned one quotation: "Even if you have complete qualities, without a guru you cannot be liberated from samsara." Read in full…
A Birthday Message from Lama Zopa Rinpoche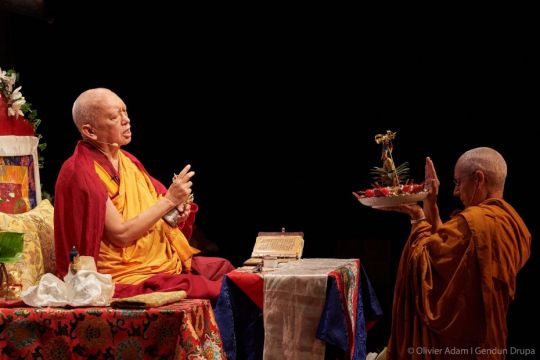 Tsog offering during Lama Zopa Rinpoche's teachings in Martigny, Switzerland, November 2018. Photo by Olivier Adam.
Lama Zopa Rinpoche received many messages wishing him "Happy Birthday" this year. So he recorded a video message as a thank you to all who offered him birthday greetings. In the video, Rinpoche gives advice on how to best see one's birthday and the practices that can be done that become the causes for total and complete enlightenment for oneself and for all sentient beings. Read in full and watch the video…
Subscribe to our FPMT news blog to get updates as soon as they are announced.
---
International Office News
Give a Gift that Helps Others
Our compassionate gift idea for the holidays: donate to one of these four FPMT charitable projects as a gift for a friend or loved one, and get a joyful e-card or printed card for this special person that highlights how your gift for them is benefiting others.
Lama Zopa Rinpoche with Xmas tree, Switzerland, November 2018. Photo by Ven. Lobsang Sherab.
New Materials from Education Services
Lama Chopa Jorcho Recordings: Students can find new audio and video recordings of Ven. Thubten Dechen chanting Lama Chopa Jorcho tunes as taught by Lama Zopa Rinpoche. Lama Zopa Rinpoche frequently recommends students to learn from these recordings. Ven. Dechen's chanting took place over two sessions during the retreat in Bendigo, Australia earlier this year. Also available on this page are video and audio recordings of Lama Zopa Rinpoche chanting Lama Chopa Jorcho in fast-paced, medium-paced, and slow-paced versions.
108 Names of Kshitigarbha translation now available! The recitation of the 108 names of Kshitigarbha and the associated dharani bestows good qualities, removes obstacles and ultimately acts as a cause for the attainment of liberation. This first English translation of the text was made at the request of Lama Zopa Rinpoche in order to help pacify the wildfires in California in 2018.
Rejoicing in Completion of the Thame Stupa Rebuild
We invite you to rejoice with us in the completed rebuild of a magnificent 460-foot by 54-foot stupa, with a large prayer wheel inside, on the site where a previous stupa was destroyed by the 2015 earthquake in the Thame region of Nepal. Rebuilding this stupa was a tremendous undertaking with many obstacles and hardships along the way, including having to use helicopters to deliver supplies and mantras. Lama Zopa Rinpoche, through the Stupa Fund, offered a substantial grant to enable the rebuilding of this stupa which will benefit pilgrims to and residents of the area (and all beings!) far into the future. You can read more about this stupa and see videos of various aspects.
Two New Online Stories from Mandala
Phil Hunt shares details about his visit earlier this year to FPMT project MAITRI Charitable Trust in Bodhgaya, India in Service in the Land of Noble Truths.
In May 2018, a group of twenty-two pilgrims from FPMT centers in Malaysia traveled together to Tsum, Nepal. One pilgrim shares her experience in Pilgrimage to the Hidden Valley of Tsum, Nepal.
Foundation Store Special Offers
Find out about End-of-the-Year FPMT Store Specials and our related new products and special offers!
---
For Center, Project and Service Directors, SPCs, Board Members, Registered Teachers and Coordinators:
(This advice is specifically for those offering service in these roles.)
Lama Zopa Rinpoche's Advice for Those Offering Service
Rinpoche gave extremely practical advice during his meeting with participants of the recent European Regional Meeting. Here is an excerpt:
"You are using your time, your life here for FPMT, to benefit numberless sentient beings. To not only free them from the lower realms, but free them from samsara and bring them to the peerless happiness of enlightenment. FPMT is to be beneficial for all that. For that reason everybody came here with compassion and devotion, and are having a very inspiring meeting.
"When you think of practicing Dharma, you think that only means your prayers. Other things are not Dharma. Your job, or your responsibilities, your work – you never think they are Dharma. That's wrong. So in the morning you do your practice. That morning motivation should be that I am working, sitting, sleeping, eating, doing my job, everything is to become Dharma. That's the morning meditation. I don't know if you understand or not, but from that morning motivation, everything becomes Dharma. So it's not only prayers which are Dharma, and everything else is not Dharma. Oh that's a very sad life. Everything that you do should be Dharma."
Read in full…
Lama Zopa Rinpoche's Message to Jamyang Buddhist Center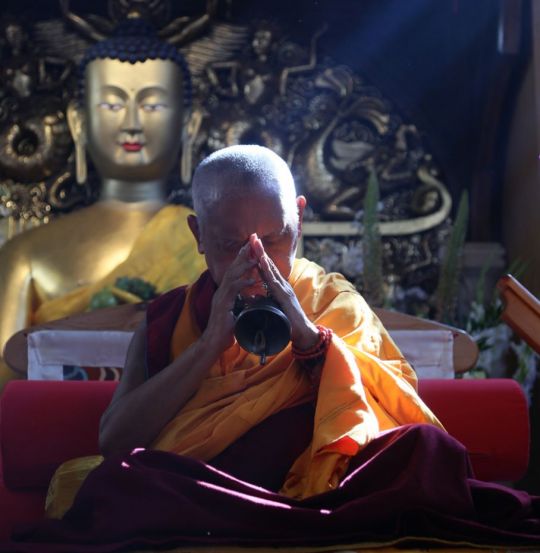 Lama Zopa Rinpoche at Jamyang Buddhist Centre, London, UK, 2014. Photo by Ven. Thubten Kunsang.
The video message which Lama Zopa Rinpoche sent to Jamyang Buddhist Center, London, UK on their 40th anniversary, is a fabulous resource for any FPMT center, project, service, and study group to use locally.
In the video, Rinpoche describes the importance and benefits of a Dharma center, and thanks all the people who have helped the center exist over the years. Rinpoche also explains how FPMT centers can bring peace to the world by teaching people about compassion and how to develop a good heart.
Live with Compassion!
We've updated the artwork for Rinpoche's Live with Compassion verse in the FPMT Display Pack. The new version can print at any size, from a bookmark up to a 4-foot poster.
---
FPMT World:
Rejoice!
Maitreya Buddha Project Kushinagar Settled
Maitreya Buddha Project in Kushinagar has now peacefully settled onto the 170 acre site made available on a perpetual lease by the Government of Uttar Pradesh, India. The site has been measured, clear boundaries established, and basic fencing has been completed. Read more…
Nalanda Monks Completed the Rains Retreat
Ven. Losang Tendar, the director of the International Mahayana Institute, the FPMT community of monks and nuns, shares about the annual rains retreat held at Nalanda Monastery, France, earlier this year. "The Buddha encouraged the Sangha to come together at their monasteries during the summer months and to devote six weeks to joyfully and intensely engaging in practice and study. Within the FPMT organization, Nalanda is the only monastery in the West that engages in the three activities that define a monastery." Read in full…
Opportunities to Offer Service in the FPMT Organization
Would you like to spend your days in a very meaningful way? Have a look at the regularly updated meritorious opportunities to offer service as a volunteer or as paid staff in FPMT centers, projects, and services around the world. Newly added: FPMT Europe has an opening for a new regional coordinator; Mahamudra Center, New Zealand is looking for a new director; Chandrakirti Center, New Zealand needs cooks; Root Institute, India has new volunteer positions open.
Impermanence at Work
Contact information for FPMT centers, projects, and services can be found in the FPMT Directory.
Closed FPMT Publishing Service – Chiara Luce, Italy
We rejoice in all the positive benefit created.
Ewam Center, Italy
We welcome new spiritual program coordinator (SPC) – Paolo Mori
With grateful thanks to outgoing SPC – Lorenzo Laschi
Longku Center, Switzerland
We welcome new director – Jangchub Iseli
With grateful thanks to outgoing co-directors – Ven Losang and Marianne Müller
Maitreya Buddha Project Kushinagar, India
We welcome new director – Virginia Roche
With grateful thanks to outgoing director – Marcel Bertels
Nagarjuna Center, Alicante, Spain
We welcome new director – Jessica Pastor
With grateful thanks to outgoing director – Isabel Belso
Nagarjuna's Light Center, Spain
We welcome new director – Lorena Fernendez
With grateful thanks to outgoing director – Inma Ortega
Tekchen Choling, Spain
We welcome new director – Alberto Ferreira
With grateful thanks to outgoing director – Rafa Conejero
---
If you received this from someone else, or unformatted, visit our subscribe page to receive this newsletter directly.
We should train ourselves not to become engrossed in any of the thoughts continuously arising in our mind. Our consciousness is like a vast ocean with plenty of space for thoughts and emotions to swim about and we should not allow our attention to be distracted by any of them.
Lama Thubten Yeshe