News/Media

*If a menu item has a submenu clicking once will expand the menu clicking twice will open the page.

Study & Practice

*If a menu item has a submenu clicking once will expand the menu clicking twice will open the page.

Projects

*If a menu item has a submenu clicking once will expand the menu clicking twice will open the page.

FPMT

Buddhist meditation doesn't necessarily mean sitting cross-legged with your eyes closed. Simply observing how your mind is responding to the sense world can be a really perfect meditation and bring a perfect result.

Lama Thubten Yeshe

*If a menu item has a submenu clicking once will expand the menu clicking twice will open the page.

Shop

The Foundation Store is FPMT's online shop and features a vast selection of Buddhist study and practice materials written or recommended by our lineage gurus. These items include homestudy programs, prayers and practices in PDF or eBook format, materials for children, and other resources to support practitioners.

Items displayed in the shop are made available for Dharma practice and educational purposes, and never for the purpose of profiting from their sale. Please read FPMT Foundation Store Policy Regarding Dharma Items for more information.
International Office News
March 2017
Lama Zopa Rinpoche, Khen Rinpoche Geshe Chonyi and Thubten Rigsel Rinpoche during the enthronement ceremony for Thubten Rigsel Rinpoche, Kopan Monastery, Nepal, March 2017. Photo by Ven. Lobsang Sherab
Have this translated into your native language by using our convenient translation facility located on the right-hand side of the page. French and Spanish speakers will find the FPMT International Office News translated each month in the "Bienvenue" and "Bienvenidos" tabs on the FPMT homepage!
---
Lama Zopa Rinpoche News:
Lama Zopa Rinpoche during the enthronement ceremony for Thubten Rigsel Rinpoche, Kopan Monastery, Nepal, March 2017. Photo by Ven. Lobsang Sherab.
Schedule
Preparing for the 2017 Light of the Path Retreat
Registration is now open for the extended 2017 Light of the Path hosted by Kadampa Center in North Carolina, USA, and taking place August 20-September 17. We hope that many students will be able to attend in person (the ideal choice!) or participate via livestream and video.
The Light of the Path retreat started due to Lama Zopa Rinpoche having what seemed to be a very significant and auspicious dream, which indicated that it was very important for Rinpoche to teach Lama Atisha's Lamp of the Path to Enlightenment, the root text on which the retreat is based. The dream also related to Kadampa Center hosting the teaching retreat.
Lama Zopa Rinpoche has emphasized since the first Light of the Path retreat that participants should review what he has previously taught so that at the new Light of the Path retreat he can move forward through Atisha's text.
Participants can prepare for Light of the Path 2017 by accessing the modules of the online program Living in the Path, specifically created by International Office to make Rinpoche's extensive teachings available in bite-sized chunks for easier study and meditation. Alternatively, participants can watch the videos of the entire Light of the Path 2016 teachings, listen to the MP3 recordings, or read the unedited transcript.
Korea: Unfortunately, Rinpoche's visit to Korea has been cancelled.
November 15–20: Rinpoche will continue the transmission of a series of texts related to the practice of Most Secret Hayagriva, India.
Read Lama Zopa Rinpoche's 2017 schedule in full …
Subscribe to our FPMT news blog to get updates as soon as they are announced. Enjoy livestreams of many of the teachings above and recordings of Rinpoche's most recent teachings via Rinpoche Available Now!
Activities and Advice
Highlights from our blogs:
How to Think about Caring for the Sick
Incense offering puja dedicated to all beings who are sick, presided over by Lama Zopa Rinpoche at his house, Buddha Amitabha Pure Land, Washington State, USA, November 2016. Photo by Ven. Lobsang Sherab.
Lama Zopa Rinpoche was asked for advice by a student who has cancer. Rinpoche typed up advice to send to the student. Read it in full …
An Eventful Visit: Lama Zopa Rinpoche at Kopan Monastery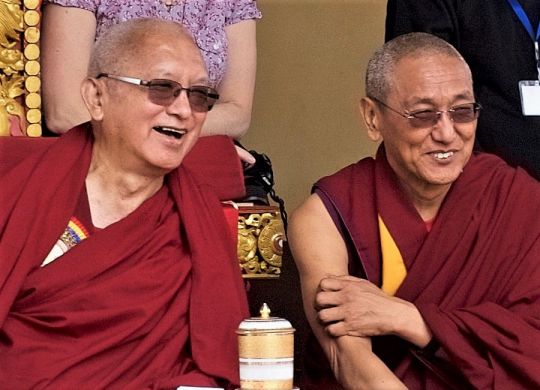 Lama Zopa Rinpoche and Kopan abbot Khen Rinpoche Geshe Chonyi share a smile while watching the performances after the enthronement of Thubten Rigsel Rinpoche. Photo by Bill Kane.
Click here for an account of some of Lama Zopa Rinpoche's activities during his recent stay at Kopan Monastery, Nepal.
Find a wide range of advice from Lama Zopa Rinpoche on Rinpoche's Advice page.
---
International Office News:
Rejoicing in Friends, Both New and Old
The recent auspicious 15 days of miracles following Tibetan New Year inspired more than 115 new Friends of FPMT supporters! Many thanks to and much rejoicing for all of our Friends of FPMT, those new to our Friends community and those who have been helping for many years to advance International Office's work in education, charitable projects, online resources, and service to FPMT communities. Thank you!
Lama Zopa Rinpoche with Frances Howland, South Asian regional coordinator, Kopan Monastery, Nepal, March 2017. Photo by Ven. Roger Kunsang.
News from Education Services
In this year's FPMT International Office annual review, Lama Zopa Rinpoche mentioned two practices for students to focus on, The Method to Transform a Suffering Life into Happiness (Including Enlightenment) and How to Make Life Most Beneficial. We're happy to remind you that these practices are available for free download.
Also, a newly updated Lama Chöpa Jorchö in English and Tibetan phonetics is now available.
Plus, new graphic resources are available on the Foundation Store:
News from FPMT Charitable Projects
Ven. Tsering, a Kopan monk, spends eight hours every day writing out the Prajnaparamita Sutra in pure gold on archival quality paper.
We invite you to rejoice that the Prajnaparamita Project is now entering its fifteenth year! According to Lama Zopa Rinpoche, one of the main ways to create the causes needed to build the large Maitreya Buddha statue in Kushinagar, India is to write out the Prajnaparamita Sutra in pure gold. Under Rinpoche's guidance, Jane Seidlitz and Ven. Tsering are writing out this sutra in gold ink on archival quality rainbow paper. They are now working on volume four of twelve. Thanks to all who contribute to this project every year, making it possible to continue this work.
Mandala's Newest Online Feature
Mandala recently published "New Self / No Self: Jacob Sky Lindsley on Mindfulness and Madhyamaka," an interview with Jacob Sky Lindsley, a graduate of FPMT-affiliated Maitripa College, who will soon start Ph.D. studies in psychology. Lindsley discusses the relationship between highly popular mindfulness therapies, and Madhyamaka (Middle Way) philosophy as propounded by Lama Tsongkhapa and many other Mahayana scholars. Both of these are methods to transform the experience of self, and, by doing so, to reduce suffering. Learn how they compare …
Foundation Store Supplies
We carry a full range of meditation supplies and holy objects including altar cloths, offering bowls, vajras and bells, bhumpas, tea offering sets to protectors (serkyem) and more. Check out our new arrivals!
Lama Zopa Rinpoche and Khen Rinpoche Geshe Chonyi with the Kopan Monastery geshes, Kopan Monastery, Nepal, March 2017. Photo by Ven. Roger Kunsang
Merit Box Offerings—Last Chance!
The last chance to submit your accumulated Merit Box offerings to be used for this year's grants for Dharma projects around the world is March 31—just days away! If you have a Merit Box, we request you to please tally your offerings, submit them online, and rejoice!
---
For Center, Project and Service Directors, SPCs, Board Members, Registered Teachers and Coordinators:
(This advice is specifically for those offering service in these roles.)
Lama Zopa Rinpoche with Geshe Jinpa, Kopan Monastery, Nepal, March 2017. Photo by Ven. Roger Kunsang
Hosting Living in the Path
We strongly encourage FPMT centers to host the Living in the Path program in the coming months. This will best enable students to get the full benefit of and connect with Rinpoche's teachings in preparation for either attending the Light of the Path retreat or watching Lama Zopa Rinpoche's teachings live locally via the livestreamed video. For information on how to host Living in the Path, please write to our Living in the Path coordinator.
Affiliate Area Highlights: Fundraising Help
Do you know how International Office can help your center, project, service and study group fundraise successfully? (Hint – have a look at the Financial, Business and Fundraising Guidelines section!)
FPMT World Map Updated
We have just updated the map in the FPMT Display Pack to properly reflect the FPMT network of 162 centers, projects, services, and study groups in 38 countries!
---
FPMT World:
Rejoice!
Thubten Rigsel Rinpoche Enthroned
Thubten Rigsel Rinpoche, the reincarnation of Khen Rinpoche Lama Lhundrup, beloved long-time abbot of Kopan Monastery, was enthroned on March 6 at Kopan Monastery, Nepal.
New Opportunities to Offer Service in FPMT
Please check out the regularly updated meritorious opportunities to offer service as a volunteer or as paid staff in FPMT centers, projects, and services around the world. Thubten Norbu Ling, USA, is looking for an FPMT registered teacher to be their support teacher and spiritual program coordinator; De-Tong Ling Retreat Centre, Australia, needs a range of volunteers.
---
If you received this from someone else, or unformatted,
visit our subscribe page to receive this newsletter directly.
Proper guru devotion – correct devotion to your virtuous friends – allows you to actualize successfully all the steps of the path to enlightenment, from the perfect human rebirth up to buddhahood itself.
Lama Zopa Rinpoche