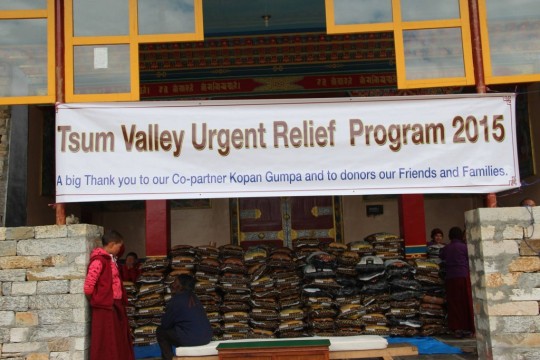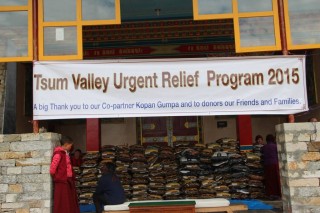 The Tsum Valley, which is located in the northern border area of Nepal close to Tibet, was badly affected by the earthquake and subsequent aftershocks that struck Nepal earlier this year that toppled homes, temples and other buildings, resulting in the death of over 9,000 people across the country. Many charities have formed to help care and provide for those in need following the destruction. Recently, several individual charities have been working together to provide aid for the Tsum region of Nepal. 
Aid of tents, sleeping bags, and cash were arranged for over 500 families in upper Tsum. The monks and nuns of Kopan have helped distribute this aid from Rachen Nunnery with the help of several charities including 16 Navigators Nepal Earthquake Relief Mission and individuals including Geshe Tenzin Zopa, Geshe Tenzin Lundrup, Dhawa Gyanjen Tsumba, and others. 
Please rejoice in this incredible collective effort of generosity and kindness.
---
You can offer your support to Kopan Helping Hands so that the monks and nuns can contribute to help distribute aid to those in Tsum Valley: http://www.kopanmonastery.com/earthquake

To learn more and offer support to FPMT's Nepal Earthquake Support Fund, which will be used for immediate relief and rebuilding: https://fpmt.org/support/socialservices/
For "Prayers and Practice for Earthquake in Nepal," see:
https://fpmt.org/edu-news/prayers-and-practices-for-earthquake-in-nepal/
For continuing updates and news from Kopan Monastery and other FPMT centers and projects in Nepal affected by the earthquake, please visit our "Updates from Nepal after the Earthquake" page:
https://fpmt.org/nepal-earthquake/