News/Media

*If a menu item has a submenu clicking once will expand the menu clicking twice will open the page.

Study & Practice

*If a menu item has a submenu clicking once will expand the menu clicking twice will open the page.

Projects

*If a menu item has a submenu clicking once will expand the menu clicking twice will open the page.

FPMT

Be as careful as you can. Our minds are funny. Sometimes we are skeptical of things that are really worthwhile and completely accepting of things that we should avoid. Try to avoid extremes and follow the middle way, checking with wisdom wherever you go.

Lama Zopa Rinpoche

*If a menu item has a submenu clicking once will expand the menu clicking twice will open the page.

Shop

The Foundation Store is FPMT's online shop and features a vast selection of Buddhist study and practice materials written or recommended by our lineage gurus. These items include homestudy programs, prayers and practices in PDF or eBook format, materials for children, and other resources to support practitioners.

Items displayed in the shop are made available for Dharma practice and educational purposes, and never for the purpose of profiting from their sale. Please read FPMT Foundation Store Policy Regarding Dharma Items for more information.
Lama Zopa Rinpoche has requested the Sangha at his house to make stupas and tsa-tsas dedicated for those who have passed away and for those who are sick, every single day.
Stupas Dedicated for Those Who Have Passed Away
Every day, three small Kadampa stupas are made at Kachoe Dechen Ling by resident Sangha. This includes filling each stupa with a roll of the Four Dharmakaya Relic Mantras. As the Sangha puts the mantras inside the stupa they dedicate for the person who has passed away by reciting the name of the person and making the prayer, "May this person never be born in the lower realms. May they be liberated from samsara, and may they achieve enlightenment quickly."
Tsa-Tsas Dedicated for Those Who are Sick or have Life Obstacles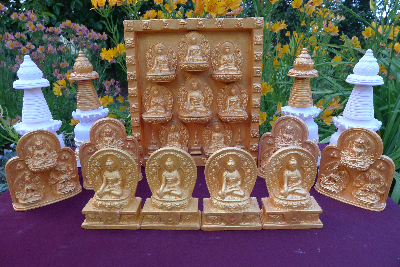 Every day Sangha make three long life and 13 Mitukpa tsa-tsas. These are dedicated to any person who is sick with prayers that they may immediately recover, be liberated from samsara, and may achieve enlightenment quickly.
In addition, on the eighth day of the Tibetan month, three Eight Medicine Buddhas tsa-tsas are also made. On the thirtieth, one 12-inch (30-centimeter) tall Padmasambhava tsa-tsa is made.
Lama Zopa Rinpoche requested this dedication:
For the long life and the success of all the holy wishes of all the virtuous friends.
To be able to receive all the finances to build the Maitreya statue without any delay of even a second and to be able to complete the statue as soon as possible. As well as for the quickest success of all the rest of the projects, building holy objects and other projects at all the FPMT centers and may they be most beneficial to enlighten sentient beings in the quickest way.
Dedicate for all the lower realm sentient beings, particularly all sentient beings whose names are given to me and who I promise to pray for, may they be born in a pure land, or receive a perfect human rebirth, by meeting perfectly qualified Mahayana virtuous friends, may they actualize the path and quickly become enlightened. As well as for all others who died and who are sick, particularly whose names are given to me, to immediately recover and have the most meaningful life.For the teachings of Lama Tsongkhapa to last for a long time and for all sentient beings to quickly achieve enlightenment.
From,
Mickey Mouse
Making Merit
After the stupas and tsa-tsas are made they are given away or are used in various ways so people can circumambulate and create merit as they enter Rinpoche's house or go around while talking on the phone. You can learn more and view some beautiful photos of this project in "Stupas in Everyday Life, Advice From Lama Zopa Rinpoche," published on the Mandala "FPMT News Around the World" blog.
The Stupa Funds covers all the expenses for the material to make the tsa-tsas. This is something amazing to rejoice in, every day new holy objects are being made as well as extensive prayers. This is something you can also participate in by donating any amount … How amazing! 
How Can I Make a Donation?
To make a tax-deductible donation generally to the Stupa Fund
Or simply send your check in US dollars payable to FPMT Inc. and write "Stupa Fund" on the memo line.
FPMT Inc.
1632 SE 11th Avenue
Portland, OR 97214-4702
USA
The Stupa Fund is a project of FPMT Inc. and is administered by FPMT International Office located in Portland, Oregon, United States. All donations made to this fund are tax-deductible within the United States in accordance with IRS Code article 501(c)(3) to the extent allowed by law.
For more information please contact: Charitable Projects Coordinator.
The purpose of meditation is not to reach nirvana and then disappear. If that was the case, it would better that you manifested as a flower!
Lama Thubten Yeshe