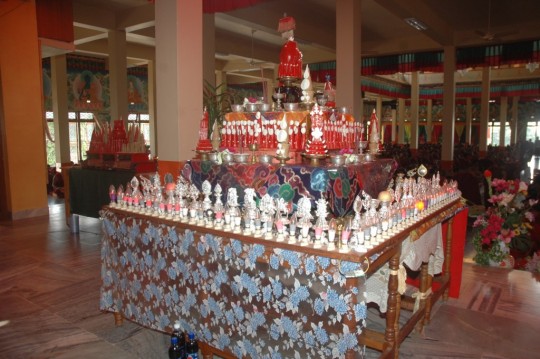 Twenty years ago, Lama Zopa Rinpoche established the Puja Fund as a way to sponsor ongoing prayers and practices dedicated to the success and longevity of the entire FPMT organization. One puja that Rinpoche advised was particularly important for FPMT is the Extensive Most Secret Hayagriva Puja. 
Every month, on the Tibetan 29th day, the Puja Fund sponsors about 40 of the most senior monks of Sera Je Monastery, who specialize in the practice of Most Secret Hayagriva, to offer the Extensive Most Secret Hayagriva puja (Hayagriva Tsog Kong). This is an all day puja with an elaborate torma offering and extensive prayers and meditation. Please rejoice that twelve months of sponsorship for this monthly puja was just offered to Sera Je. 
The Puja Fund makes a small offering to the 40 monks who perform the puja; offers breakfast, lunch and dinner; and covers the cost of extensive torma offerings (pictured above) for the puja.
Every Tibetan 29th day, you can remember that there are over 40 monks performing the Extensive Most Secret Hayagriva Puja as they have for over twenty years. You are welcome to contribute to this ongoing offering which benefits the entire FPMT mandala of centers, projects, services, students, volunteers, benefactors, and all beings. 
You can learn more about the ongoing activities of the Puja Fund, or FPMT's other extensive charitable activity.