News/Media

*If a menu item has a submenu clicking once will expand the menu clicking twice will open the page.

Study & Practice

*If a menu item has a submenu clicking once will expand the menu clicking twice will open the page.

Projects

*If a menu item has a submenu clicking once will expand the menu clicking twice will open the page.

FPMT

Superficial observation of the sense world might lead you to believe that people's problems are different, but if you check more deeply, you will see that fundamentally, they are the same. What makes people's problems appear unique is their different interpretation of their experiences.

Lama Thubten Yeshe

*If a menu item has a submenu clicking once will expand the menu clicking twice will open the page.

Shop

The Foundation Store is FPMT's online shop and features a vast selection of Buddhist study and practice materials written or recommended by our lineage gurus. These items include homestudy programs, prayers and practices in PDF or eBook format, materials for children, and other resources to support practitioners.

Items displayed in the shop are made available for Dharma practice and educational purposes, and never for the purpose of profiting from their sale. Please read FPMT Foundation Store Policy Regarding Dharma Items for more information.
The FPMT affiliate FDCW (Foundation for Developing Compassion and Wisdom) brings us some wonderful initiatives, available
to those interested in understanding their own mind and emotions and bringing compassion into daily life.
In 1983 Lama Yeshe began formulating the idea of Universal Education. "The world needs a new system of education because the old one is too dated for the intelligent people of today and produces a great deal of conflict and dissatisfaction in the present generation. […] We have to get rid of people's old concepts and give them a new imagination; a new, broad way of looking at themselves and the world. That's what I mean by "universal." 
Universal Education is rooted in Buddhist philosophy, psychology and science: a 2,500 year old tradition committed to rigorous empirical investigation and authentic practice. It is presented using contemporary language and methods suitable for people of all traditions and cultures, and encourages a non-dogmatic and experiential approach.
FDCW follows in the footsteps of this inspiration by creating programs built on universal values and training people in a modern, secular facilitation style.
Growing Compassionate Hearts Conference with multiple speakers
October 10-11, 2023. This conference is online.
FDCW aims to equip children and young people with the skills for creating a kinder, wiser, more compassionate society. This is an exciting opportunity to hear from a wide range of experienced educators and practice the methods that have proved effective for them. 
FDCW has been inspired by His Holiness the Dalai Lama's vision of educating the heart not just the intellect. An education that is based on values like forgiveness, kindness, and affection. By watering the seeds of natural empathy, building resilience through better understanding of how things exist, and above all, caring for others, our young people can face the future with courage and confidence.
This two day conference offers a wide range of inspiring talks, lively discussions as well as experiential methods, and new perspectives on walking this path alongside children and young people.
Learn more, watch a video trailer for this conference, and register:
www.compassionandwisdom.org/growing-compassionate-hearts-2023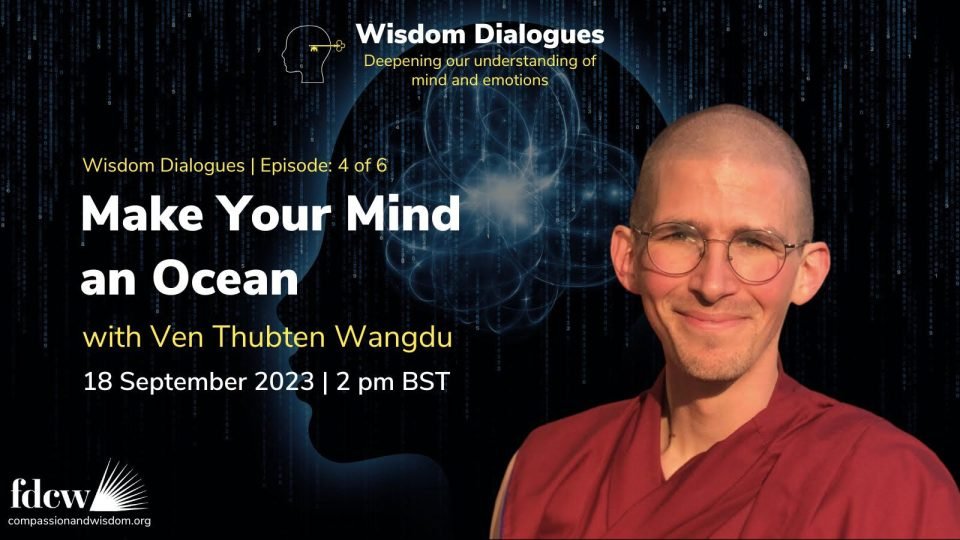 Wisdom Dialogues Ep 4: Make Your Mind an Ocean with Ven. Thubten Wangdu
September 18, 2023, 2 p.m. BST. This program is online. 
Join Ven. Thubten Wangdu, resident teacher of Tushita Meditation Centre in Dharamkot, India, in this exploration of the mind. The various meditation techniques that were taught by the Buddha are methods for us to become more genuinely happy human beings — to cultivate a sense of inner contentment and well-being that is lasting. This derives from seeing more clearly how things actually are. From the Buddhist perspective, our repeated experiences of dissatisfaction and frustration do not have external conditions as their root cause, but all mental problems come from the mind. Therefore, if we aspire for true satisfaction in our lives we have to investigate and recognize the nature of our own mind and discover how our minds interpret reality.
Learn more and register:
www.compassionandwisdom.org/calendar/2023-wisdom-dialogue-sept-thubten-wangdu
Compassion Based Living Course with Mabel Odessey
Eight week course from September 28 – November 16, 2023.  This course is online. 
The Compassion Based Living Course (CBLC) is an eight-week course that draws on insights and practices from neuroscience, evolutionary psychology, and Buddhist psychology. This experiential course follows on from the 8-week Mindfulness Based Living Course and supports further development of our self-compassion and compassion for others.
Learn more and register:
www.compassionandwisdom.org/calendar/mabel-cblc-september23
---
Foundation for Developing Compassion and Wisdom (FDCW) provides secular training, programs and resources across many sectors of society – schools, universities, hospices, workplaces, healthcare, youth groups and community centers. 
I hope that you understand what the word 'spiritual' really means. It means to search for – to investigate – the true nature of the mind. There's nothing spiritual outside. My rosary isn't spiritual; my robes aren't spiritual. Spiritual means the mind and spiritual people are those who seek its nature.
Lama Thubten Yeshe