News/Media

*If a menu item has a submenu clicking once will expand the menu clicking twice will open the page.

Study & Practice

*If a menu item has a submenu clicking once will expand the menu clicking twice will open the page.

Projects

*If a menu item has a submenu clicking once will expand the menu clicking twice will open the page.

FPMT

Be as careful as you can. Our minds are funny. Sometimes we are skeptical of things that are really worthwhile and completely accepting of things that we should avoid. Try to avoid extremes and follow the middle way, checking with wisdom wherever you go.

Lama Zopa Rinpoche

*If a menu item has a submenu clicking once will expand the menu clicking twice will open the page.

Shop

The Foundation Store is FPMT's online shop and features a vast selection of Buddhist study and practice materials written or recommended by our lineage gurus. These items include homestudy programs, prayers and practices in PDF or eBook format, materials for children, and other resources to support practitioners.

Items displayed in the shop are made available for Dharma practice and educational purposes, and never for the purpose of profiting from their sale. Please read FPMT Foundation Store Policy Regarding Dharma Items for more information.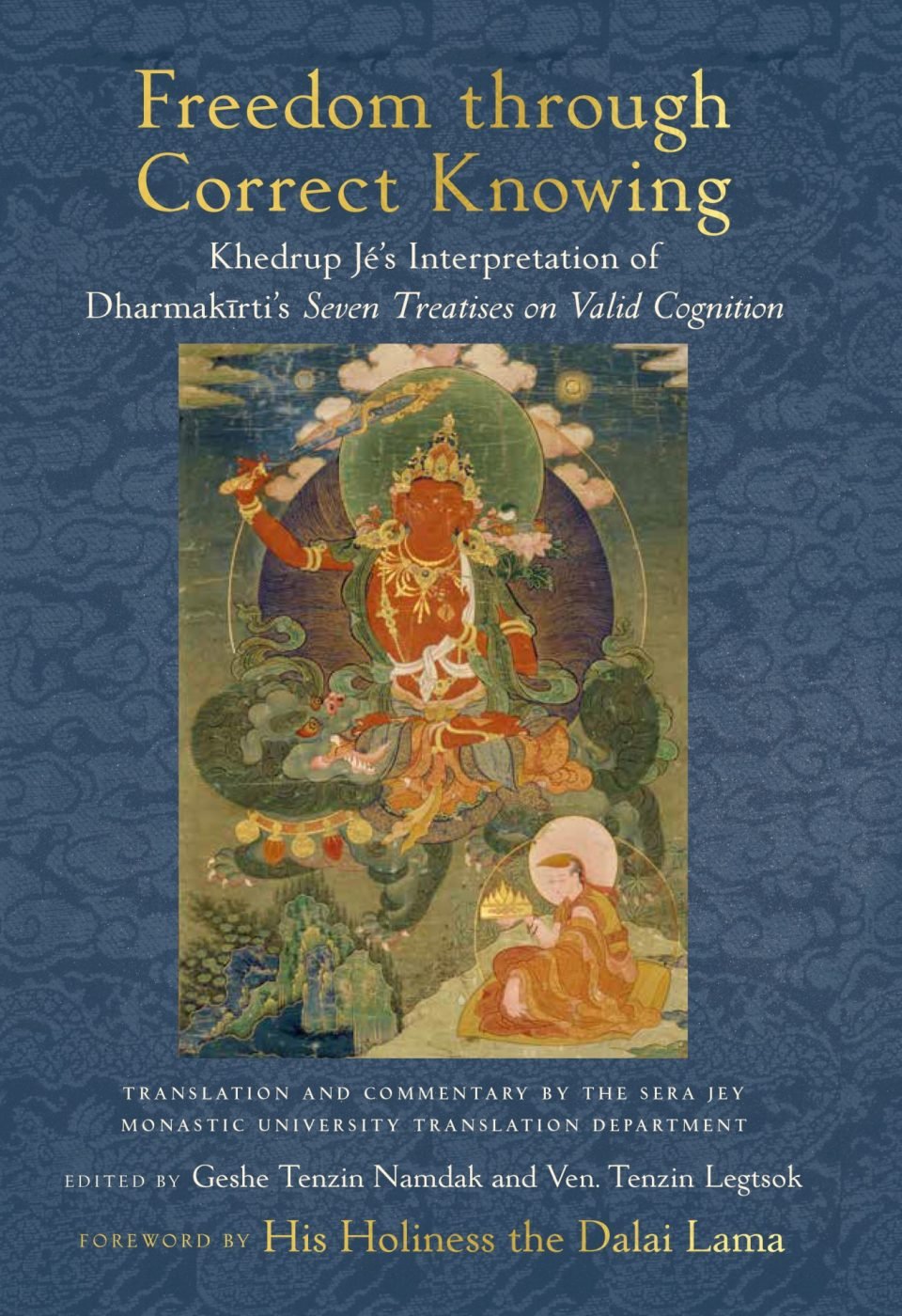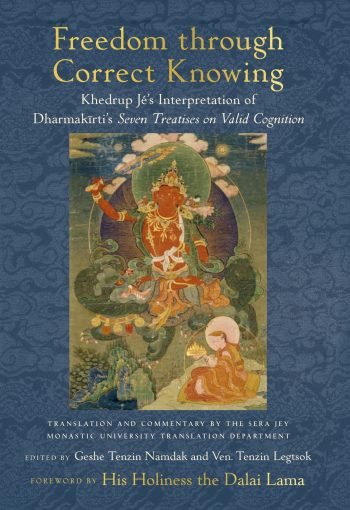 We are pleased to share news about a book that is a unique collaboration between the monks of Sera Jey Monastery Translation Department and Sera IMI House. Just released by Wisdom Publications, Freedom though Correct Knowing; Khedrup Jé's Interpretation of Dharmakīrti's Seven Treatise on Valid Cognition is a translation and contemporary explanation of pivotal sections of Khedrup Jé's most extensive treatise on Buddhist logic and epistemology. Ven. Tenzin Legtsok, who assisted with editing and translation of this book, as well as shaping the final form, shares some background information on how this project came to be. 
In his foreword to the book,  Freedom though Correct Knowing; Khedrup Jé's Interpretation of Dharmakīrti's Seven Treatise on Valid Cognition, His Holiness the Dalai Lama traces the historical development of this branch of Buddhist thought from ancient India up to the current work with the observation that:
While one may engage in the teachings of Buddha Shakyamuni by means of faith, the ideal way to truly appreciate and embrace the doctrine of the Buddha is through inquiry and critical reasoning. The Buddha himself has said:
Oh, monks and scholars, just as you test gold
By burning, cutting, and rubbing,
So too examine my speech well;
Do not accept it merely out of respect.
The collaboration that has given rise to this work began fourteen years ago when Geshe Tenzin Namdak was asked to start a program at Sera Jey Monastery to educate monks with basic English in English Dharma vocabulary and the skills to do written and oral translations from Tibetan. This project gradually grew into the Sera Je Monastic University Translation Department which now also includes training in translation from Tibetan to Chinese. In subsequent years myself, Tenzin Namjong, and Lobsang Tsondru also served as regular teachers in the program and other monks of Sera IMI House helped with editing and supplementing the translations made for this book. It is a valuable precedent set by the great scholars who labored to translate the Buddhist canon from Sanskrit to Tibetan that interpretations were always made as a collaboration between native speakers of both the source and the target language. We have tried to follow their lead.
When His Holiness learned of the Translation Department during a visit to Sera Monastery in 2013, He suggested that we translate Khedrup Jé's Clearing Mental Darkness: An Ornament of Dharmakīrti's "Seven Treatises on Valid Cognition" (Tshad ma sde bdun gyi rgyan yid kyi mun sel). Seeing that it would be extremely difficult for most English readers to follow parts of this work involving detailed debates between the author and opposing views, Geshe Namdak first identified sections that clearly set out Khedrup Jé's own positions and some central debates. Next, Geshe Namdak and myself worked for several years with groups of Tibetan speaking monastic translator students making draft translations. Once this was done it became clear that we needed native English speakers to convert the work of different groups of translators into text having uniform style and vocabulary. Also, we deemed that this work would be even more useful to a wider range of readers by supplementing Khedrup Jé's presentation with explanations of many basic concepts and terms that he assumes readers are conversant with since they are covered in the early years of the Tibetan Buddhist philosophy programs. To develop this content, we requested the assistance of other IMI House monks, especially Venerables Tenzin Namjong, Tenzin Gache, and Dan Frey. With all this content gathered together, Geshe Namdak and myself primarily took responsibility for shaping the book into its final form having smooth progression from topic to topic, a rich glossary, and helpful appendices.
Currently Geshe Namdak is the resident teacher at Jamyang Center in London teaching several extensive  FPMT programs simultaneously including the newly developed Exploring Buddhism. Myself and Tenzin Namjong teach regularly at Choe KhorSum Ling Centre in Bangalore, for Ocean of Compassion Center online, and are engaged in translation and editing work for FPMT Education Services. Tenzin Gache recently published a translation of Kyabje Choden Rinpoche's instructions on calm abiding and Mahamudra entitled, Mastering Meditation, and is working on a forthcoming translation of instructions on six-session guru yoga. Dan Frey is newly working with Wisdom Publications to help develop their online platform. There are now four junior monks at IMI House engaged in the early years of the Geshe Studies Program and several other Western monks at Sera at various stages of their studies. We hope that more men and women from Western and other countries will also undertake studies and practice at Sera and other traditional Tibetan Buddhist institutions to continue this work while the opportunity still exists.
It is only through the inspiration of His Holiness the Dalai Lama that we dared to embark on such an undertaking, through the guidance of Lama Zopa Rinpoche for Sera IMI House since its inception, and through the inexpressible kindness of our teachers and peers at Sera Jey that this work has been possible. May it bring much benefit.
"Freedom through Correct Knowing presents the core part of Khedrup Jé's Clearing Mental Darkness, which is famed for its clear and comprehensive analysis of key issues of importance for Buddhist epistemology. Through this book the reader can join Khedrup Jé's brilliant mind as he engages with important questions of logic and epistemology via a dialogical format that powerfully guides the reader."
—Thupten Jinpa, founder, Institute of Tibetan Classics; founder, Compassion Institute; translator of major Tibetan works in The Library of Tibetan Classics and author of Tsongkhapa: A Buddha in the Land of Snows
"Serious students of Buddhist philosophy will delight in this translation of Khedrup Jé's text on valid cognition, carefully and generously supplemented by commentary that draws on other classic Tibetan treatises. The chapter on the four truths is the crowning jewel, providing an elaborate account of how we enter into and free ourselves from cycling in samsara. The six appendices kindly offer a complementary map of important topics touched on but not explained in the root text. This is a beautiful handbook for those desiring a detailed map of the path to awakening and the role different types of mind play in this."
—Bhiksuni Thubten Chodron, abbess of Sravasti Abbey and author of Buddhism for Beginners
"In the present so-called post-truth era, where misinformation abounds, it is crucial to be able to differentiate between fact and fiction and between valid and invalid ways of knowing something. Freedom through Correct Knowing provides the Buddhist analytical tools needed for this task, as interpreted by two of the greatest Tibetan Gelugpa scholars, Khedrup Jé and his commentator Purbu Chok. To open up the meaning of the technical language of the text, the editors have interspersed clear explanations and have added generous appendices with background material. The translators and editors are to be congratulated on this beautifully written, welcome contribution to our understanding of how the mind works."
—Dr. Alexander Berzin, founder, studybuddhism.com, a project of the Berzin Archives
---
To order a hardcopy edition of Freedom though Correct Knowing; Khedrup Jé's Interpretation of Dharmakīrti's Seven Treatise on Valid Cognition from Wisdom Publications: https://wisdomexperience.org/product/freedom-through-correct-knowing/
For an ebook version from the FPMT Foundation Store: https://shop.fpmt.org/Freedom-Through-Correct-Knowing-eBook-_p_3739.html
You can see that some people's relationships are reasonable. Therefore, they last a long time. If people's relationships start off extreme, how can they last? You know from the beginning they cannot last. Balance is so important.
Lama Thubten Yeshe