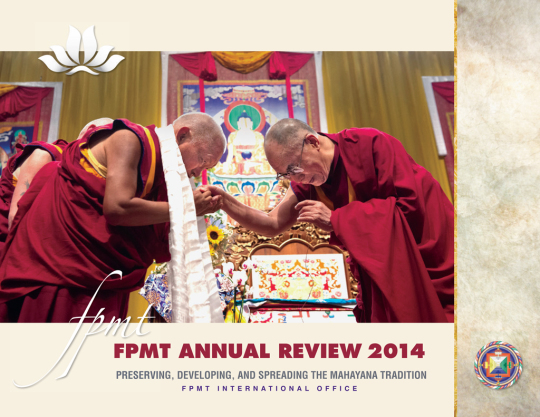 We're pleased to announce that International Office's FPMT Annual Review 2014: Preserving, Developing and Spreading the Mahayana Tradition is available for the worldwide FPMT community in eZine and PDF formats.
"All the work we are doing in FPMT is to accomplish the most important thing, not only for oneself, but for the numberless sentient beings, who are the most important. Our aim is to benefit them in many ways," FPMT spiritual director Lama Zopa Rinpoche says in the FPMT Annual Review 2014. 
You can read Rinpoche's letter along with updates from FPMT Inc. CEO Ven. Roger Kunsang and FPMT Inc. Board of Directors chair Karuna Cayton in this year's review. We also highlight the accomplishments of FPMT International Office in its work to help actualize Lama Yeshe's and Lama Zopa Rinpoche's Vast Visions for FPMT. Please take a moment to rejoice with us for all that has been achieved! 
FPMT International Office is based in Portland, Oregon, and provides the necessary framework for all FPMT activity, develops and delivers high quality education programs and materials, maintains several primary channels for communication, manages charitable projects key to FPMT's mission, coordinates communication between Lama Zopa Rinpoche and the larger organization and provides support to FPMT centers, projects and services.