News/Media

*If a menu item has a submenu clicking once will expand the menu clicking twice will open the page.

Study & Practice

*If a menu item has a submenu clicking once will expand the menu clicking twice will open the page.

Projects

*If a menu item has a submenu clicking once will expand the menu clicking twice will open the page.

FPMT

May there be no war, disease or natural disaster such as fire, flood, earthquake and so forth. May everybody realize bodhichitta, the good heart, enjoy peace and happiness and as quickly as possible realize the wisdom directly perceiving emptiness, cease all their defilements and achieve enlightenment.

Lama Zopa Rinpoche

*If a menu item has a submenu clicking once will expand the menu clicking twice will open the page.

Shop

The Foundation Store is FPMT's online shop and features a vast selection of Buddhist study and practice materials written or recommended by our lineage gurus. These items include homestudy programs, prayers and practices in PDF or eBook format, materials for children, and other resources to support practitioners.

Items displayed in the shop are made available for Dharma practice and educational purposes, and never for the purpose of profiting from their sale. Please read FPMT Foundation Store Policy Regarding Dharma Items for more information.
Patience: A Guide to Shantideva's Sixth Chapter is a new book of Lama Zopa Rinpoche's teachings on the perfection of patience, a topic Rinpoche has taught on extensively. (Perhaps this is not surprising since Rinpoche's name "Zopa" means "patience.") In this book, recently released by Wisdom Publications, Rinpoche gives commentary on the verses on patience in Shantideva's A Guide to the Bodhisattva's Way of Life. Here's an excerpt from the chapter "When We Respect Sentient Beings, We Respect the Buddhas":
Compassion for all sentient beings with the exception of one—the one we consider our enemy—is not great compassion, and without great compassion bodhichitta and enlightenment are impossible. Great compassion entails not only the wish for all sentient beings to be free from all suffering but also the determination that we ourselves will free them. This great compassion therefore relies on each and every sentient being: every hell being, hungry ghost, animal, human, demigod, god, and intermediate-state being. It includes our friends and those we consider strangers, but it also includes our enemies.
Shantideva compared the "field" of sentient beings to a buddha field. Because farmers rely on their fields of crops to earn their living, they take very good care of them—watering them, fertilizing them, protecting them from frost, and so forth. They think their crops are extremely precious. In exactly the same way, if we use the field of sentient beings to plant the thoughts of loving-kindness, compassion, and bodhichitta, we reap the crop of full enlightenment.
When we understand that all sentient beings are the field from which we receive all happiness, up to and including enlightenment, we will naturally want to take the best possible care of them, serving them in whatever way is best to repay their kindness. Even if we must give up our life—even if we must give up our life numberless times—there is still no way we can repay that kindness.
At present, we respect the Buddha, Dharma, and Sangha and make offerings to them, because it is through relying on their guidance that we can attain enlightenment. When we understand that we equally need to rely on all sentient beings to obtain buddhahood, through practicing the six perfections with them, we will see that we should also respect and make offerings to them in the same way we do with the Three Rare Sublime Ones. Of course, the buddhas' qualities are inexpressible and their intentions for us are unimaginable, and this is certainly not so for sentient beings. But, as Shantideva said, even though they are not equal in their qualities, they are equal in the results we obtain from them, so why do we not equally revere them?
To attain bodhichitta, we need to create an immense amount of merit through practices such as making offerings to holy objects. How could we make such offerings if it weren't for sentient beings? Even a tiny stick of incense or a few grains of rice have come from the work of others. When we fly above a great city at night and see the millions of lights, these are an excellent offering to the buddhas, but who created all those lights? Sentient beings. If there were no sentient beings, there would be nothing to offer the buddhas. And there would be no buddhas, because they became buddhas by relying on the field of sentient beings.
Sentient beings are the foundation of our practice of generosity and morality, the cause of this perfect human rebirth. They are the foundation of our entire happiness, including enlightenment. They are our merit field, allowing us to create infinite merit by serving them. In that way, they are so kind. We cannot point to one sentient being who is kinder than any other. The whole path depends on all sentient beings. Paying respect to sentient beings is the same as paying respect to the buddhas and bodhisattvas. If we help sentient beings, that is the best offering to the buddhas and bodhisattvas. If we take care of sentient beings, we take care of the buddhas and bodhisattvas.
When we work for sentient beings, we work for the buddhas and bodhisattvas, because that is all that they are ever doing. There is not one flea, one mosquito, one hell being, one god, one spirit that all buddhas and bodhisattvas, with their infinite wisdom and compassion, are not ceaselessly and tirelessly working for. When we save the life of that flea, we are doing the work of a buddha. When we cherish that angry person, we are doing the work of a buddha, because that is what the buddhas and bodhisattvas do. They cherish every being more than themselves. If we are unable to do that yet, by aspiring to and working toward that, we are pleasing all the buddhas and bodhisattvas.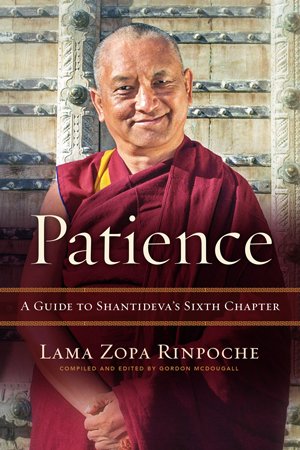 When we understand the incredible kindness of sentient beings, we can develop loving-kindness and compassion for them. We can see that the only thing they want is happiness and to avoid all suffering, but while they are deluded there is no way they can attain even a little temporal happiness. And yet they are the source of all our past, present, and future happiness, including our eventual enlightenment. This is the main point we should feel in our heart.
Regardless of whether a sentient being loves us, we should sincerely wish them happiness from our heart, with a mind like clear water, unhindered by attachment or other emotional minds that cloud it. With such an attitude, no matter what they do to us, that mind of lovingkindness and compassion does not budge. The deep peace we get from them is something we couldn't get from all the wealth in the world.
---
Excerpted from Patience: A Guide to Shantideva's Sixth Chapter by Lama Zopa Rinpoche, edited by Gordon McDougall, published by Wisdom Publications (WisdomExperience.org).

Watch the video series "Lama Zopa Rinpoche's Teachings on Thought Transformation during the Time of COVID-19" and find links to videos in translation, transcripts, MP3s, additional practice advice, and more:
https://fpmt.org/fpmt/announcements/resources-for-coronavirus-pandemic/advice-from-lama-zopa-rinpoche-for-coronavirus/
Lama Zopa Rinpoche is the spiritual director of the Foundation for the Preservation of Mahayana Tradition (FPMT), a Tibetan Buddhist organization dedicated to the transmission of the Mahayana Buddhist tradition and values worldwide through teaching, meditation and community service.
It's the foggy mind, the mind that's attracted to an object and paints a distorted projection onto it, that makes you suffer. That's all. It's really quite simple.
Lama Thubten Yeshe