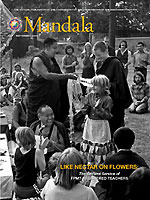 The July-September 2010 online content has just been released, and we are sure that you will find something there that will amaze, fascinate and inspire you.
In addition to a moving teaching by Lama Yeshe, pay special attention to "BIG LOVE DAY: A Day of Celebration and Rejoicing," an 11-page article that details Big Love Day, the joyful celebration that took place at Vajrapani Institute as part of the consecration ceremonies of Lama Yeshe's cremation stupa. The article is packed with rare and beautiful photographs of some of FPMT's earliest students and other notables. (You do not want to miss this.)
We've also been able to supplement the print issue's feature on FPMT teachers with an experimental mini-documentary of the life of Ven. Amy Miller and a never-before-published interview with Khensur Jampa Tegchok.
Also, we've launched three new blogs. Dharma Realities features Ven. Chönyi Taylor, an Australian- born Buddhist nun and psychologist, who writes about the mishaps we might encounter on our spiritual journey. Generation Why? is for the young and young-hearted of FPMT, and is a space to discuss the topics that concern them most. Finally, REJOICE! is where we can catch a glimpse of the amazing practice completed by individuals within the FPMT.
In "The 'Roo from Black Sunday," Tania Hunt shares the harrowing stories from the aftermath of the 2009 bushfires in Australia. And in "Still Cooking," Kendall Magnussen shares the dangers of not relaxing while in retreat.
The online content also features stories from Phil Hunt, Ven. Gyalten Mindrol, and Dorjee Norbu about the tremendous social service provided in Bodhgaya by MAITRI and Root Institute.
And as always, there is a great collection of FPMT news and media reviews to help you stay informed and inspired.
ENJOY!