Education: The Heart of FPMT
All of us live with reminders of impermanence and the loss of those we hold dear, yet it is difficult to accept the inevitability of our own deaths or the deaths of our loved ones. While avoiding death is not possible, it is possible to prepare for death and equip ourselves with the tools to help those around us engage with their own deaths in the most beneficial way. 
Lama Zopa Rinpoche has given extensive advice and instruction for caring for ourselves and others at the time of death, or during the process of dying. FPMT Education Services would like to make sure students are aware of and have access to all of the resources available. 
Heart Advice for Death and Dying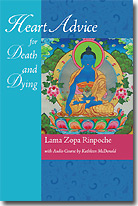 This package is a collection of Lama Zopa Rinpoche's essential advice and commentaries for the time of death and for finding the deepest fulfillment in life. Teachings by Lama Zopa Rinpoche include, "The Nine-Point Meditation on Death," "The Process of Dying," "Preparing for Death," "Practicing the Five Powers," "Caring for the Dying and the Dead," "Essential Activities at the Death Time," and "Mantras to Benefit the Dying and Dead." This collection also includes an MP3 CD of 11 hours of teachings on death by Ven. Sangye Khadro. In addition to the book and CD, this material is also available as a program for students more interested in structured study. 
Available as:
Heart Practices for Death and Dying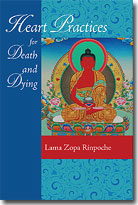 This condensed resource book provides the heart practices to do at the time of death, including the Medicine Buddha puja and the traditional eight prayers done in Tibetan Buddhist monasteries. This collection also contains the most powerful mantras to say for those who are dying or who have died, teachings on their precise benefits, as well as a sheet of mantras to place on the body of one who has died. It contains precious texts to benefit the minds of those who are dying by relieving pain and purifying negative karma.
Available as:
How to Enjoy Death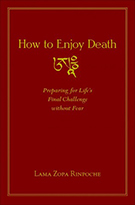 A unique new collection, How to Enjoy Death: Preparing to Meet Life's Final Challenge Without Fear, brings together all the extensive commentary from Lama Zopa Rinpoche as well as a number of essential prayers, practices, and other materials that Lama Zopa Rinpoche has compiled over the years, skillfully edited by Ven. Robina Courtin. 
"We Buddhists all know about death and impermanence, but when death comes into our lives we often panic and don't know what to do to help," said Ven. Robina. "Rinpoche lays out all the instructions so clearly, one step at a time, for how to help our loved ones: what to do in the months and weeks before death, what to do in the hours before death, at the time the breath stops, and in the three days as well as the 49 days after death, including transforming our loved one's ashes into a holy object."
All of the practices one needs to be prepared to face death are included, making this an essential reference for Tibetan Buddhist practitioners, caregivers, hospice workers, or chaplains.
Available as:
Liberation Box: Protection Tool for a Fortunate Rebirth
A must-have toolkit to go along with any of the above texts, this invaluable collection of holy objects and essential blessed materials was put together on the advice of Lama Zopa Rinpoche. 
Available as:
PDF digital edition (omitting stupa, phowa pill, and blessed cord)
Resource Webpage
The FPMT Death and Dying Heart Practices and Advice webpage is kept up to date with all of Lama Zopa Rinpoche's latest advice and materials concerning death and dying. FPMT Education Services hopes that you will take full advantage of these resources. 
---
Through comprehensive study programs, practice materials, training seminars, and scholarships, FPMT Education nourishes the development of compassion, wisdom, kindness, and true happiness in individuals of all ages.
Contact Info
1632 SE 11th Avenue
Portland, OR 97214-4702 USA
Tel (503) 808-1588 | Fax (503) 232-0557
About FPMT
FPMT is an organization devoted to the transmission of the Mahayana Buddhist tradition and values worldwide through teaching, meditation and community service.
more...
About Buddhism
If you're new to Buddhism, please read our
Buddhism FAQ
. A place to learn about Buddhism in general, FPMT, and our Discovering Buddhism at Home series.