Education: The Heart of FPMT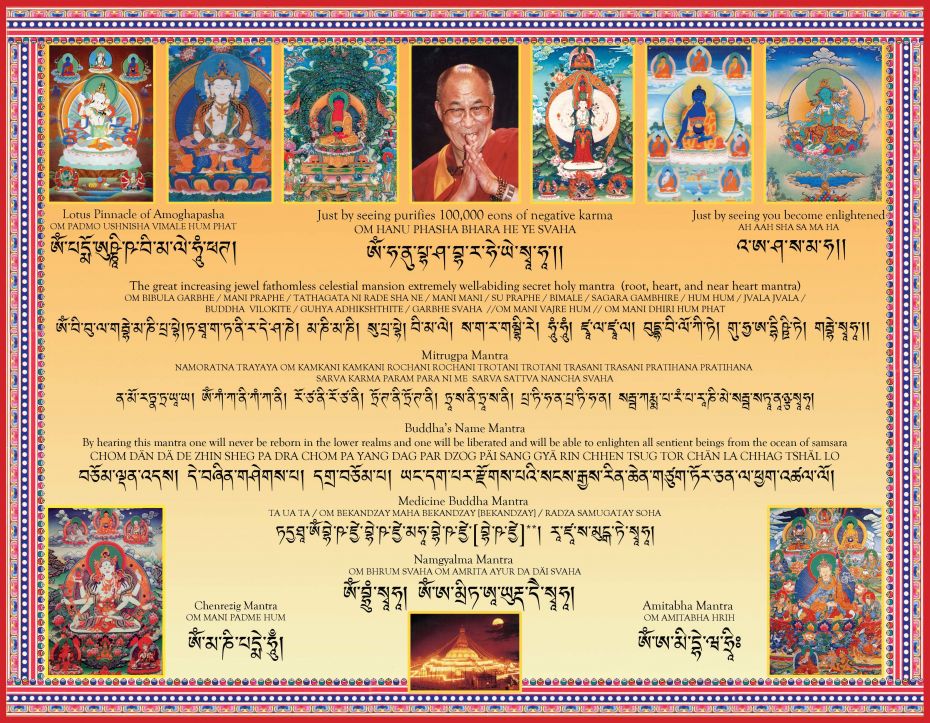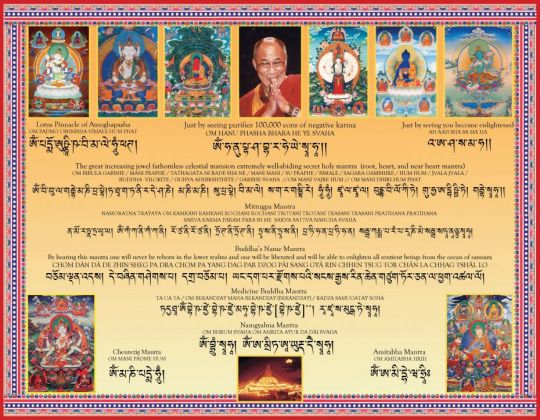 The Liberation Card for a Dying Person includes images and mantras that by merely seeing them help a dying person to purify negative karma and be led to enlightenment. The front of the card features ten mantras and ten images especially chosen to benefit someone at the time of death.
On the back of the card is a moving letter by Lama Zopa Rinpoche to assist the dying person at this most critical time. It reads:

My most dear kindest brother and sister,
Please look at these mantras quite often; especially, look at these mantras when you are leaving from this old body. Dear one, please don't cling to anything and let yourself become completely free. In this most important moment of life, you don't need to be afraid at all of being born in the lower realms and so forth. I give all my merits of the past, present, and future to you, to have a happy journey and a happy, wonderful, sunshining future. I give my big love to you. All the buddhas and bodhisattvas love you, and you are in their care. May anyone who sees these mantras be immediately reborn in the pure land where one can become enlightened or receive a perfect human body by quickly actualizing the causal vehicle, the three principles of the path, and the result vehicle, the secret mantra Vajrayana, based on correctly devoting and only pleasing one's own holy guru.
You can also pray in this way: "May I take rebirth in whatever place is most beneficial for sentient beings, no matter where it is."
To think this thought again and again is extremely good.
The other choice is to think: "May I be born in Amitabha's blissful field to quickly benefit all sentient beings."
Thank you.
With much love and prayers,
Lama Zopa

---
Find the Liberation Card for a Dying Person in English, Chinese, French, and Spanish by donation in the Foundation Store:
https://shop.fpmt.org/Liberation-Card-for-Dying-Person–English_p_409.html
https://shop.fpmt.org/Liberation-Card-for-Dying-Person–Chinese_p_445.html
https://shop.fpmt.org/Carte-de-libration-pour-les-mourants_p_781.html
https://shop.fpmt.org/Tarjeta-de-Liberacin-para-Moribundos_p_612.html

Through comprehensive study programs, practice materials, and training seminars, FPMT Education nourishes the development of compassion, wisdom, kindness, and true happiness in individuals of all ages.