News/Media

*If a menu item has a submenu clicking once will expand the menu clicking twice will open the page.

Study & Practice

*If a menu item has a submenu clicking once will expand the menu clicking twice will open the page.

Projects

*If a menu item has a submenu clicking once will expand the menu clicking twice will open the page.

FPMT

Anything is possible. Everything is possible

Lama Yeshe

*If a menu item has a submenu clicking once will expand the menu clicking twice will open the page.

Shop

The Foundation Store is FPMT's online shop and features a vast selection of Buddhist study and practice materials written or recommended by our lineage gurus. These items include homestudy programs, prayers and practices in PDF or eBook format, materials for children, and other resources to support practitioners.

Items displayed in the shop are made available for Dharma practice and educational purposes, and never for the purpose of profiting from their sale. Please read FPMT Foundation Store Policy Regarding Dharma Items for more information.
Advice from Lama Zopa Rinpoche
In the new book The Power of Mantra: Vital Practices for Transformation, Lama Zopa Rinpoche guides students through understanding the power and benefit of mantras. Rinpoche explains many popular mantras, giving specific instructions for practicing them, including Shakyamuni Buddha, Chenrezig, Manjushri, Tara, Medicine Buddha, Vajrasattva, and more. In an excerpt from the chapter on Chenrezig mantra, Rinpoche discusses the importance of OM MANI PADME HUM:
Compassion is not just for those with faith in the Buddha, Dharma, and Sangha. It is not just for those who are Buddhist, for those who seek enlightenment. Everyone needs compassion. No matter what style of life we have, the compassionate life is the best life. With that, our life is totally transformed. Before it was like kaka, but now it is transformed into gold. Before there was just ego, the self-cherishing mind, but now there is compassion. Compassion brings a huge difference in our life, like the difference between the earth and the sky.
Everybody needs to recite OM MANI PADME HUM to develop compassion. We are so fortunate that with our human body we are able to communicate and to chant Chenrezig's mantra. Ants need to recite it, whales need to, monkeys need to, but they can't.
In many areas in Tibet and Nepal, especially along trails, there are a lot of stupas and stones carved with the Chenrezig mantra. You can see big piles of these stones, called "mani stones," as you leave the airport at Lukla [in Solu Khumbu, Nepal]. Sometimes a whole text, such as the Heart Sutra, is carved on a stone. One of my uncles, my teacher who first taught me the alphabet when I was four, carved mani stones like this. Because of the mantra's great benefit, you can see it everywhere, adorning prayer flags and stones, and you can hear people reciting the mantra as they pass.
Just seeing mantras on stones purifies our obscurations by leaving impressions on the mind. As with prayer flags, when the wind touches these mantras and then touches a human being or animal, it purifies the negative karmas and obscurations of that sentient being.
Just like Westerners like to recite their mantra "Oh when can I be happy," Tibetans like to recite OM MANI PADME HUM. They recite it while they are working, cooking, or doing any of the chores they need to do. When they are not serving customers, shopkeepers recite OM MANI PADME HUM. As they walk, Tibetans will invariably have a small prayer wheel full of mani mantras, which they spin clockwise as they recite.
Prayer wheels are my hobby; they offer so many benefits. The huge prayer wheels I ask the FPMT centers to build bless all the insects on the ground and in the area, besides all the people who turn them. They are such a great blessing for the area and a quick way to liberate sentient beings from the lower realms and enlighten them. Any person who circumambulates and turns the prayer wheel receives unbelievable purification. If a prayer wheel has one hundred million manis, one turn is equivalent to saying one hundred million OM MANI PADME HUM mantras.
And that is true even of the small, hand-held prayer wheels you always see Tibetans spinning as they walk. Because of methods such as microfiche printing, they can have millions of manis in a small wheel, so one turn creates incredible merit, no matter what they are doing. Reciting OM MANI PADME HUM makes the most mundane activity highly meaningful.
The old mothers in Solu Khumbu chant OM MANI PADME HUM so much. They have almost no intellectual understanding of the Dharma, and they can't even understand it if a lama comes to teach, because he teaches in Tibetan, not Sherpa, the only language they speak. Being illiterate, they can't even open a Dharma book and read it, and so they have no opportunity to learn the Dharma. But by reciting OM MANI PADME HUM, somehow their hearts become so much more compassionate. They may not understand why other beings are suffering so much, but they have a strong natural feeling of compassion for others and the wish to pray for them.
This was true of my mother, who would simply recite OM MANI PADME HUM when a lama was giving teachings. Because of reciting the mani mantra, she had a hundred thousand times more compassion than I have. I can read all the texts but still my compassion is like clouds in the sky: utterly unstable, never lasting. Just before she passed away, she told me that for most of her life she recited fifty thousand manis a day, but as she became older she was no longer able to do that many. Still, I am certain the great power of her compassion came from reciting OM MANI PADME HUM. It gave her a happy, meaningful life and a happy, meaningful death.
There is a tantra called Zung of the Eleven-Face Arya Avalokiteshvara. In it Chenrezig is said to mention,
By reciting my heart mantra, sentient beings receive the bodhisattvas' holy deeds, the heart of all the Victors, called the heart of transcendental wisdom. In short, for sentient beings tormented by various sufferings, my heart mantra will abide and become a guide for them. Also, this heart mantra hooks the harm-givers, such as the flesh-eaters and other violent spirits, and causes them to generate loving-kindness and compassion. It then brings them to enlightenment.
Furthermore, he says,
Any sentient being who holds my name will abide in nonreturning. They will be completely liberated from all sicknesses and from all the defilements, all the vices collected with the body, speech, and mind.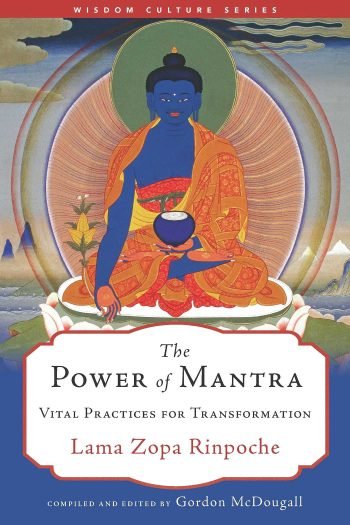 "My name" here means the six-syllable mantra [the mani mantra], and "nonreturning" means our life will never degenerate but always progress toward enlightenment. When a doctor tells us we have cancer, what they are actually saying is that now is the time to cut all meaningless thoughts and only think about and practice the Dharma. We should understand such advice to mean just that, and we should do whatever is necessary to bring the Dharma into our life.
It is not enough just to be able to say the words of the mantra; we should first cultivate as positive a motivation as we can—and the bodhichitta motivation is the best—and then recite it. Whoever recites the mantra with a bodhichitta motivation is somebody who really knows how to recite it. It is said in the teachings that the greater devotion we have for Chenrezig, the more power and benefit the mantra has.
---
From The Power of Mantra: Vital Practices for Transformation by Lama Zopa Rinpoche; compiled and edited by Gordon McDougall; published by Wisdom Publications (WisdomExperience.org), where you can order the paperback or digital versions of the book. You can also find the ebook and PDF version in the Foundation Store (shop.fpmt.org).

Visit the Foundation Store to also find a wide variety of Chenrezig practice materials. For more on mantras, see our Mantras page on FPMT.org.

Lama Zopa Rinpoche is the spiritual director of the Foundation for the Preservation of Mahayana Tradition (FPMT), a Tibetan Buddhist organization dedicated to the transmission of the Mahayana Buddhist tradition and values worldwide through teaching, meditation and community service.
Like molding dough in your hand, you can definitely turn your mind whichever way you want.
Lama Zopa Rinpoche