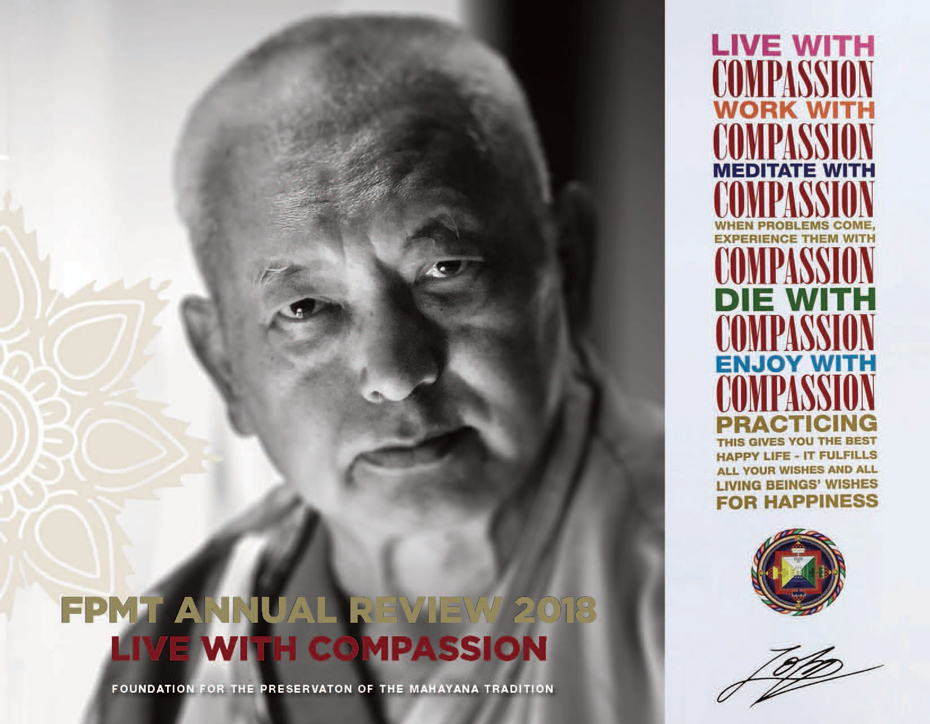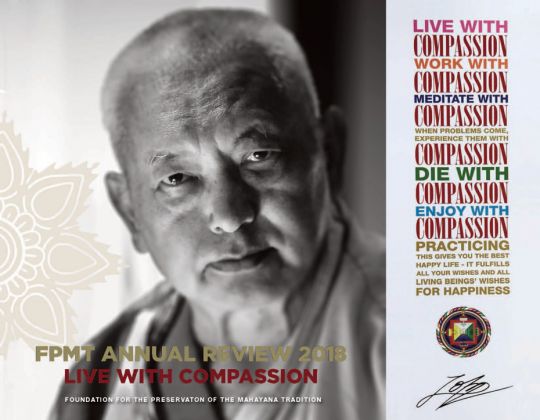 FPMT International Office is happy to announce FPMT Annual Review 2018: Live with Compassion. The new annual review is available to read as an eZine and a downloadable PDF.
International Office, also called Lama Zopa Rinpoche's office, helps fulfill the vision of FPMT's founders Lama Yeshe and Lama Zopa Rinpoche, assists with the actualization of Lama Zopa Rinpoche's vast vision for the FPMT organization, and supports 164 centers, projects, and services in 40 countries that comprise the international FPMT network. Each year, International Office shares our accomplishments and rejoices in what has been achieved. 
"From the bottom of my heart, thank you all numberless times for all your service, dedication, practice of holy Dharma with your body, speech, and mind, and for your devotion and good heart," Lama Zopa Rinpoche writes in this year's annual review. 
In addition to advice from Rinpoche, the FPMT Annual Review 2018 includes an update from FPMT CEO Ven. Roger Kunsang, an overview of Lama Zopa Rinpoche's tireless Dharma activities, and highlights from International Office's departments. 
Please note: The FPMT Annual Review 2018 is available in digital format only, meaning it will not be printed and posted to FPMT centers, projects, and services. 
---
We invite you to read FPMT Annual Review 2018: Live with Compassion, now available online in eZine and PDF formats:
https://fpmt.org/fpmt/annual-review/

See photo highlights from Lama Zopa Rinpoche's 2018:
https://fpmt.org/teachers/zopa/gallery/#2018
FPMT International Office is Lama Zopa Rinpoche's office and works daily to achieve its mission of "preserving and spreading Mahayana Buddhism worldwide by creating opportunities to listen, reflect, meditate, practice, and actualize the unmistaken teachings of the Buddha, and based on that experience, spread the Dharma to sentient beings."