News/Media

*If a menu item has a submenu clicking once will expand the menu clicking twice will open the page.

Study & Practice

*If a menu item has a submenu clicking once will expand the menu clicking twice will open the page.

Projects

*If a menu item has a submenu clicking once will expand the menu clicking twice will open the page.

FPMT

My religion is kindness to all

His Holiness the Dalai Lama

*If a menu item has a submenu clicking once will expand the menu clicking twice will open the page.

Shop

The Foundation Store is FPMT's online shop and features a vast selection of Buddhist study and practice materials written or recommended by our lineage gurus. These items include homestudy programs, prayers and practices in PDF or eBook format, materials for children, and other resources to support practitioners.

Items displayed in the shop are made available for Dharma practice and educational purposes, and never for the purpose of profiting from their sale. Please read FPMT Foundation Store Policy Regarding Dharma Items for more information.
Practice and Retreat Fund News
By Jane Seidlitz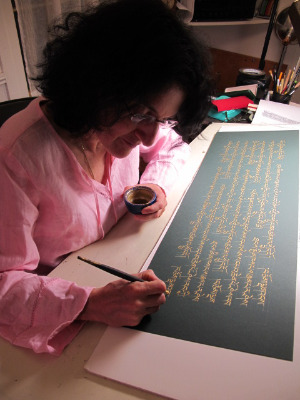 Lama Zopa Rinpoche called me very early one morning in 2004, and after giving me some advice on a thangka I was planning to paint, asked me how my Tibetan handwriting was. "It's okay, not that great," I told him. Well, Rinpoche asked, would I be willing to write a volume of the 100,000 stanza Prajnaparamita Sutra (the longest of the 3 versions)? Rinpoche went on to explain the benefit of writing even one letter of this precious text in black ink – something along the lines of accumulating more merit than all the sentient beings spending eons making offerings to countless universes filled with jewel stupas – let alone how unimaginable the merit would be writing it in real gold. It was a request I couldn't refuse.
So I practiced my Tibetan writing for about six months in black ink, at the end of which I sent a sample to Rinpoche for assessment. Evidently passing the test, I got the go ahead to start writing in gold.
Since then, I have worked more or less steadily – depending on my work schedule and other life distractions. To date I have written 320 pages of what will be about 1400 pages in total. Eventually the text will go in the heart of the Maitreya statue to be built in India. My hope is always to write a page a day, which doesn't often happen. But even if I only write a few lines, or even one letter, it feels worthwhile, and of course every time I set pen to paper I remember what Rinpoche told me about the benefits.
I spent a long time in the beginning looking at many examples to try and make my writing as beautiful and accurate as possible. At that point, writing a page took about seven hours. Gradually, my writing style has coalesced and I can write a page in about half that time. In 2001, when I went to Mongolia with Rinpoche, my job for three weeks was to stir the gold for Rinpoche every night – sometimes all night – while Rinpoche wrote the Prajnaparamita. That was truly magical – I felt like I was living one of those stories from centuries past, the kind we hear about in the teachings. But it didn't occur to me that I would end up some years later doing the writing myself!
I feel tremendously blessed and grateful that Rinpoche has given me this amazing project. My hope is to finish well before I die, to create the cause to realize emptiness – the subject of the text – as quickly as possible, and for whatever merit is created through the writing, to fulfill all of Rinpoche's holy wishes.
Basically, the human mind is mostly unconscious, ignorant, and gets so preoccupied with new experiences, that it forgets the old ones. Review the past month: exactly what happened, precisely what feelings did you have, every day? You can't remember, can you? But if you practice this slowly, slowly, continuously checking within your mind, eventually, you'll be able to remember more and more of your previous experiences.
Lama Thubten Yeshe