News/Media

*If a menu item has a submenu clicking once will expand the menu clicking twice will open the page.

Study & Practice

*If a menu item has a submenu clicking once will expand the menu clicking twice will open the page.

Projects

*If a menu item has a submenu clicking once will expand the menu clicking twice will open the page.

FPMT

In Buddhism, we are not particularly interested in the quest for intellectual knowledge alone. We are much more interested in understanding what's happening here and now, in comprehending our present experience, what we are at this very moment, our fundamental nature.

Lama Thubten Yeshe

*If a menu item has a submenu clicking once will expand the menu clicking twice will open the page.

Shop

The Foundation Store is FPMT's online shop and features a vast selection of Buddhist study and practice materials written or recommended by our lineage gurus. These items include homestudy programs, prayers and practices in PDF or eBook format, materials for children, and other resources to support practitioners.

Items displayed in the shop are made available for Dharma practice and educational purposes, and never for the purpose of profiting from their sale. Please read FPMT Foundation Store Policy Regarding Dharma Items for more information.
Lama Zopa Rinpoche Bodhichitta Fund
In July 2013 Lama Zopa Rinpoche engaged in retreat with Khadro-la and Tsenshap Serkong Rinpoche in the valley of Lahual, India, which is known by meditators as Garsha Khandroling, "Land of the Dakinis."
The retreat took place in one of the holy places in Garsha, Phakpa (or Triloknath), a small village with an ancient temple that houses a self-emanating statue of Chenrezig said to be the actual deity itself.
During the retreat Rinpoche sponsored one year of butter for the giant silver butter lamp which is in front of this extremely precious statue of Chenrezig. The cost of a year of butter for the light offering is US$430 a year. In fact, Rinpoche has committed to offer light to this statue for as long as the statue exists.
Rinpoche made the prayer when offering the butter light: "I am offering this on behalf of all the six-realm sentient beings, all the animals, birds, fish, cockroaches, ants, every bat, every tiny insect that jumps up when you walk in the grass, every single crab, every spider, every butterfly and all the numberless animals and numberless beings in each of the six realms (hell beings, hungry ghosts, animals human beings, sura, asuras and intermediate state beings)." So this offering became an offering from all of these beings as well.
If you would like to contribute to Lama Zopa Rinpoche's extensive offerings to holy objects around the world, you may donate any amount to the Lama Zopa Rinpoche Bodhichitta Fund.
We are not aware of the limitless skies of benefits we achieve from the practice of offering, what we can achieve and enjoy from life to life. Even while you are in samsara, you enjoy good rebirths, wealth, and every happiness. Even just the samsaric perfections are amazing, without adding all those incredible realizations that allow us to offer deep benefit to sentient beings, liberating them from oceans of samsaric suffering and its cause, delusion and karma.
Light Offering Prayer
Composed by Lama Atisha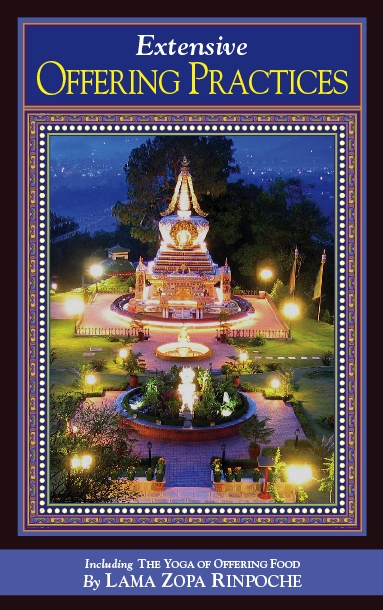 May the light of the lamp be equal to the great three thousand
worlds and their environments,
May the wick of the lamp be equal to the king of mountains –
Mount Meru.
May the butter be equal to the infinite ocean.
May there be billions of trillions of lamps in the presence of each
and every buddha.
May the light illuminate the darkness of ignorance of all sentient beings
From the peak of samsara down to the most torturous hell,
Whereby they can see directly and clearly all the ten directions' Buddhas
and bodhisattvas and their pure lands.
OM VAJRA ALOKE AH HUM E MA HO
I offer these beautifully exalted clear and luminous lights
To the thousand buddhas of the fortunate eon,
To all the buddhas and bodhisattvas of the infinite pure lands
and of the ten directions,
To all the gurus, meditation deities, dakas, dakinis, dharma protectors,
and the assembly of deities of all mandalas.
From "Extensive Offering Practice," by Lama Zopa Rinpoche.
Available through the FPMT Foundation Store.
You can see that some people's relationships are reasonable. Therefore, they last a long time. If people's relationships start off extreme, how can they last? You know from the beginning they cannot last. Balance is so important.
Lama Thubten Yeshe