News/Media

*If a menu item has a submenu clicking once will expand the menu clicking twice will open the page.

Study & Practice

*If a menu item has a submenu clicking once will expand the menu clicking twice will open the page.

Projects

*If a menu item has a submenu clicking once will expand the menu clicking twice will open the page.

FPMT

Once you realize the true evolution of your mental problems, you'll never blame any other living being for how you feel.

Lama Zopa Rinpoche

*If a menu item has a submenu clicking once will expand the menu clicking twice will open the page.

Shop

The Foundation Store is FPMT's online shop and features a vast selection of Buddhist study and practice materials written or recommended by our lineage gurus. These items include homestudy programs, prayers and practices in PDF or eBook format, materials for children, and other resources to support practitioners.

Items displayed in the shop are made available for Dharma practice and educational purposes, and never for the purpose of profiting from their sale. Please read FPMT Foundation Store Policy Regarding Dharma Items for more information.
In 1983 Lama Yeshe began formulating the idea of Universal Education: "The world needs a new system of education because the old one is too dated for the intelligent people of today and produces a great deal of conflict and dissatisfaction in the present generation. We have to get rid of people's old concepts and give them a new imagination; a new, broad way of looking at themselves and the world. That's what I mean by 'universal.'" 
The Foundation for Developing Compassion and Wisdom (FDCW) was established under these principles as a global charity based in London in 2005. Since then FDCW has provided secular training, programs, and resources across many sectors of society—schools, universities, hospices, workplaces, healthcare, youth groups, and community centers. Lama Zopa Rinpoche, FDCW's Honorary President, continues to support Lama Yeshe's vision.
You can watch Lama Zopa Rinpoche discussing "What is Universal Education" during the 2020 Big Love Festival:
https://youtu.be/XaAN7Qq9mTs
Courses have reached thousands of people across the world through a growing network of facilitators in more than twenty countries.
The Education and Preservation Fund offered a grant to FDCW toward the operating costs for the year. We were delighted to support their work and invest in the legacy of Lama Yeshe's wish for Universal Education, which is also one of the Five Pillars of Service within the FPMT organization: (Dharma, Universal Education for Compassion and Wisdom, Social and/or community service, Interfaith activities, Revenue generation activities). 
Here are some highlights of what FDCW was able to accomplish with the help of this grant in 2020:
All courses and programs were converted to online delivery as well as in-person delivery.
Training was offered to facilitators on how to deliver effectively online.
Twenty online courses and trainings were delivered plus a 16 Guidelines course that was offered online to twenty young women in Nepal.
16 Guidelines for Life book is available now as an e-book in Spanish and English from the FDCW website.
Free online sessions called "Coming Together" provided community support during the pandemic.
Seven online Forums for our Facilitators were delivered for peer to peer learning and continued professional development.
Twenty-seven facilitators were trained to deliver the new Unlocking Your Potential course.
The Big Love Festival was held online this year due to COVID-19 restrictions. All the recordings of talks now available for free via our website (https://www.compassionandwisdom.org/sharing-the-love).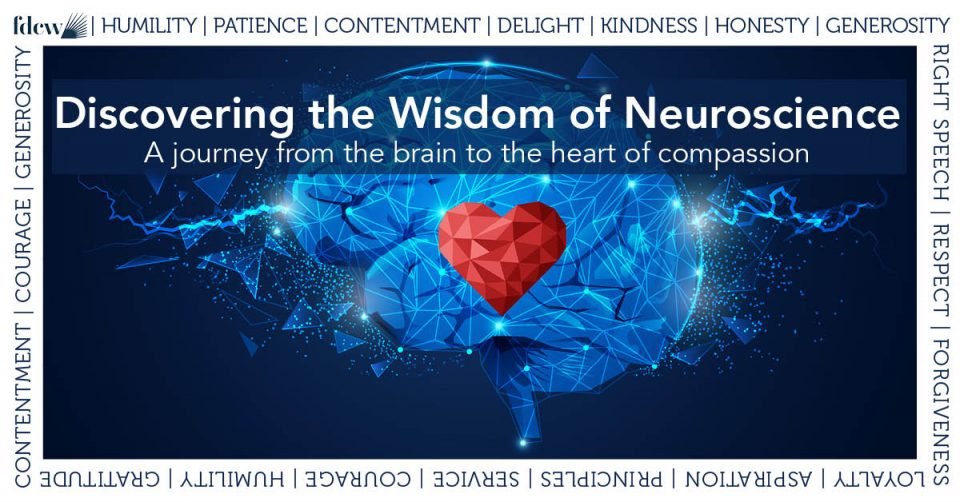 Plans for 2021 include:
Development commenced on a new series of courses to train people in Universal Education values and facilitation skills in areas including neuroscience, group facilitation skills, and course adaptation. The first course is Discovering the Wisdom of Neuroscience, which launched in February 2021 with fifty participants worldwide (see poster) for people with a general interest in neuroscience and those who want to develop their experience and knowledge in this area to better support others.
Offering free resources and webinars on the FDCW website.
Exploring new ways of delivering courses online and working on a new online learning platform to make our courses truly universally and globally accessible. 
Building a global community based on Universal Education and universal ethical values and enabling local connections and groups to emerge. To achieve this, FDCW is working on an interactive map of FDCW facilitators and Universal Education ambassadors; developing a range of free resources to support local UE groups; and planning the next online summit for November 2021, building on the success of the Big Love Festival.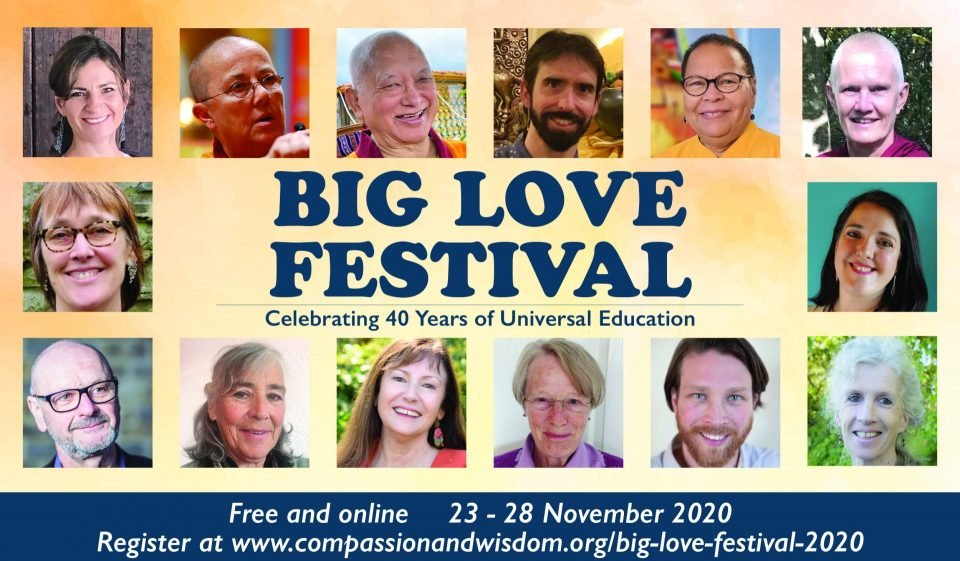 Big Love Festival 2020
Victoria Coleman, Executive Director of FDCW, shares the story of the Big Love Festival, November 2020:
When we at FDCW first began discussing the idea of a global online summit during summer 2020, I had serious doubts. It seemed such a huge stretch for our tiny team, but I felt inspired by Lama Yeshe, the founder of Universal Education. He always thought big! And so the idea for the Big Love Festival was born.
Lama Yeshe first spoke about Universal Education nearly forty years ago, and our vision for the festival was to celebrate what had been achieved since then. We wanted to include speakers who knew Lama Yeshe and also those who had been inspired to breathe Universal Education into life.
As soon as we reached out, we were encouraged by the initial response and support we received and soon the confirmed list of speakers began to grow. Our honorary president Lama Zopa Rinpoche agreed to offer the opening talk on "What is Universal Education?" and Tenzin Ösel Hita, Professor Jan Willis, and Ven. Robina Courtin kindly accepted our invitation to speak.
Just a few weeks before the start of the festival, we received a message of support from our patron, His Holiness the Dalai Lama, who said, "I offer my good wishes to you all on the occasion of the Big Love Festival celebrating forty years of effort in the area of Universal Education by the Foundation for Developing Compassion and Wisdom." We felt elated to be able to share his encouraging words. It felt like a rocket boost of positive energy.
When the festival arrived, I was immediately blown away by the number of people who joined the sessions both live on Zoom and via our Facebook livestream. The most popular sessions reached over a thousand live viewers worldwide! The broad range of topics presented by the speakers truly captured Lama Yeshe's big and bold vision for Universal Education.
I felt very moved by the heart, quality, and courage that all speakers brought to their talks. I found it so inspiring. As one participant said, "The warmth and energy of the sessions was palpable." Although each presenter approached Universal Education from their own perspective and experience, common threads shone through—sincerity, the desire to share, vulnerability, and mental clarity. It truly felt like Big Love.
Looking back, the Big Love Festival radiated positive energy that seemed to build in resonance as the week unfolded. We would like to thank all the speakers and the facilitators who moderated the sessions. Without their support the Big Love Festival would not have been possible. A very special note of thanks goes to all the translators who approached us when they heard about the festival and made it possible to offer translations into French, Italian, Spanish, Portuguese, Russian, and Chinese for many of the talks. 
We are committed to making this an annual event and have already started planning the 2021.
For a full list of Big Love Festival speakers as well as recordings of all thirteen talks, visit:
www.compassionandwisdom.org/sharing-the-love
---
The Education and Preservation Fund supports Dharma study and contributes to the development of Buddhist education programs and the preservation of the Dharma through the publication of Dharma practice materials and translations. 
True religion should be the pursuit of self-realization, not an exercise in the accumulation of facts.
Lama Thubten Yeshe