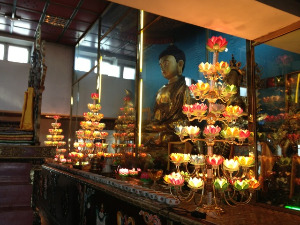 The Lama Zopa Rinpoche Bodhichitta Fund sponsors the electricity for lotus light offerings to all the holy objects on the altar at Idgaa Choizinling College in Mongolia. The lights are offered 24 hours a day, 365 days a year. 
Light Offering Prayer
Composed by Lama Atisha

May the light of the lamp be equal to the great three thousand
worlds and their environments,
May the wick of the lamp be equal to the king of mountains –
Mount Meru.
May the butter be equal to the infinite ocean.
May there be billions of trillions of lamps in the presence of each
and every buddha.
May the light illuminate the darkness of ignorance of all sentient
beings
From the peak of samsara down to the most torturous hell,
Whereby they can see directly and clearly all the ten directions'
Buddhas and bodhisattvas and their pure lands.
OM VAJRA ALOKE AH HUM
E MA HO
I offer these beautifully exalted clear and luminous lights
To the thousand buddhas of the fortunate eon,
To all the buddhas and bodhisattvas of the infinite pure lands and
of the ten directions,
To all the gurus, meditation deities, dakas, dakinis, dharma protectors,
and the assembly of deities of all mandalas.
From "Extensive Offering Practice," by Lama Zopa Rinpoche. Available through the FPMT Foundation Store.