News/Media

*If a menu item has a submenu clicking once will expand the menu clicking twice will open the page.

Study & Practice

*If a menu item has a submenu clicking once will expand the menu clicking twice will open the page.

Projects

*If a menu item has a submenu clicking once will expand the menu clicking twice will open the page.

FPMT

Live with compassion. Work with compassion. Die with compassion. Meditate with compassion. Enjoy with compassion. When problems come, experience them with compassion.

Lama Zopa Rinpoche

*If a menu item has a submenu clicking once will expand the menu clicking twice will open the page.

Shop

The Foundation Store is FPMT's online shop and features a vast selection of Buddhist study and practice materials written or recommended by our lineage gurus. These items include homestudy programs, prayers and practices in PDF or eBook format, materials for children, and other resources to support practitioners.

Items displayed in the shop are made available for Dharma practice and educational purposes, and never for the purpose of profiting from their sale. Please read FPMT Foundation Store Policy Regarding Dharma Items for more information.
Due to the kindness of a generous benefactor, FPMT has been able to invest more resources into taking care of the elderly Tibetans living in India, many of whom fled Tibet starting in 1959.
In 1950 His Holiness assumed full political leadership of Tibet after the Chinese People's Liberation Army (PLA) invasion of the eastern province of Kham. While the Chinese believe that Tibet has been part of China since the Yuan Dynasty (1271-1368), Tibetans have maintained an independent identity and systems of governance separate from China for over a millennium. The Tibetan government which was in place when the PLA invaded, was founded in 1642 by the Great Fifth Dalai Lama.
On March 10, 1959, Tibetans in Lhasa believed His Holiness to be in danger of capture by the Chinese military. In response, people in Lhasa rose up against the Chinese, resulting in the deaths of tens of thousands of civilian Tibetans and the destruction of the Sera, Ganden and Drepung Monasteries. Within days of the uprising, His Holiness secretly left Lhasa and escaped to the safety of India and about 80,000 Tibetans followed. Over the past fifty years, approximately 150,000 Tibetans have found refuge in India. Of the early refugees still living, all are elderly and some without care and support from family, due to having fled Tibet and their families. 
Over the last six months FPMT Charitable Projects has assessed the needs of older Tibetan refugees and found four residential facilities in need of support. To date, a total of US$135,996 has been offered in grants to help these homes carry out their work.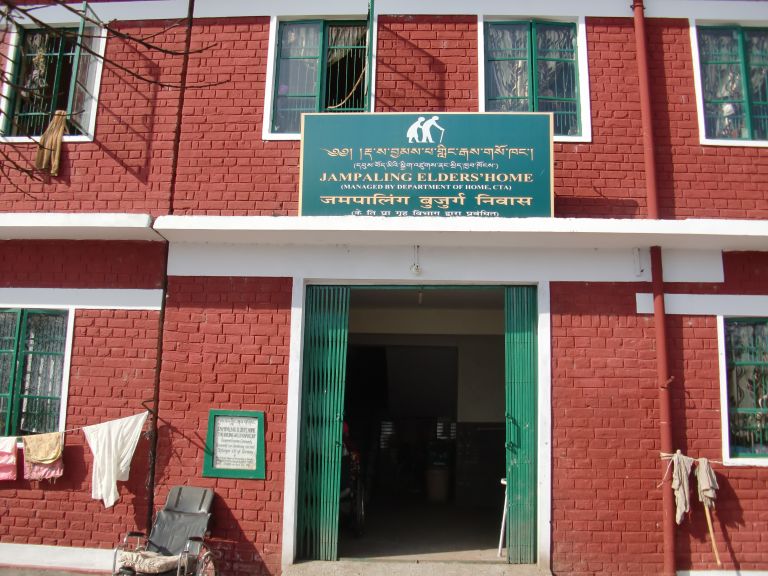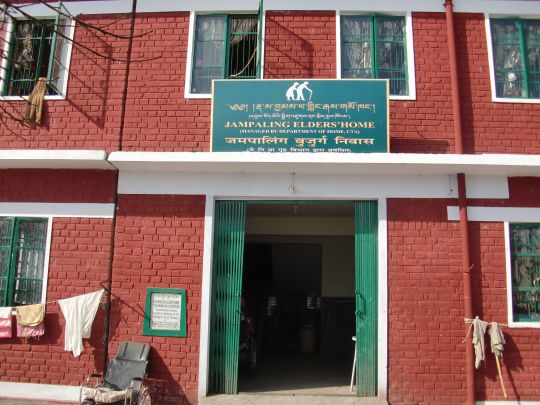 Jampaling Elder's Home, Dharamsala
Jampaling Elder's Home, situated in Dharamshala, is about 15 minutes walking distance from the main temple of His Holiness the Dalai Lama with many prayer wheels lining the way. The resident elders are able to attend all the teachings of His Holiness at the main temple. This home was set up to look after the elders who are scattered in different Tibetan settlement without appropriate facilities and also for destitute ex-army members without any family. It also houses elderly who are unable to earn a living due to old age and who have no one to rely on. This facility provides food, shelter and medical services to residents. 

156 residents (30 of whom are ordained) and 13 staff members reside in this home. The facility was offered a US$19,887 grant to hire an additional caretaker, make repairs to the facility, build a recreation/community room, accommodate special dietary needs, and provide pocket money for residents.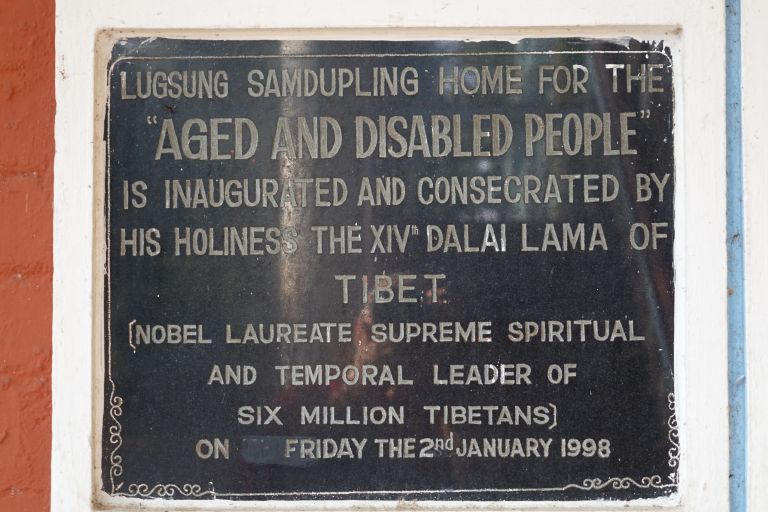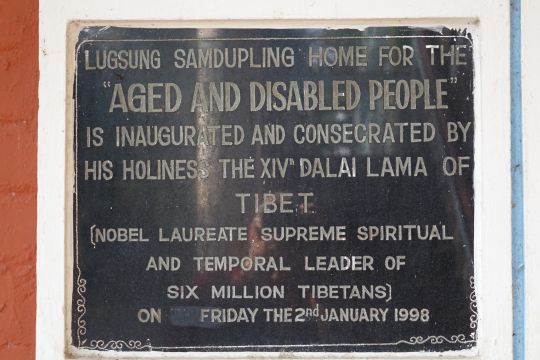 Lugsung Samdupling Home for the Aged and Disabled in Bylakuppe
A US$40,927 grant was offered to this facility that is home to 46 people. This grant will cover the shortfall of the home's operating expenses and provide resources for a new waste management initiative.
Lama Zopa Rinpoche visited this home and spent time with the elderly residents who are living in extremely modest conditions, many with health issues due to the advanced age.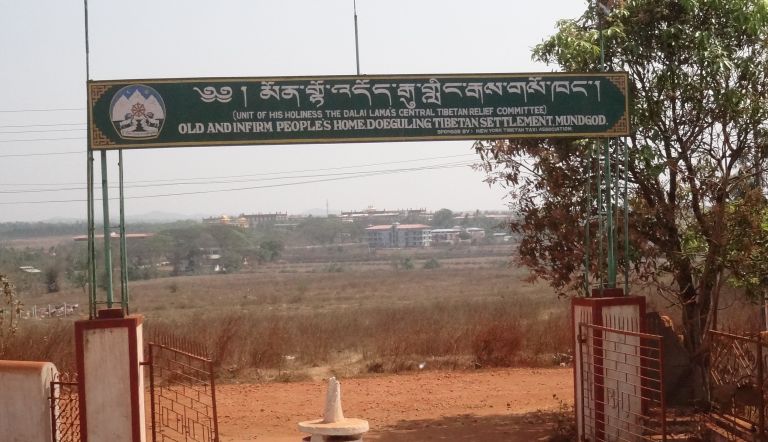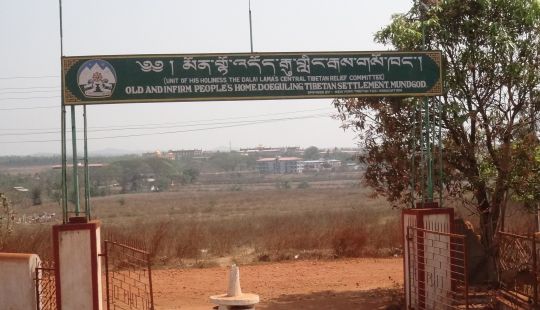 Mundgod Home for the Elderly and Disabled
A US$15,043 grant was offered to this home made up of 103 people. This facility will use the funds to meet the expenses of its operating budget. This home serves the elderly who have no family or who have children who are also destitute and unable to provide any support to them. One kitchen and three cooks provide food for all of the residents.
One block of this facility has residents who are in need of round-the-clock care due to mental and physical deterioration. This facility was in dire need of funds as many donors have suspended support in recent years due to, according to the home's management, "the financial crisis in world economy." 
Hunsur Old Aged Home, Gurupura
A US$60,139 grant was offered to this 20-resident home. The grant will be used for the cost of running this facility, particularly the costs of food, and the construction of five additional rooms.
Lama Zopa Rinpoche visited this home and was able to bless the community living there as well as assess the accommodations and need for support. 
Without such homes, many elderly first-wave Tibetan refugees have very little prospect of accommodation or support as many are without families of their own. Offering support in this way is one way that FPMT can help repay the kindness and bravery of the Tibetan people. Lama Zopa Rinpoche avows the profound importance of His Holiness, the Dharma Kings, Shantarakshita, Padmasambhava and the Tibetan people in general. He has said that, because of them, the "sun of Tibetan Buddhism has now risen in the West."
We're eager to provide similar support to Tibetan refugees in Nepal. We've already started the process of assessing their needs.
Lama Zopa Rinpoche has encouraged us not to only address residents' physical needs, but also their spiritual ones. With this in mind, we've already started to determine where and when we'll be able to construct holy objects such as stupas and prayer wheels.
---
FPMT Charitable Projects is honored to support the homes of the eldest and destitute Tibetan refugees. You can show your support by making a donation to the Social Services Fund. 
FPMT is committed to assisting Tibetan communities in need. You can read about recent support to a Tibetan settlement for refugees in South India including a grant toward a new community center and food for an elderly home. 
Anything is possible. Everything is possible
Lama Yeshe