The Foundation of All Good Qualities
PRACTICE
August-September 2007
By Lama Tsongkhapa
In the 11th century, Tibet was blessed by the arrival of the Indian Buddhist master Lama Atisha. Motivated to present an organized summary of the sutra teachings, Atisha composed a short text entitled, The Lamp of the Path. Three hundred years later, Lama Tsongkhapa expanded upon this text with his opus The Great Exposition on the Stages of the Path to Enlightenment (Lamrim Chenmo). The often referred to "Lam-Rim teachings" are taken from this seminal text. The teachings are presented in three scopes according to the  capacities of varying practitioners — small, medium, and great — which organize practices and meditations on the path into gradual stages.
Lama Tsongkhapa's famous prayer, The Foundation of All Good Qualities, is the most concise and stirring outline available of the Lam-Rim teachings. In only fourteen stanzas, Tsongkhapa offers us a prayer that covers the entire graduated path to enlightenment, short enough to recite every day, profound enough to study for a lifetime.
The foundation of all good qualities is the kind and venerable guru;
Correct devotion to him is the root of the path.
By clearly seeing this and applying great effort,
Please bless me to rely upon him with great respect. …
Read the complete article as a PDF.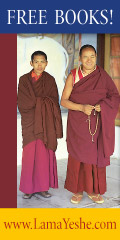 It is important to understand that true practice is something we do from moment to moment, from day to day. We do whatever we can, with whatever wisdom we have, and dedicate it all to the benefit of others. We just live our life simply, to the best of our ability.
Lama Thubten Yeshe
Contact Info
1632 SE 11th Avenue
Portland, OR 97214-4702 USA
Tel (503) 808-1588 | Fax (503) 232-0557
About FPMT
FPMT is an organization devoted to the transmission of the Mahayana Buddhist tradition and values worldwide through teaching, meditation and community service.
more...
About Buddhism
If you're new to Buddhism, please read our
Buddhism FAQ
. A place to learn about Buddhism in general, FPMT, and our Discovering Buddhism at Home series.