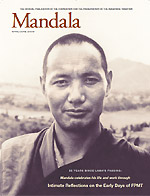 LAMA YESHE'S WISDOM
By Lama Thubten Yeshe
FEATURED PRACTICE
A TEACHER TELLS US WHY
By Ven. Sangye Khadro
COVER FEATURE:
Intimate Reflections on the Early Days of FPMT:
Origins of FPMT
Lama Thubten Yeshe, Founder of FPMT
How We Started Teaching Dharma to Westerners
By Lama Thubten Yeshe
By Lama Zopa Rinpoche
An Organization is Born
Beginnings of the FPMT Sangha
Lama Yeshe's Vision for Universal Education
A Genuine Guru: Jan Willis Remembers Lama Yeshe
Caring for Our Elders: Lama Yeshe Gives Me a Work Assignment
By Judith Weitzer
A Turning Point for Sera
By Ven. Sarah Thresher
Sera Je Monastery: An Intimate Link to FPMT
By Ven. Sarah Thresher
FEATURED CENTER
From 10 to 10,000: The Slow but Steady Rise of Kalachakra Centre
The Label Maker
By Jeffrey Bell
One Finger Please
By Christopher Chai
NEWS FROM A BUDDHIST PERSPECTIVE:
By Ven. Gyalten Mindrol
By Jindati Doelter
WORLD VIEW
CARTOON CORNER
FPMT DIRECTORY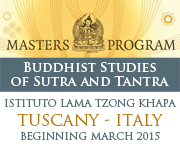 I encourage people not to express their anger, not to let it out. Instead, I have people try to understand why they get angry, what causes it and how it arises. When you realize these things, instead of manifesting externally, your anger digests itself. In the West, some people believe that you get rid of your anger by expressing it, that you finish it by letting it out. Actually, in this case what happens is that you leave an imprint in your mind to get angry again.
Lama Thubten Yeshe
Contact Info
1632 SE 11th Avenue
Portland, OR 97214-4702 USA
Tel (503) 808-1588 | Fax (503) 232-0557
About FPMT
FPMT is an organization devoted to the transmission of the Mahayana Buddhist tradition and values worldwide through teaching, meditation and community service.
more...
About Buddhism
If you're new to Buddhism, please read our
Buddhism FAQ
. A place to learn about Buddhism in general, FPMT, and our Discovering Buddhism at Home series.