Retreat Lung: The Meditator's Disease
August-September 2004
By Ven. Lhundup Nyingje
"The most important aspect of retreat is to keep your mind happy."
— Geshe Lhundup Sopa
Lung (pronounced "loong"), or "meditator's disease," happens to almost every meditator, even very experienced ones. It is similar to an athlete who strains a muscle and then has to rest for a while to let that muscle heal. We meditators strain our nervous systems. Some of us already have a strained nervous system when we begin our meditation practice. Unless the lung is very severe, it is nothing to be afraid of or to worry about, it is just a trade hazard that we can learn to work with and endure. Lung is our teacher because it is the feedback we receive when we are not meditating properly – or not living a balanced lifestyle.
Lung is the Tibetan word for "wind." Generally, meditator's lung is congested chi in and around the heart chakra. We all learn about lung when we attend our first Tibetan Vajrayana Buddhist group meditation retreat. Either we get it, or we hear about it from our friends who get it. Lung literally means wind but we can translate it, in this context, as "mental stress." The mind rides on the subtle winds of the body, and when the winds don't run smoothly, we feel stress….
The complete article is available as a PDF download.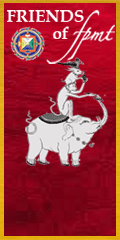 We are not compelled to meditate by some outside agent, by other people, or by God. Rather, just as we are responsible for our own suffering, so are we solely responsible for our own cure. We have created the situation in which we find ourselves, and it is up to us to create the circumstances for our release. Therefore, as suffering permeates our life, we have to do something in addition to our regular daily routine. This "something" is spiritual practice or, in other words, meditation.
The Purpose of Meditation
Lama Yeshe Wisdom Archive
Lama Zopa Rinpoche
Contact Info
1632 SE 11th Avenue
Portland, OR 97214-4702 USA
Tel (503) 808-1588 | Fax (503) 232-0557
About FPMT
FPMT is an organization devoted to the transmission of the Mahayana Buddhist tradition and values worldwide through teaching, meditation and community service.
more...
About Buddhism
If you're new to Buddhism, please read our
Buddhism FAQ
. A place to learn about Buddhism in general, FPMT, and our Discovering Buddhism at Home series.